Business table manners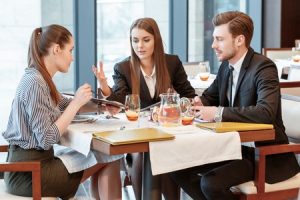 Business table manners is extremely important when it comes to business meetings on the dining table. You must be familiar with the basic etiquette at a meal because it leaves a positive impression on the other person.
1. Where should be the women's handbag
If a small handbag hook is attached to the bottom of the table, it is not necessary to consider it, but if there is no ring, basically, the right place to put the handbag is between the seat back and your back. However, if the handbag is large or there is a seat left next to you, it should be positioned to the right of the seat on which your seat as close as possible. If you wear gloves in winter, keep them in your handbag.
2. How should you use a napkin
In hotel dinners, most of the basic settings for napkins are folded over the service plate. You should unfold napkins after everyone sits down and when the host unfolds napkins. When you unfold a napkin, fold it in half on your lap rather than on the table, and when you leave your seat during a meal, fold it in half and place it on the chair you were sitting on. If you leave your seat with your napkin put on the table, it means the meal is over so be careful. Wiping your glasses, belongings or face with a napkin is a big discourtesy.  
3. What if lemons are served
If the lemon is cut into round pieces, use a fork and knife to squeeze it. Place the lemon on the fish and gently press it with a fork to squeeze the lemon. If the lemon is cut in half moon shape, hold it with your right hand and squeeze the lemon with your hand, being careful not to splash with your left hand.
4. Precautions for Cheers
When you do cheers, raise the wine glass to eye level. Also, when you hit a glass, you should look into the other person's eyes, not at the glass, and lightly touch the glass.
————————————————-
Lotus Quality Assurance (LQA)
Tel: (+84) 24-6660-7474
Email: [email protected]
Website: https://www.lotus-qa.com/
Youtube: Lotus QA channel