On January 30, 2020, the World Health Organization (WHO) declared a global public health emergency (PHEIC) with the Coronavirus epidemic after an emergency committee meeting. 
The Coronavirus pandemic seriously affects human health. It can take the life of anyone and also leads to a series of stagnant economic activities, businesses are forced to stop operating. 
So what do businesses need to do to cope with and sustain activity during the Coronavirus pandemic? Let's find out in the article below!
Situation update worldwide 31/3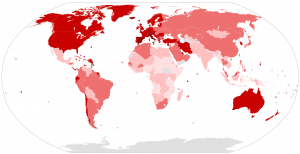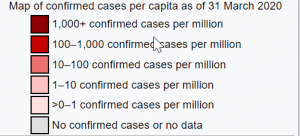 Source: Wikipedia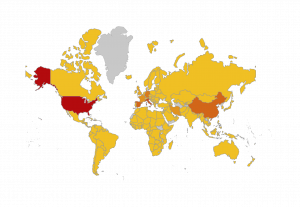 Source: Johns Hopkins University
Last update: March 31, 2020
As of 1 April 2020, more than 859,000 cases of COVID-19 have been reported in over 200 countries and territories, resulting in approximately 42,000 deaths. More than 178,000 people have recovered.
The virus is mainly spread during close contact and by respiratory droplets produced when people cough or sneeze. People may also catch COVID-19 by touching a contaminated surface and then their face.
Symptoms & Prevention
According to WHO, Symptoms of COVID-19 can be relatively non-specific. The two most common symptoms are fever (88%) and dry cough (68%). And less common symptoms include fatigue, respiratory sputum production (phlegm), loss of the sense of smell, shortness of breath, sore throat, headache,…
Strategies for preventing transmission of coronavirus include maintaining overall good personal hygiene, washing hands, avoiding touching the eyes, nose, or mouth with unwashed hands. And coughing or sneezing into a tissue and putting the tissue directly into a waste container. Those who may already have the infection have been advised to wear a surgical mask in public. In addition, Physical distancing measures are also recommended to prevent transmission.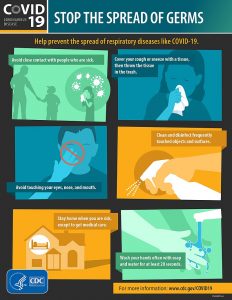 The impact of Corona to business activities?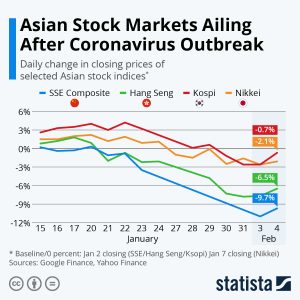 Source: statista
Some impacts on business that companies have to face include:
Travel restrictions and quarantines affecting hundreds of millions of people have left factories short of labour and parts. It disrupts just-in-time supply chains and triggers sales warnings across technology, automotive, consumer goods, pharmaceutical and other industries.

Commodity prices have declined in response to a fall in consumption of raw materials. So producers are considering cutting output.

The mobility and work disruptions have led to marked declines in consumption, squeezing multinational companies in several sectors including aviation, education abroad, infrastructure, tourism, entertainment, hospitality, electronics, consumer and luxury goods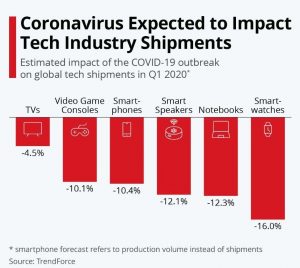 Source: TrendForce
What should businesses do?
1. Priority is given to measures to prevent infection
・Follow internal communication rules: maintain a distance of 2 meters from the opposite person, sneeze must use a tissue or elbow cover and bend down to avoid sneezing to the next person, do not touch the face .etc.
・Require 100% of staff to wear masks.
・Distribute sanitary equipment such as masks, hand wash, hand towels …
・Apply online meetings.
・Recommend the staff not to attend in congregate settings or mass gatherings.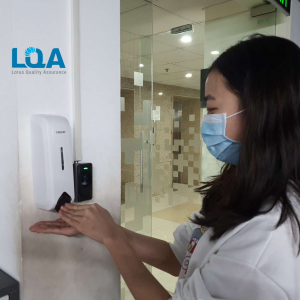 2. There is a timely solution when employees are sick at the company
In order to avoid the spread of disease, people who show signs of flu, fever and illness must follow up daily to request medical facilities for medical examination and treatment at home. 
If there are unexpected sick employees at the company, business representatives should report to the hotline, government agencies for timely solution advice.
3. Maintain important jobs
To maintain important jobs which are essential for business operations, enterprises need to comply as below:
・Ensure replacement capacity and consider the transfer of rights
・Commit flexible work locations, allowing employees to work from home.
・Announce information to related parties on the maintenance of production and business activities.
・Choose trusted partners with trustful process.
4. Conversion of executive organization capacity
Enterprises should review and re-analyze the operating system and business model, drastically improve and apply technology to the organization. Besides, focus on operation of production and business activities to minimize reliance on personnel, the amount of personnel employed, the delivery time and the performance of your business.
Currently, there are many outsourcing companies that help to run your businesses anytime and anywhere, managing operations for your company such as quality assurance, preparing data or training data for your system. Among these companies, LQA is one of the trusted one that is chosen by lots of big partners. Click here to see LQA's services.
The Corona pandemic is both a challenge and an opportunity for businesses. The problem is that we need to focus aggressively on the action and move quickly, instead of sitting on the floor crying. Hurry and take action and change today!
For more information about Trustful services, please contact us
———————————————————–
Lotus Quality Assurance (LQA)
Tel: (+84) 24-6660-7474
Email: [email protected] or [email protected]
Website: https://www.lotus-qa.com/