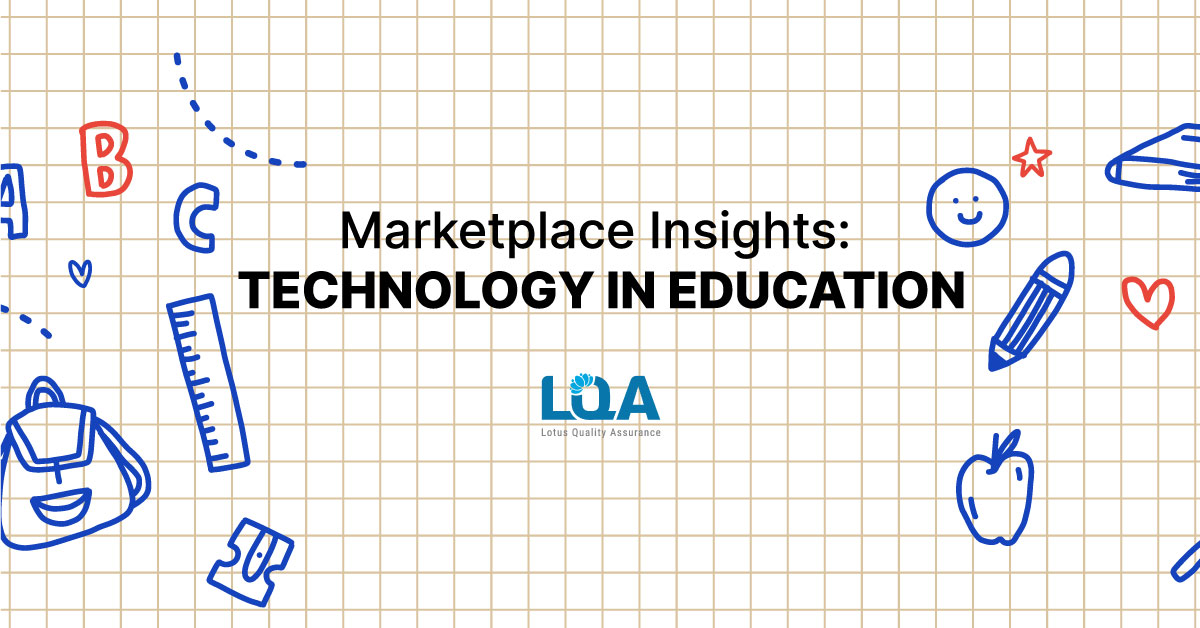 Education Technology is a fairly new sector in recent years. As technology is applied in every aspect of our lives, educators started to recognize the importance of technology in their teaching and school management.
The surge of Education Technology dated back to 2015, with some start-ups such as DuoLingo, Udemy, etc. worked their way up as learning platforms. With this foundation, the market has witnessed growth in both ERP (Enterprise resource planning) and EdTech.
In this article, we will discuss the marketplace insights of Technology in Education and its potential to grow under current circumstances.
Exponential growth of Technology in Education
Amid the Covid pandemic, the global education technology market stood out as one of the few sectors that were able to increase their market value, while others struggle to halt degradation. To be more specific, the global education technology market sized was estimated to reach USD 89.49 billion. Other than that, this prominent sector is promised to witness a compound annual growth rate (CAGR) of 20% from 2021 to 2028.
Thanks to the widespread adoption of digital transformation, education, which was once a tradition-oriented and conservative sector, can apply the latest technology in the process of teaching and learning.
With the help of electronic devices and digital knowledge storage, teachers and students now prefer eBooks and other kinds of digital content such as slideshows, pictures, audio, etc. High connectivity and accessibility are the advantageous features that are shifting users' preferences in education.
Besides all that, education now is not limited to the knowledge that is acquired by the students. Educators have sowed more activities to increase student's engagement in the classroom. Especially with the help of Education Technology solutions, teaching approaches are expected to grow in line with the evolution of the IT industry.
For example, as the IT industry is now dominated by Artificial Intelligence and virtual experience, the Education sector has been adopting more and more solutions which are integrated with these technologies. Virtual classrooms and AI assistance are gaining more and more popularity as they increase the interactive experiences for the learners.
Due to the Covid pandemic, online classrooms are inevitable. With the employment of cutting-edge technologies in this seemingly conservative sector, a new milestone has been set for the development of education in this digital world.
Regional Insights of technology implementation in education
The region with the dominant use of technology in education is North America with a 37% share of the global revenue (in 2020). In this region, the US stands out as the most prominent country with steady growth in EdTech-related investments from both venture capitalists and private equity investors. In 2020, education technology start-ups reportedly successfully raised funding worth $2.2 billion. The number is expected to rise in the foreseeable future.
Another emerging market for technology implementation in education is Asia Pacific with a steady CAGR of 22.6% from 2021 to 2028. India has the most visible growth in this specific sector. Although China has some breakthroughs with education technology start-ups, the market is not very promising for this country as the government is opposing some strict regulations.
2 divisions of how to apply technology in education
The implementation of technology in education can be divided into 2 main parts, which are (1) ERP and (2) Edtech
What is ERP and how can it help school administration?
To put it simply, ERP is short for Enterprise resource planning. For the education sector, ERP is specifically used for streamlining school administration, operations, and activities. The four subjects of the ERP system are:
School management
Teacher and Teaching management (homework, slideshows, examinations, class schedules, educational training, etc.)
School-Parent administrative system (activity dashboards, extracurricular activities, school fees, etc., student's performance reports, etc.)
Employee management (HR management, wages, insurance information, etc.)
With digital solutions, schools can well manage the whole institution's operations, including staff management, examinations, financial status, web portals, information systems, library and other resources.
A well-developed and fully functional ERP system can be the essential tool for the interconnection of different departments within a school. The school board can have total control over the institution's activities under one united and integrated system.
What are EdTech solutions?
We can see EdTech as the educational method that provides learners with theoretical and practical knowledge, together with learning material. The core of EdTech is the use of software and online courses that can help increase teacher and students' engagement during lessons.
For EdTech software, we can divide it into three categories:
Learning management system (LMS)
Education mangement information system (EMIS)
Learning record store (LRS)
Are you looking for technology solutions in education, contact us for more information: