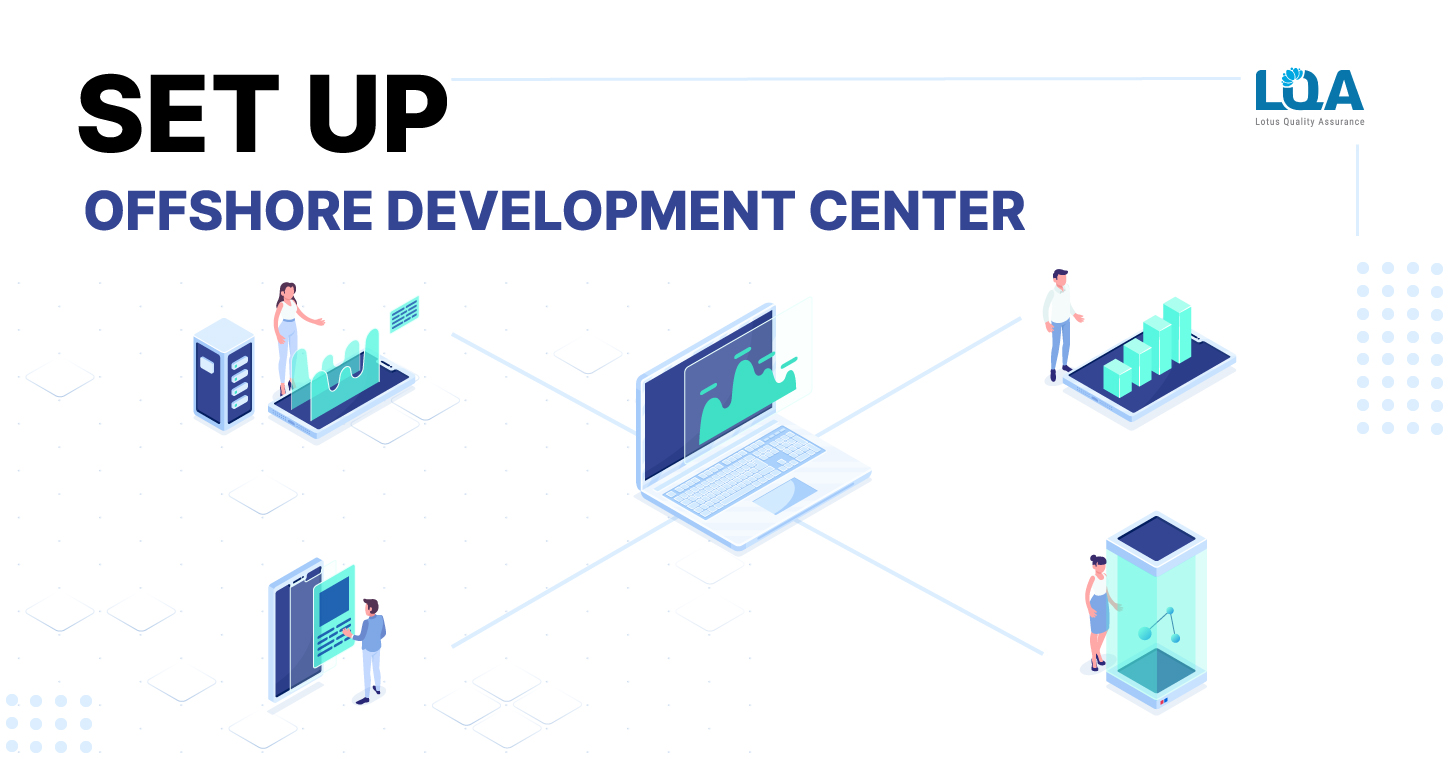 Having an Offshore Development Center take care of the IT details for you at a reasonable cost is fascinating, but business leaders still hesitate when deciding whether ODC is the solution for them.
Business owners don't often give Offshore Development Cente the benefit of the doubt. Instead, every step, every challenge and every viable solution of setting up an ODC has to be taken into careful consideration before any partnership with any Offshore Development Center service provider.
There is no fixed way to successfully and efficiently set up and run an Offshore Development Center, but it all comes down to these 6 features, clarifying many aspects of an ODC:
Visions & requirements of your business
Service provider evaluation
Recruitment and team formation
Project management
Communication management
Security management
1. Vision & requirement clarification
It is often the case that a business considers a domestic IT Outsourcing provider before thinking of an Offshore Development center, but setting up an ODC is still in favor with high popularity. The most distinctive feature affecting the decision among business leaders is perhaps the glaring gap between the prices of a domestic team and an offshore team.
With the advantage of geographical pricing, an Offshore Development Center can produce satisfactory results within a reasonable and competitive price which might be the thing businesses are looking for.
However, the cost reduced when employing ODC is not always the core objective. For some businesses, task response and effective communication stay on top of the priority, and to them, Offshore Development Center seems incapable of these. However, Offshore Development Center services are evolving, with the efficient adaptation to the ever-changing requirements of the projects and the massive improvement in staff's language proficiency.
For a business, vision and requirement clarification before initiating Offshore Development Center implementation or any other kinds of IT Outsourcing is of great importance. For instance, if your main objective is to reduce costs and focus on core business activities rather than IT operations, Offshore Development Center will be a suitable option. But if you want to emphasize communication and close-up management, other kinds of outsourcing are for you.
When discussing vision and requirement clarification, we want to underline the big picture and how you want your project to operate. Setting up an Offshore Development Center poses many challenges, yet it also offers an array of benefits both financially and technically. The manifestation of your goals and your visions not only clarifies what you need in your ODC but also sets out a path for you to follow. With the specific requirements of the projects, you can "visualize" the operation of your IT projects, hence finding the exemplary work and effective model to implement.
2. Questions to be answered to find you the perfect ODC service provider
The perfect Offshore Development Center doesn't pop out of nowhere. In fact, businesses who want to employ this model have to go through thorough consideration of the potential candidates and many meetings to come up with the most suitable service provider.
As we put things into perspective, there are several aspects and questions that you have to clarify with your vendors, including:
The location of the ODC
With an Offshore Development Center, you know for sure that it is located in a foreign country, but the real question is what country it is.
To answer this, you can take a look at this chart. While the Northern European countries dominate the market with more than 50% of the projects outsourced, South East Asian countries are the emerging destinations for setting up an Offshore Development Center.
With the location of the vendors taken into consideration, you should also pay attention to the price gap between the countries. For example, China used to be the ideal destination for developing an Offshore Development Center. Still, it is one of the top countries that pay the highest in the IT industry. On the other hand, a more favorable nation for ODC is Vietnam, with the number of ODC companies and ODC projects on the rise.
The time zone: According to an Offshore Development Center service provider's research, different time zones stay at the top of the problems faced by vendees. Business owners/project managers tend to be against Offshore Development Center vendors with a big time zone gap.
To them, a big timezone gap means time management nuisance. The vendees working while the vendors are sleeping, or the other way round, can create massive communication gaps, which will eventually lead to time-consuming struggle.
However, if the ODC vendors are just 2 or 4 hours away, the communication won't be that complicated. A little effort to squeeze between schedules will come in handy in this situation.
The evaluation of service provider's capabilities
IT Outsourcing is developing at an unsurprisingly high rate, and Offshore Development Center is not an exception in this case. The vendees/businesses now are spoilt for choices with plenty of service providers to evaluate and consider. To find a trusted vendor with goals and philosophy aligning with your company's objective, you will have to go over hundreds of portfolios, reviews, pilots, case studies, etc. To assess their authenticity is difficult enough, not to mention the technical evaluation.
However, case studies or portfolios are just referential. It requires a tech leader, or even a tech team to check the expertise, domain capabilities and tech slack, etc.
3. Recruitment and team formation
Offshore Development Center is different from IT Outsourcing in the sense that ODC involves the vendees in the recruitment process. However, for an IT Outsourcing project, as long as the results and project outputs are satisfactory, the operation and team structure are just minor features.
Since the vendees' approval of the candidates is the top priority, it is a must for you to provide the vendors with a detailed job description for the positions needed in the projects. With this clarified, both client and service provider parties can come clear of the must-have technical competencies and other soft skill requirements.
For the technical aspect: A list of tech engineer interviewing questions can determine the candidates' capabilities and programming proficiency.
For the non-tech aspect: "Knock-out" questions putting the candidates in actual scenarios and situations should show their personalities and work attitudes.
4. Project management
The determining factor of a project's prominence and success lies in the capability of the vendee and the vendor in project management. This is a vast and demanding job, requiring both parties to have deep knowledge experience and managerial skills. To initially grasp the idea of how to accomplish project management and cover the fundamental features, here's what you should consider putting onto your system:
Your offshore development team is your partner, not just an IT Outsourcing provider that follows every of your order. Once you've hired an ODC, you work with them as equal parties, meaning that they would receive the same benefits as your other departments.
Since the ODC is specialized and expertise in IT matters, it is highly recommended that your business consider the team's technical opinions. Involve them in your decision-making process, evaluate, develop and contribute to their ideas to come up with the most well-rounded approach and solutions for you.
Remember, an Offshore Development team is also a part of your organization. To maintain high engagement and connection within different departments, you should introduce and engage them in the company's activities. This is also to keep employee's high morale.
Time management is imperative for effective project management. With a detailed schedule and tasks devised according to each employee's capabilities, businesses can optimally utilize team member skills.
For any Offshore Development Project, the presence of an IT project manager can reflect on the professionalism and dedication of the service provider to your project. This manager is required to juggle between tasks and responsibilities with both managerial and technical skills.
Without an IT project manager, your ODC will just be a scattered team with people working under no standardized sequence and process. For time management, the IT manager's job would be: setting goals, sequencing tasks and allocating time. Time management can be carried out with multiple approaches, but one of the popular ones is to break down tasks into smaller checklists, and then have a team leader handle the results and reports.
Frequent meetings with a checklist of what to be updated are essential for project management. The main reason why some are still hesitant towards Offshore Development Center is the unclear of the work process. Some enterprises prefer actual interaction and close-up supervision for comprehensive management, but when the cost reduction outweighs this problem, the optimized management solution is through meetings and reports. Both parties are expected to be transparent about the visions, work process, methods, approaches, resources. Therefore, weekly or even daily reports are more than welcome.
5. Communication management
Communication is the key. The initial communication process where you clarify your goals, product concepts, project ideas and expected results play as the foundation stones of what to be included in meetings and reports later on.
With this being clarified, your Offshore Development Center can understand your business goals. Any adaptation and redirection will be of need for the overall resonation of both parties.
Clear and daily communication via emails, messages, online meetings can help you build and develop active and long-lasting relationships. It also creates a habit of frequently updating information from your ODC team, which is of great advantage for better management.
The most popular channels and platforms for task and communication management can be named as Jira, Slack, Zoom, Google meeting, Trello, etc. Depending on your preference and business needs, you can find yourself a suitable tool among many of the available on the market.
6. Security management
Offshore Development Center service providers sure all put down "High security" as the perk of partnering up with them. But these security features are still a hazard if you don't get involved in the process of building them.
A plan of ODC security measurements that covers physical security layers and confidentiality will protect you from any intruders and intelligence leaks.
Setting up an Offshore Development Center is not that complicated. For foreign investment to thrive, many countries have developed favored policies for foreign countries to partner up with domestic businesses, making it easier to enter the market. However, for the firm legal foundation, you can have a legal consultant work on the rules and regulations regarding foreign investment and other legal matters for you. This can prevent any further possible legislative obstacles in the future.
Having all what it takes to successfully set up an Offshore Development Center? You still have to find a reliable and experienced service provider to get the most satisfactory results. Look no further, Lotus QA will have you covered with our top-notch Offshore Development Center service. For detailed consultation, please contact us at: