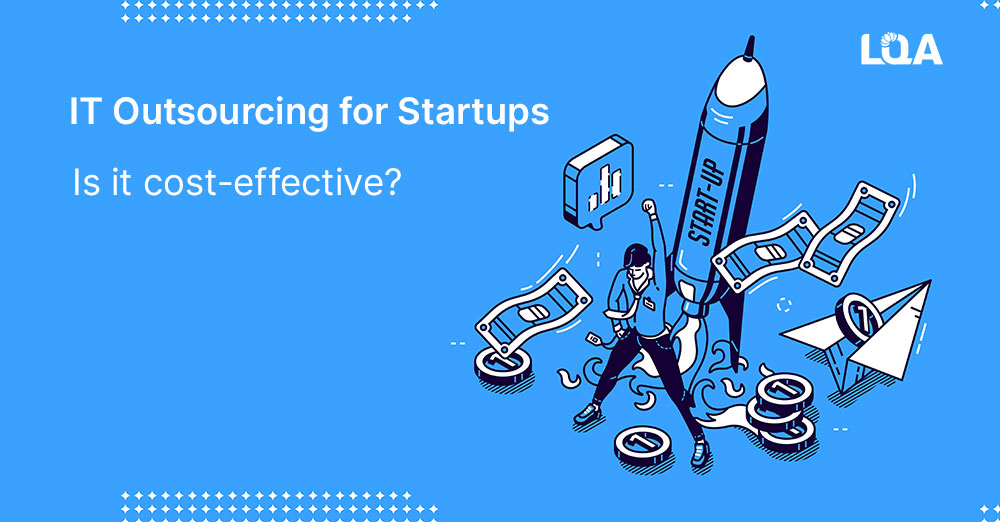 IT Outsourcing for startups – Entrepreneurship can either be as sweet as ripe fruits or as bitter as a cud. Especially under the overwhelming effects of the Covid-19 Pandemic, startups are struggling to beat the odds stacked against them. 
Deprived of a regular and dull nine-to-five job, entrepreneurs have to work around-the-clock to keep the business running. However, this does not ensure success. The essence of one startup to stand out starts from how it is operated. And sometimes, sticking to the regular methods is not exactly the answer.
In other words, it requires entrepreneurs to always think outside of the box alternative solutions to critically solve the root problems, hence boosting the business.
One such solution that is being applied worldwide might be outsourcing, which ironically some startups hesitate to engage in due to the foreseeable additional costs. 
To comprehensively calculate and estimate the profit margin here, these costs should be seen in the big picture in which the operational costs and HR costs are spiking. For an in-house IT staff, necessary human resources costs or costs for business processes pose a huge overall cost for the company, making it impossible for startups to gain profit.
Instead of in-house staff, more and more startups are leaning towards the idea of outsourcing. This implementation has proven its efficiency, but it can break loose at any time. The point for choosing which to follow lies upon the questions of "Do I want this done in-house or offshore?", "Which of these options allows for greater growth?"
From in-house to IT Outsourcing for Startups 
Shifting from in-house to offshore/outsourcing requires multifaceted consideration. First, startups need to get rid of the knee-jerk reactions toward IT Outsourcing for startups. Lack of experience working through business process outsourcing sometimes leads to the belief that outsourcing, and this should be avoided. 
Typically, Startup owners often think of BPO as something that only large and well-established companies can implement. Facts have proven the other way round. Indeed, companies of all sizes and backgrounds can benefit from this emerging phenomenon. 
A survey from Clutch in 2018 shows that 37% of small businesses outsourced a minimum of one important business process, whereas 52% reported planning to do so the next year. 
While some major players in the field such as GitHub, Google, Microsoft, etc. employ a huge number of outsourced workers, some other companies which started as Startups such as Slack, Skype, Opera, etc. also achieved a lot through BPO.
Why outsourcing?
Outsourcing is often deemed as the solution for only large enterprises, in which it can help reduce costs and save time on trivial tasks. Nevertheless, the case of startups can apply the same approach as many are now expanding their businesses, heightening the need for outsourcing many tasks. What exactly can outsourcing do to urge entrepreneurs to go for it?
Cut back costs
The most dramatic change BPO companies can pull off is the reduction of operating costs. With costs of insurance, healthcare, travel expenses, rent of facility, etc. unburdened, business leaders now can leave financial resources available to expand and focus on the core business activities. 
With this being done, the cost reduction can be a part of the strategic growth plan of the business. Besides the common services to be outsourced such as customer support, accounting, HR, IT outsourcing for startups stands out with the highest growth rate due to the ever-expanding scale of the IT industry in general. The services to be outsourced include software testing services, software development services, etc.
Halt employee turnover
The puzzle of employee turnover is a chronic problem that has long been in the industry of information technology. A high turnover rate can result in high training costs and low efficiency. To have an outsourcing team taking care of all the training and operating costs for you can really ease out this headache, especially with the competitive prices from different regions. 
Experience and expertise from BPO
Startups often step in the game with high confidence, but it should be put within their expertise only. Instead of blindly following something you are not sure of, going for IT outsourcing for startups with specialized individuals and experts in the field is a better option. Hence, the chance of failing by wrongly estimating how well we can do all of the work ourselves is lowered.
Moreover, BPO is experienced in whatever field they are offering you. This also includes certifications, quality assurance, information security, stringent processes, all of which are the things that startups lack.
Low rate of burnout
Startups often require high volatility and a fast working pace with huge workloads, which can subsequently lead to burned-out employees. Outsourcing can solve this problem.
IT Outsourcing for startups might be attractive as it is, but please be noted that this is not a one-size-fits-all solution. Before rushing into anything, one must carefully evaluate the pros and cons of IT outsourcing for startups to avoid any kind of miscommunication or misoperation. 
Time zone differences, trustworthiness and credentials are the things you would want to consider when working with BPO. Start small, evaluate everything, and increase IT Outsourcing scale gradually.
Are you a startup and want to unburden some costs? Contact us now for full support from experts.