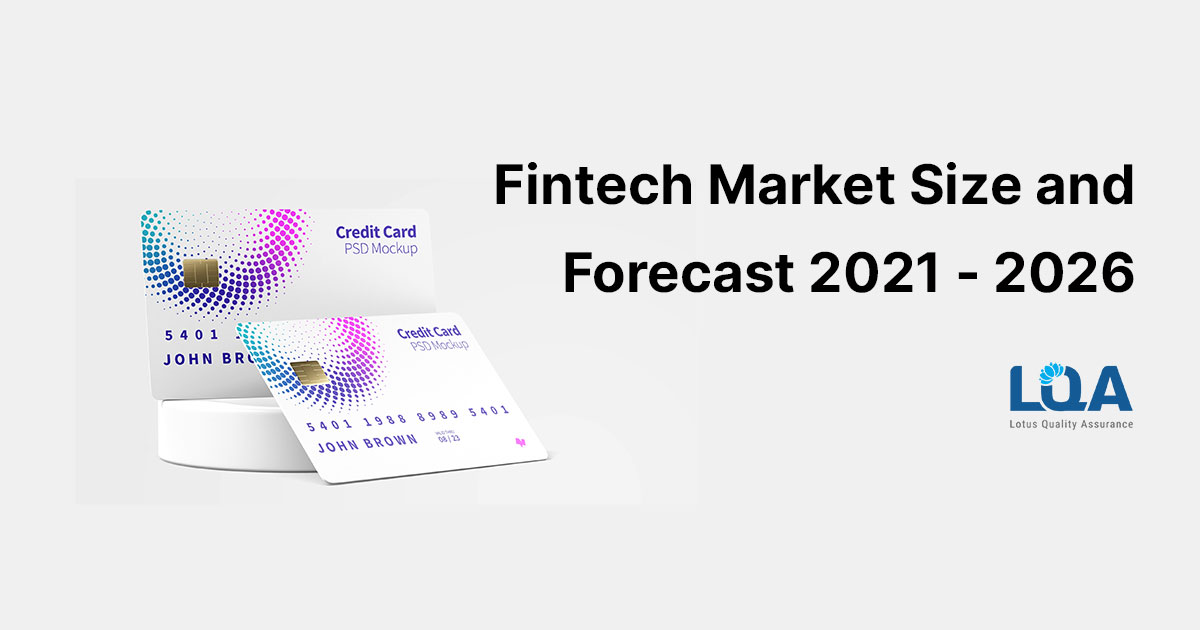 Fintech market is one of the most developing and booming sectors in the world's economy with Global fintech investment rise of almost 15% from H2'20 to H1'21. The number of Fintech deal volume also hit a new record of 2,456 during H1'21, marking a new milestone for this sector in the global market.
As 4.0 Technology enters every aspect of our lives, finance is not an exception. In fact, Fintech is leading and driving many companies' transformation towards a more client-centric way.
Taking from what Fintech have achieved in the last five years, it is forecast to be a growth of 23.84% in a five-year period – from 2020 – 2026. Such outstanding prominent growth raises questions concerning what have been done in FinTech sector and what can be expected from this booming industry. Let's unveil the success of FinTech in the following article.
1. Why Fintech Market is booming
The world have witnessed the unprecedented growth of Technology and eventually the extensive application of technology in one of the most important industry – finance.
Before digging deeper into why FinTech market can make such a successful debut in the world's market and have such profound effects, we need to understand the term fintech. In short, fintech refers to any kinds of technology and innovation implemented in finance sector to compete with traditional financial methods in the delivery of financial services to customers.
The development and success of Fintech lie upon many factors, with the most notable ones being the needs for more conveniences, cost-effectiveness, contactless and paperless trends and the security and transparency it can provide.
a. The needs for more convenience in finance
The world have never been this technology-infused. Literally everyone can get access to the Internet through smartphones and other digital devices, not to mention many other technological services.
As global consumers use technology more in their lives, they demand more technological advances and conveniences in the most complicated sectors. And finance is at the top of the list.
Under the influences of technology-infused advances, the competition among service providers is more intense than ever. The core for their business operation is now customer-centricity, in which customer experience is of the highest priority.
This is when FinTech steps in the game. With the help of technology in such a complicated and cumbersome sector as Finance, financial processes and services are carried out in a faster manner, which eventually enhances customer experiences.
Let's take a fine example at how Banks operate now. While traditional banks have fallen behind the digital curve, virtual banks are more favored than ever. With just smart devices such as mobile phones or tablets, customers can open a bank account with just a few steps. This can save up a lot of time of going to the bank, standing in queue and filling out forms.
As opposed to the convenience in how FinTech can help customers in saving time and effort, the regulation in Fintech is perhaps the most critical challenge facing the traditional banking sector.
b. Cost-effectiveness
It's all about the big picture here. For many businesses, the initial cost for building Fintech platforms/apps is enormous, but it will be beneficial in the long-run.
For example, building a Chatbot in banking apps can take up months, but once the chatbot is in operation, it could save a fortune on HR expenses. No more hiring costs and compensation costs.
Another fine example of this is when you want to open a banking account without going to the bank. By applying online, banking institutions can save up a lot of time and effort. Instead of wasting time on minute tasks, they can actually help someone with a more serious problem.
c. Contactless and Paperless trends
Under the influence of the pandemic, everyone wants things to move faster with less contact. With the help of fintech, the obsolete payment system can now be faster and more compatible with modern devices. Paperless storage is also another hot topic for customers to engage in.
By implementing fintech, you are not just offering more professional service but also helping to enhance сuѕtоmеr rеlаtіоnѕ, increasing the probability of them returning as a regular buуеr.
d. Security and Transparency
Fintech have high capability to increase security and transparency. In the world of 4.0 technology, the fear of information leakage is huge, but with the encryption of the latest technology such as blockchain, this can be prevented.
For transparency, everything is recorded and stored for further uses. Customers can now manage payroll, send invoices, track projects and capture data – all in a single, accessible digital platform.
2. What have been achieved in Fintech Market
The Fintech market in the period of 2020 – 2021 has gained sustainable growth in how it thrives during the pandemic. This sector also promises greater development, thanks to the enormous investments from different sources.
a. Investment
Although fintech was certain to become a dominant force in the future of finance, this growth was rapidly accelerated by the pandemic and the necessity of digital transformation.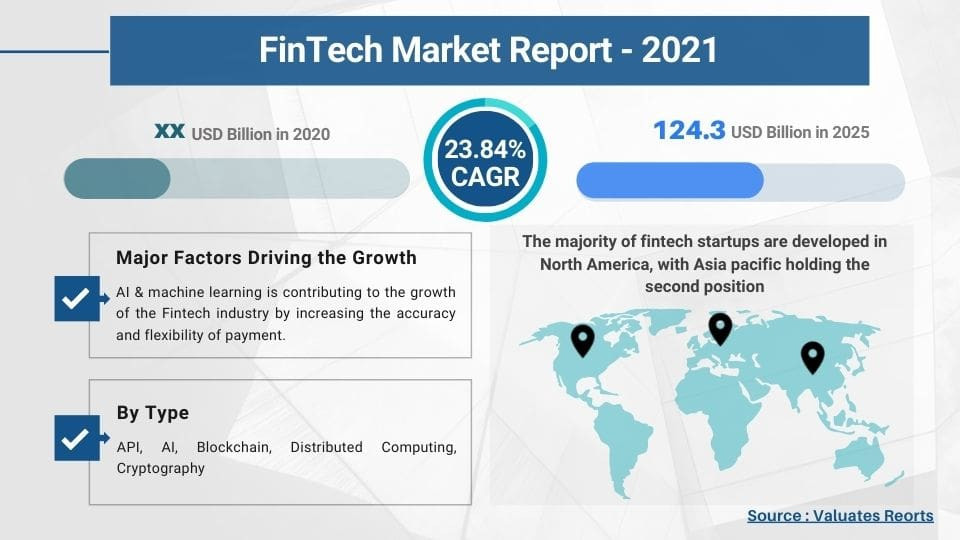 After the unexpectedly strong growth in 2021, the investment in the first half of 2021 sees a massive rebound. The investment in all three categories of Venture Capital, Private Equity, and Merger & Acquisition as a whole is expected to show growth in 2021.
Global fintech investment continued its remarkable rebound in H1'21, rising from $87 billion in H2'20 to $98 billion in H1'21. Fintech deal volume hit a new record of 2,456 during H1'21.
b. Market Growth from 2018 – present
The Fintech market has witnessed drastic growth in many regions of the world. For example, in the UK, the use of FinTech apps amid the pandemic grew by more than 50%, in Europe this number is 72%.
The global fintech market was worth $127.66 billion in 2018, and it is expected to reach $309.98 billion at a CAGR Of 24.8% through 2022. According to PRNewswire.com
By the end of 2021, the total transaction value was expected to surpass $6.68 trillion. In 2020, it was at $5.47 trillion, while in 2017, it was only $3.04 trillion. These figures point to strong Fintech growth, especially in the digital payments sector.
3. What to expect in the Fintech Market in 2021-2026 phase
The global fintech market size is expected to grow to USD 124.3 Billion by the end of 2025 at a Compound Annual Growth Rate (CAGR) of 23.84%.
The Fintech sector has been a success everywhere, but the strongest market is in America, as the US accounts for the overlarge majority of $42.1 billion worth of investment in Fintech. Investment in the EMEA region was also very robust at $39.1 billion. In the Asia-Pacific region, fintech investment rose considerably between H2'20 and H1'21 – rising from $4.5 billion to $7.5 billion, although investment remained suppressed compared to previous record highs.
The UK's annual fintech revenue is about £7 billion (circa $9.57 billion), and the sector has grown by almost 70% since 2015.
In Asia-Pacific, the top five Asia-Pacific fintech hubs in 2020 list end with Hong Kong, China, and Sydney, Australia
Besides the familiar names, Vietnam also has a very potential fintech market. The number of startups in Vietnam's fintech sector has tripled from 2017 to 2020. Specifically, Vietnam had 44 fintech startups in 2017, but by 2020 this number will be 118.
Along with the rise of e-commerce in Vietnam, digital payments have been the most prominent segment within the fintech landscape.
In recent years, the country has recorded a significant increase in the transaction values from e-wallets and mobile banking. About Transaction Value of Digital payments in Vietnam, it is worth 8.6bn USD. The forecasted number of registered mobile wallets in Vietnam is worth 6.5m USD.
Looking at these impressive numbers, Vietnam has a high potential of growing and developing Fintech Apps. In fact, there are a large number of Vietnamese business providing Fintech development services at a reasonable price from the top-tier talents.
If you're looking for a vendor for this, contact Lotus TS for more information. Lotus TS has years of experience working in the Fintech sector and providing software development services.
Contact us: