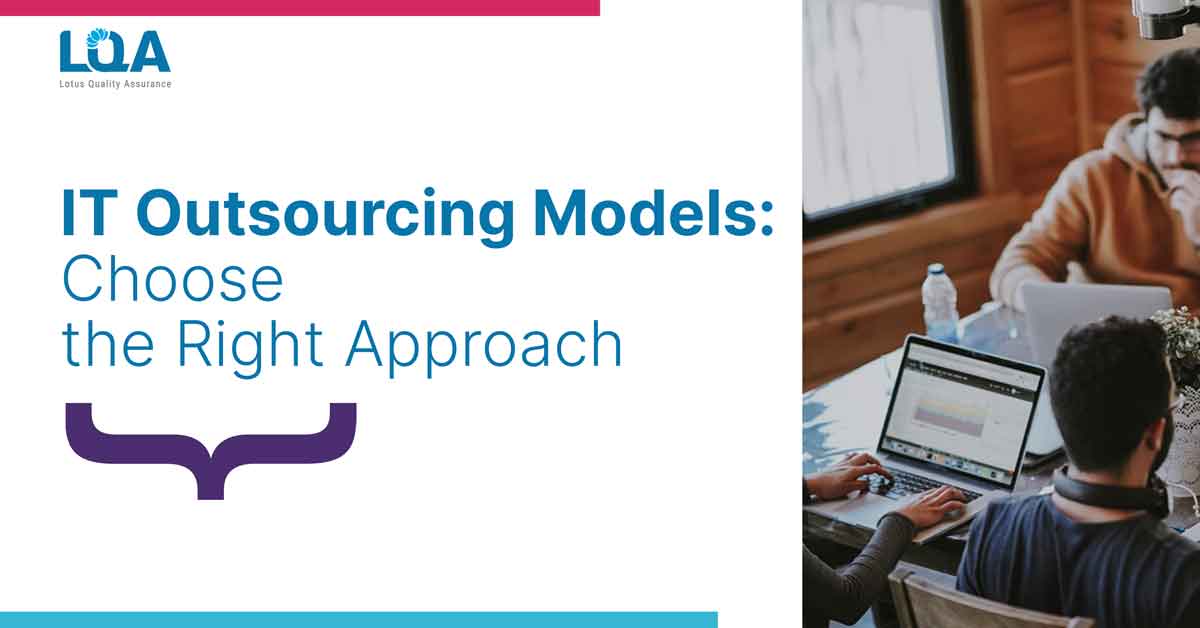 Which IT Outsourcing Models you should choose is one of the most important questions that one has to answer before implementing any IT Outsourcing work in their business.
The beneficial effects of IT Outsourcing on business operations and spending are undeniable, but how to successfully implement this working method still needs more understanding and research. And the foremost thing you need to clarify is to choose the IT Outsourcing Models.
Since IT Outsourcing is a very vast concept and can include many models, the business leaders once decide to go with IT Outsourcing needs to clarify further on how to do this. Basically, the things you need to know is how you pay and where the vendors are.
Already know what IT Outsourcing model? Choose IT Outsourcing provider for your business now!
The four IT outsourcing pricing models
With IT outsourcing pricing models, you will know the basics of how you can run your outsourcing projects and what models fit your financial situations and plan the most.
You should look into these IT outsourcing pricing models before signing any contract with an international technology outsourcing company. By knowing how you are going to collaborate, you will have better plans streamlining your visions and your goals. At Lotus QA, we implement the four IT outsourcing pricing models, including:
Project-based
Time & Material
Dedicated Team
Staff Augmentation
Project-based IT outsourcing model
The project-based IT outsourcing model is the working model that deals with small-size or mid-size projects. The name speaks for itself. It means that the model works based on each project. These projects have crystal-clear requirements of what the outputs are. Tailor-made for projects with fixed budgets, project-based outsourcing model is the most suitable when you already know what to expect from this project.
Project-based models work with an individual project, and these projects, quite often, are short-term. Operating in such a short time frame, project-based IT outsourcing model is suitable for businesses looking for vendors to work for new features of a project, or something that has a predefined goal.
In regards to the financial matter, you will have to pay a fixed amount of money for what you want. Knowing how much you have to pay for the work, you can have better control of your budget and spending plan.
But what if you want something out of the original work scope? Project-based will not be an optimal plan if you are following the agile method, in which flexibility is of the utmost importance.
To conclude, project-based model is for clients who know exactly what they want and how they want it. To come up with this final information, on business might have to go through multiple steps of business analysis and market research. With the firm information on what the market needs and predefined routes, project-based is the best IT outsourcing model.
Time & Material IT outsourcing model
Time & Material (or T&M) contract is another popular IT Outsourcing model that is being applied in many companies and projects in the world. In Time & Material, you pay for the hourly wage and material costs of your project. While project-based is a pay-upfront model, in Time and Material, you pay for what you get from the vendors.
In terms of project requirements, Time and Material is for businesses that are unsure of what the outcome of their projects/products should be. Even though they can have some kind of "wireframe" and sketches on their mind, they have the tendency to grow based on the customers' feedback.
This situation is very common if you are implementing the agile working method. In agile, flexibility is the most important feature, and the changes are frequent. To best follow the agile methodology, businesses are applying time and material contract.

Time & Material is the opposite of what a project-based outsourcing model can offer you. With T&M, you focus on the value and productivity of the whole process. Time & Material are deemed the viable solution for businesses that are working on complicated and not predefined requirements. However, there are periodic orders and frequent schedules.
Usually, Time & material contract model often goes with businesses working in rather new fields of the IT world. New markets and new experiences require changes by the minute, and only Time and Material can offer the flexibility that you need to thrive in a new sector.
Dedicated Team IT outsourcing contract
A dedicated team has a similar way of operation as Time and Material, but the difference lies in how the recruitment goes. Normally, for project-based and T&M projects, the clients only clarify the outputs of the project. The matter of who does it and their skillsets are minor in their focus.
But for the case of the dedicated team IT outsourcing model, the vendor provides a talent pool of tech engineers that have the required skillsets and experience, and then the clients will choose their own team based on their preferences.
In terms of payment, the pricing system is quite transparent, the clients will pay monthly in accordance with the team size. The pay includes members' salaries, service providers' fees and any other additional fees that have been agreed upon before.
The scope of a dedicated team is quite big, and they will work on projects that are not strictly predefined, with requirements that can change over time. Since they are technically vendor's employees, the vendors can give them multiple tasks of multiple projects. This feature can be further addressed in the contract between the vendors and the clients.
Staff Augmentation
Staff Augmentation is a dedicated team but in a smaller scope. Staff augmentation is basically hiring tech engineers from vendors and having them work as your full-time employees. Payments for staff augmentation is the same as in dedicated team IT outsourcing models, meaning that the staff should be paid monthly.
The highest risk of staff augmentation is that the employees working for you might not want to work for that project anymore, you might have to do the hiring process again, including the onboarding and training phase. The sustainability plan for staff augmentation is not very ideal. But for a short-term and mid-length project, staff augmentation is the perfect answer, even better if you are only looking for one or two employees.

Three types of IT Outsourcing Models
The simplest way to categorize the IT Outsourcing models is to divide them by geological locations.
Onshoring IT outsourcing models: With onshoring IT outsourcing models, you will outsource your IT operations to a team that is operating in the same country as you are. Working in the same GMT and speaking the same language makes it very easy for the two parties to communicate during their work. However, the advantage of geological pricing is no longer available, and the cost for outsourcing will not be as effective as you might think it is. Since the most important feature why people want to outsource is to reduce cost and unburden the in-house team, onshoring is not the most favorable IT outsourcing model.
Nearshoring IT outsourcing model: Nearshoring means that you outsource your IT operations to a company that resides in a neighboring country. For example, many Japanese firms outsource their work in software development and software testing to vendors in Vietnam, which is only two hours behind. This method can take advantage of the gap between the costs. With only one to three hours behind, both parties can still maintain communication with each other, hence the communication barriers are limited to the smallest.
Offshoring is perhaps the most popular IT outsourcing model, it means outsourcing IT services to an overseas company. This is usually the most budget-friendly model for businesses to choose from, but they would have to compromise the communication which is more prone to error.
Just with these simple definitions of IT outsourcing models, you can easily their pros and cons. Perhaps you have already found a suitable model for your business.
All in all, regarding communication, onshoring is seemingly the most effective, as both parties of vendors and clients share many features, including the language and the time. With onshoring, any feedbacks and reviews will receive equivalent feedbacks right away. In case of emergencies, the clients can contact the vendors via phone numbers, which are accessible anywhere, anytime.
However, in terms of cost-cutting, nearshoring and offshoring are favored more. Due to geological pricing, one can save up to 90% of the overall cost when working with nearshoring and offshoring vendors.
People often say that the price comes with quality, but in the case of nearshoring and offshoring, you can get the equivalent high-quality work at a much reasonable price. Perhaps the only obstacle here is how to communicate effectively.
The reason why people prefer offshoring and nearshoring IT outsourcing models is that they prioritize cost-effectiveness more than anything. If your utmost priority is to reduce the cost to the lowest, you can consider an offshore development center in Vietnam.

How to choose the most suitable IT outsourcing models
Even though there are multiple ways to implement your IT outsourcing, they are not one-size-fits-all for your business.
Especially when working with the IT Outsourcing vendors, you can go for a more flexible model, whichever suits your requirements and goals. There are always choices for you to go with the hybrid pricing model.
But to choose the suitable IT outsourcing model for your business, you have some clarifications to think of first:
The goal of your project, whether it is clear or still in the fog
The scope of your project. From the goals of the whole project, you can estimate how much time will it cost you to complete the goal.
Your preferred project management methodology. For example, if you want to follow the Agile or Scrum methodology, project-based is definitely not your ideal way to go.
How you expect the scalability from your outsourcing team.
What technical skills and level of experience you expect from your team members
All of these things above are the thing that you must know about yourself before signing in to any IT outsourcing model. Once these are clarified, you can simply go to any vendors and discuss your "order" to find the best team to work for you.
On the final note
With an IT outsourcing model on your mind, you can determine how you can manage your team and how to allocate budgets during your project. The aforementioned models all have their pros and cons, and their use is just for some particular kinds of projects. One must know how they want the project to be carried out and the expected output (or at least what trajectory they are trying to pursuit) of the outsourcing process to effectively work with vendors. If the requirements are not clear enough or the feelings of urgency make them rush into hasty decisions, they might fall into many outsourcing pitfalls instead of cutting costs and improving competencies.
About Lotus QA
At Lotus QA, we have a flexible approach for our clients to get the most suited IT Outsourcing model. As each of the models has its own traits and features, Lotus QA can customize them upon requests, as long as it can help our clients successfully achieve their final goal. Flexible as it is, Lotus QA still complies with international processes and standards in how we provide you with our technology services.
Struggling with finding the best engagement model for you? Get free consultancy from our experts of Lotus QA. We will give you 24/7 support to find the perfect solution for you. Contact us:
Website: https://www.lotus-qa.com/
Tel: (+84) 24-6660-7474
Fanpage: https://www.facebook.com/LotusQualityAssurance