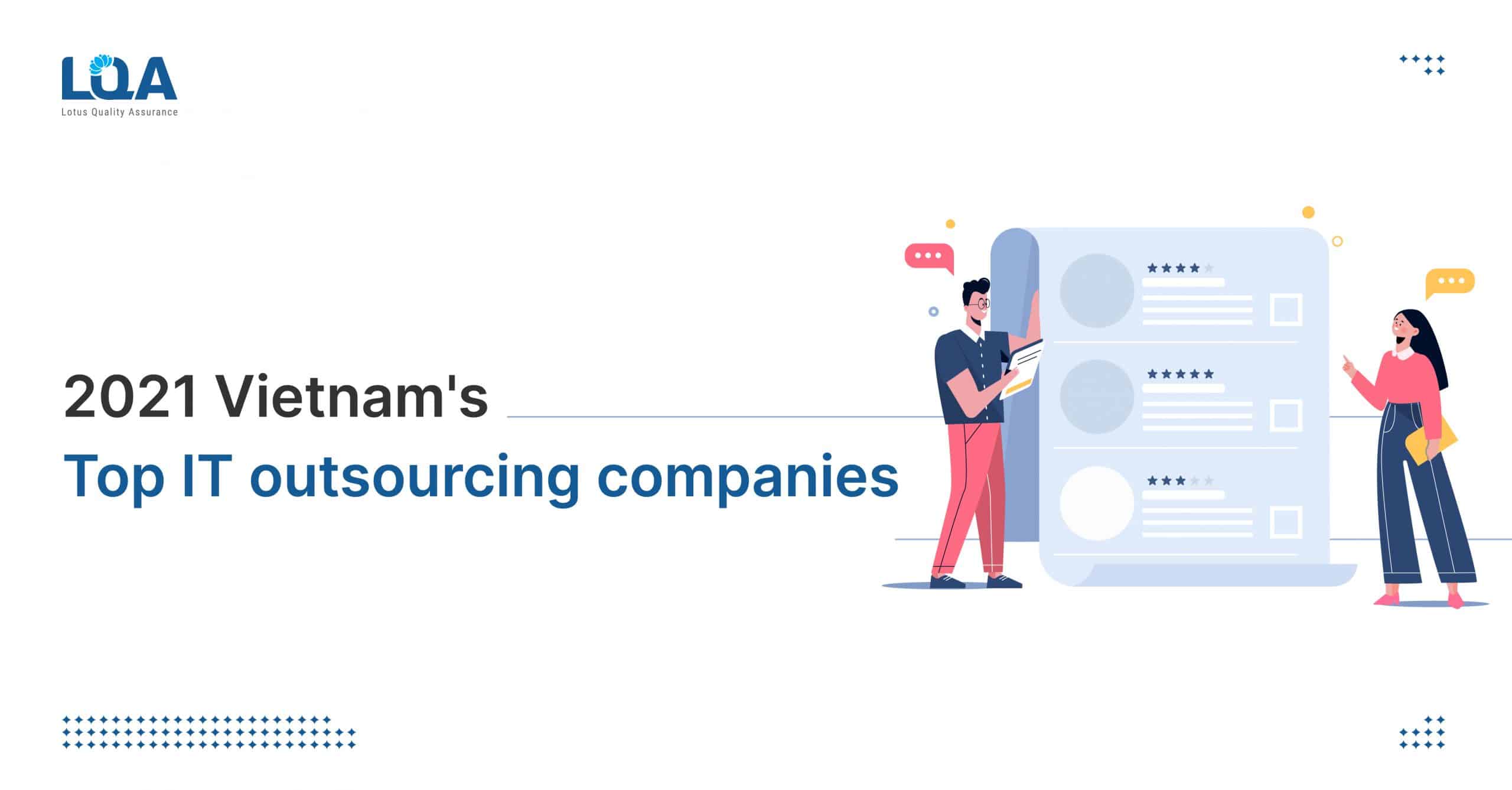 Vietnam has become the silicon valley in Southeast Asia. According to a report from Gartner in 2016, Vietnam is in the top 5 destinations for IT Outsourcing due to the low labor cost and high IT skills. If you are looking for good IT outsourcing companies in Vietnam, this list may be helpful to you.
Top IT outsourcing companies in Vietnam
FPT Software Co., Ltd
Lotus Quality Assurance
Harvey Nash Vietnam Co., Ltd. (NashTech Vietnam)
CMC Global
TMA Solution
KMS Technology Vietnam Co.
GMO-Z.com RUNSYSTEM JSC.
FUJINET Systems JSC.
RIKKEISOFT Corporation
LUVINA SOFTWARE JSC.
VNEXT Holdings JSC.
IFI Solution Co.
You might concern: Ultimate Guide for Managing IT Outsourcing Projects
A Quick Review of Top Company for IT Outsourcing In Vietnam
Based on the information from Clutch, we compare the companies in the list by four criteria: Number of employees, Project Size, Average cost per hour, and services they provide. We hope that you can find the most suitable vendors from this information:
Number of employees
Project Size
Average cost per hour
Services Provided
FPT Software Co., Ltd
10,000
At least $1,000
< $25/hour
– Application Testing

– Cloud Consulting & SI

– Custom Software Development

– IT Managed Services

– Non-Voice BPO/ Black Office Services

Harvey Nash Vietnam Co., Ltd. (NashTech Vietnam)
1200
At least $5,000
Private

– NashTech

 uses 

37

 technology products and services including 

HTML5

, 

Google Analytics

, and 

jQuery

, according to G2 Stack.

– NashTech is actively using 63 technologies for its website, according to BuiltWith. These include Viewport Meta, IPhone / Mobile Compatible, and SPF.

LTS Group
248
At least $1,000
< $25/hour
– Software Testing & Quality assurance

– Custom Software Development.

– AI Development and Data Training

– BPO

CMC Global
1,000 – 9,999
$5,000+
< $25/hour
– Custom software development

– Cloud migration

– Cloud-managed service

– RPA implementation

TMA Solution
1,000 – 9,999
$50,000+
< $25 / hr
– Custom Software Development

– BI & Big Data Consulting & SI

– CRM Consulting and SI

KMS Technology Vietnam Co.
1,000 – 9,999
Private
Private
– Application Testing

– Custom Software Development

– Enterprise App Modernization

GMO-Z.com RUNSYSTEM JSC.
600
Private
Private
– Application Development

– Web System

– Labo Project

– Smartphone Application

– Testing Service

– Graphic Design

– IT Service

FUJINET Systems JSC.
800
Private
Private
– Software Development

– IT Outsourcing

– Analytics

– Enterprise Resource Planning Softwares

– Hardware Solutions

– Cloud Migration

– Visual Design

– Cloud Services

RIKKEISOFT Corporation
1,000 – 9,999
At least $5,000
< $25/hour
– Custom Software Development
– Mobile App Development
– Web Development
LUVINA SOFTWARE JSC.
750
Private
Private
– Software development – system maintenance and operation

– Onsite development services

– Telework solution

VNEXT Holdings JSC.
405
At least $5,000
< $25/hour
– Lab-type Offshore Development

– System/Application Development

– AI Development

– Blockchain Consulting and Development

IFI Solution Co.
1,000 – 9,999
Undisclosed
Undisclosed
– Web/cloud application development

– Mobile apps development

– Software testing (automation & manual)

– Big data & IoT platform

FPT Software
Founded in 1999, FPT Software is a globally leading technology, outsourcing, and IT service group based in Vietnam. Clients are assisted by more than 10,000 knowledgeable employees who are qualified with CMMI Level 5 & ISO 27001:2013.
FPT Software delivers top-notch services in Analysis, IoT, Mobility, Cloud, Embedded systems, QA Testing, Legacy Migration, Package Implementation, Application Service, and BPO services from around the world from United States, Japan, Europe, Australia, Vietnam to the Asia Pacific.
LTS Group is a global IT services & solutions provider headquartered in Vietnam – an emerging Silicon Valley of Asia – with two global branches in Japan and the U.S. Over their 6 years, LTS Group has won many awards and recognitions, including:
Sao Khue Award for excellent Software Testing services, by Vietnam Software Association (VINASA, 2022)
Sao Khue Award for excellent AI Data Annotation services (VINASA, 2021)
Top reviewed web & mobile app developers in Vietnam (The Manifest, 2022)
Top IT outsourcing companies in Vietnam (Clutch, 2020 – 2021)
IT services that LTS provides:
Their domains ranging from general to domains that require expertise, such as Education, Automotive, Fin-tech, and Healthcare. As of 2022, they have +60 global clients and partners in 9 countries, including Korean, Singapore, Hong Kong, Australia, etc.
Harvey Nash Vietnam Co., Ltd. (NashTech Vietnam)
Harvey Nash Vietnam Co., Ltd. (NashTech Vietnam) is the next one in the top IT outsourcing companies in Vietnam. They gained their expertise in technology by delivering smart solutions that can solve business challenges and create value.
Since 2000, NashTech Vietnam has been delivering software development and other IT outsourcing services, including cloud computing, digital transformation services and BPS to many clients in the world. Their main markets are the UK, Europe, USA, Australia, Singapore, Vietnam and Japan.
With experience in multiple markets and technologies, NashTech can offer the technology services that many businesses need for their strategic business growth. Whether you're looking to increase the capacity of your existing tech team or want to outsource a project to a specialized partner, NashTech has a model tailored to your specific business needs.
CMC Global
CMC Global, among the top IT outsourcing service providers in Vietnam, is a major division of CMC Corporation – a Vietnamese high-tech conglomerate founded in 1993 with a current workforce of over 3,500 people. With more than 1,500 experienced employees, CMC Global provides a wide range of software development services that can be highly customized to customers' needs, including:
Custom software development
Cloud migration
Cloud managed services
RPA implementation
CMC Global is currently serving more than 200 clients from around the world, and strictly follows international standards, including CMMi and ISO 27001:2013, to guarantee the quality of its delivery.
TMA Solutions
TMA Solutions was established in 1997 to provide quality software outsourcing services to companies worldwide. They are one of the largest software outsourcing companies in Vietnam with 3,000 engineers. Their engineering team was selected from a large pool of Vietnam IT resources; they are well-trained and have successfully completed many large and complex projects.
Over their 25 years, TMA Solutions has won many awards, including:
Top 15 global companies with "Offshore Software Outsourcing Best Practices" (Aberdeen Group, 2002)
Gold medal for Software Export and Top ICT Companies from HCMC Computer Associations (2004-2014)
KMS Technology Vietnam Co.
KMS Technology is a US and Vietnam-based technology service company with software development, testing and IT consultancy as their focus. With headquarters and branch office located in the leading and emerging destination of IT market, KMS Technology is able to reach out to clients and bring about the most effective solutions for specific scenarios.
This company serves the market with a customer-centric approach, meaning that their process, their work and their operation are aligned with those of their clients. Through a collaborative partnership and industry-leading solutions, KMS Technology aids their clients in the digital transformation that will later on helps them grow their core business.
Through 11 years of experience, KMS Technology has delivered innovative and high-profile platforms for their clients. They have helped their clients save a total development cost of $139M with 130+ clients, not to mention three leading software companies founded by KMS themselves.
GMO-Z.com RUNSYSTEM JSC.
GMO Z.com RUNSYSTEM is a member of GMO INTERNET GROUP, JAPAN, which has 89 member companies and already listed on the Tokyo Stock Exchange. Due to a great number of IT companies within the Group, member companies can cooperate in a flexible way, creating a "synergy power", which is also a strong competitive advantage of the company. Their focus domains feature financial services (banking, insurance, FX), manufacturing, logistics, e-commerce, cloud-platform-shift, etc.
GMO has a team of Vietnamese engineers with high Japanese language proficiency to serve Japanese clients. Also, they ensure quality by following international standards such as ISO 9001, CMMI level 3, ISMS (ISO 27001).
FUJINET Systems JSC.
FUJINET Systems JSC. builds its foundation based on high quality, delivery compliance, competitive price and many more. By gathering a team of elite IT engineers, plus the world standard CMMI Level 3 software development process, they can deliver top-notch services with the help of diligent and expert staff. They also build an organization that keeps improving productivity, aiming to become a leading company in Vietnam in the field of software development for the Japanese IT market.
After 20 years of operation, they have delivered more than 2500 projects to the Japanese market. If you are a Japanese company looking for a trusted IT partner in Vietnam, Fujinet should be among the one to consider.
RIKKEISOFT Corporation
In the 8 years since their foundation in 2012, RIKKEISOFT Corporation has successfully delivered numerous projects for Japanese clients. They've never given up on the mission of going higher and tackling bigger and more challenging problems. With a sense of perseverance, optimism, determination, and patience, RIKKEISOFT Corporation is always ready to cope with whatever obstacles they face on their journey. They are committed to becoming a leading enterprise within the region and reaching the milestone of 10,000 employees by 2025.

LUVINA SOFTWARE JSC.
Luvina Software is one of the IT outsourcing companies specializing in designing, developing, maintaining, and operating IT products for high-quality required markets like Japan. Luvina's head office is located in Hanoi and branches are located in Kanagawa (Japan). Luvina has cooperated with various clients in different industries and has been a long-term partner of large Japanese enterprises. They are constantly striving to continue to accompany and be a long-term, reliable partner for global customers.
VNEXT Holdings JSC.
VNEXT Holdings JSC. supports development using various frameworks, services and languages, centering on development with PHP/Java, etc. From webpages to various systems such as backbone system and business system, VNEXT Holdings JSC. can design and develop user-friendly system architecture according to the customer's wishes.
They also has experience in developing numerous iOS and Android applications in a wide range of fields, including business, medical care, education, finance, food and beverage, media, and services. They are capable of handling the whole application development process, from planning, design, development to operation, using the latest technology and following the ever-advancing trends.
IFI Solution Co.
IFI Solution is a company which provides professional software development and testing services mainly for customers in France, Germany, Italy, Romania, Switzerland, Denmark, US and Japan. With 18 years of experience and high commitment in quality, IFI Solution has successfully carried out more than 5 hundred projects in different domains including Telecom, Energy, Healthcare, Automotive, Data Management, Finance and Banking.
Their staff are continuously updated with new technologies, experienced in Agile Scrum, DevOps and always ready to fulfill requirements from customers including world-class companies.

Vietnam has the potential to become a new outsourcing destination in Asia. Although these companies in the list have their benefits and hindrances, they still have an outstanding portfolio referring to IT outsourcing services. Need to outsource an IT project? Contact Lotus Quality Assurance's expert and let us know what we can help you with!
Choosing the wrong vendor, an unmatching model, or unclear goals and processes can lead to poor-quality products, project delays, and unnecessary costs. Therefore, successful IT project outsourcing is about getting the most valuable return on your investment, not just finding the cheapest supplier.
If you have challenges in finding the best-fit IT outsourcing partner, check out our Best Guide for IT Project Outsourcing in 2023 or contact our experts to have a free consultation!
———————————–
Read Our Trending Article:
Top challenges in IT recruitment faced by tech giants
7 Strategies to overcome your burden of IT recruitment