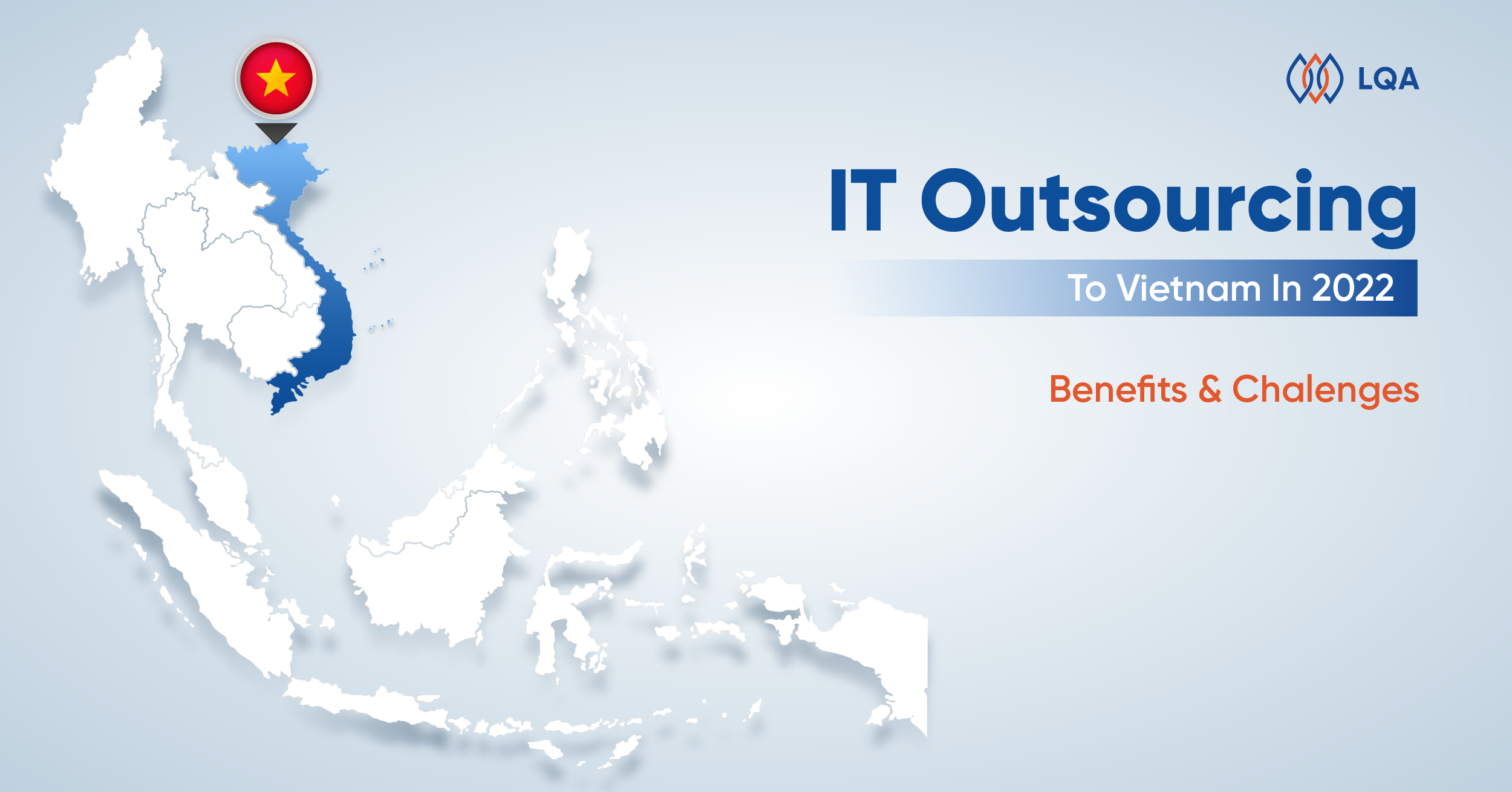 Since the launch of the economic reform
Đổi Mới
in 1986, Vietnam has taken effective steps toward an open and supportive business environment. As of 2022, Vietnam makes it to be among the top 10 destinations for software outsourcing services.
So, what factors make Vietnam stand out, and what challenges remain?
This article will dig into the pros and cons of IT outsourcing in Vietnam,

plus

what we can do (and are actually doing) to resolve these disadvantages. But first, let's take a look at Vietnam's IT outsourcing infrastructure!
5 Benefits Of IT Outsourcing In Vietnam
IT outsourcing to Vietnam brings loads of benefits regarding resources and quality, facilitated by competitive pricing, strong IT infrastructure, and an open business environment for the IT sector.
1. Cost saving
Spanning South-East Asia – one of the cheapest regions in the world, Vietnam has successfully seized this pricing advantage to become
the
6th-greatest destination for software development
. As of 2022, Vietnam scores 99.8/100 in Cheap manufacturing costs rated by
the US NEWS
and is among Asia's lowest, according to a survey by TMX Global.
That's why the first benefit of IT outsourcing to Vietnam is a much lower cost than that in most other IT outsourcing countries. For example, it takes $20-$45 per hour to hire a senior Vietnamese developer and $65-$130 per hour for an American one.
2. Access to qualified IT human resources
As quality is a prerequisite while the IT sector is so particular, a skilled IT workforce is vital to ensure qualified and secured software products. Talking of
numbers
, Vietnam has 1,08 million IT staff including 400,000 programmers. 148 Vietnamese universities and 412 vocational colleges are qualified to provide IT education, adding 62,000 IT human resources to the market annually.
In a
quality
manner, Vietnamese IT labor is considered skilled, hard-working, and trustworthy, acting as per what they promise and adhering to the plan. Some achievements that they've got:
Top ten countries with the highest number of engineering graduates (

2022

)

Vietnam ranks 29th in terms of Skillvalue Worldwide in the Developer Skills Chart of Skill Value Report (2018).

Top 06 worldwide in Developer Skills Charts of Topcoder (

2022

).

Rank 23rd worldwide in Developer Skills Charts of Hackerrank's Report (2016).
3. Keeping pace with new technologies
Another advantage of outsourcing IT functions in Vietnam is that you can utilize innovative technologies ability to build software applications with enhanced quality, security, and user experience. Here, how does Vietnam actually develop new technologies ability?
Education
comes first! Annually adding, adjusting, and enhancing training programs in
AI, Data Science, Big Data, Cloud Computing, IoT, VR / AR,
Blockchain
, 3D Printing,
etc. Also, hosting awards to encourage initiatives for new technologies, such as the
AI Award 2022
and
RMIT Blockchain FinTech 2022
.
Next is infrastructure, Vietnam is ambitious to build a National AI Research and Development Program with an AI Valley in Quy Nhon. We also establish many communities for specific technologies, such as the Vietnam Blockchain Association (VBA), VietAI, AI4Life, Artificial Intelligence Community, etc.
4. Access to dedicated end-to-end IT services
A big bonus when outsourcing software development in Vietnam is
comprehensive and professional end-to-end IT services
, thanks to the rise of end-to-end IT outsourcing firms.
Take LTS Group, for instance, we have LTS EDU specializing in IT training, LTS for software development, LQA for software quality assurance, and GDS for digital transformation. Meaning that our clients will conveniently get comprehensive services to optimize their business outsourcing.
5. Open and stable business environment
Vietnam ranks 21st globally in
Open For Business
fueled by a stable society and supportive government policies. Dig deeper, Vietnam is a united nation with one party and religions co-existing beautifully. Vietnam is almost free of religious conflict. Also, the government has provided many exemptions and reductions in tax, land rental, etc exclusively for the IT industry.
Hence, outsourcing to Vietnam will help business owners
lower the risks of being distracted
by unfavorable social situations or
struggling with complicated cross-border procedures
when working with offshore partners.
Also read: Top IT outsourcing companies in Vietnam
Disadvantages Of IT Outsourcing In Vietnam
Yes, the above benefits are undoubtedly great, but the challenges of IT outsourcing in Vietnam do exist. Let's dig into them and see what we can do to resolve them!
1. English is not a native language
Vietnamese software developers have used English for many years as the official working language when working with global partners. But, above all, English is not a native language, and you shouldn't expect perfect English communication when working with Vietnamese IT providers. This is probably the biggest challenge when IT outsourcing to Vietnam.
So, how IT companies in Vietnam are improving this, and how the clients can lower the risks?
Apart from English subjects as mandatory at schools, companies themselves are encouraging English learning in specific ways. For example, at our holding company LTS Group, we have an active English club with hands-on communication sessions every morning, plus set Friday as a fully English-speaking day. And 86% of our employees can communicate well in English.
On the other hand, as a client, you should carefully assess the people that will communicate with you and report to you during the project, especially the project leader. Another tip is to prioritize vendors with solid experience in working with global clients from various countries.
2. Time Difference
A common disadvantage in offshore development that not only Vietnam facing is the timezone barrier. Vietnam with the GMT+7 timezone is 11 hours ahead of the US and 7 hours ahead of the UK, for example. So, it can be a challenge if you work on an agile development model that often requires real-time interactions and responses.
So, the solutions are so clear here. The client can consider the project-based model to minimize interactions or both parties together find a proper way of communication and reporting to lower the barrier of timezone.
Key Takeaways
There're always pros and cons when working with an offshore development provider. In the case of IT outsourcing in Vietnam, the juiciest benefits are probably competitive costs and quality assurance while the biggest challenge lies in the language barrier. Still, overall, we see that the benefits of outsourcing to Vietnam outweigh the drawbacks, proven by the current strong position of Vietnam on the global IT outsourcing map.
About LQA
LQA is the first independent quality assurance company in Vietnam. We're a member of LTS Group which specializes in software QA, software development and BPO. If you are seeking dedicated end-to-end IT services or specific IT functions, don't hesitate to leave us a message and get our responses in no time!