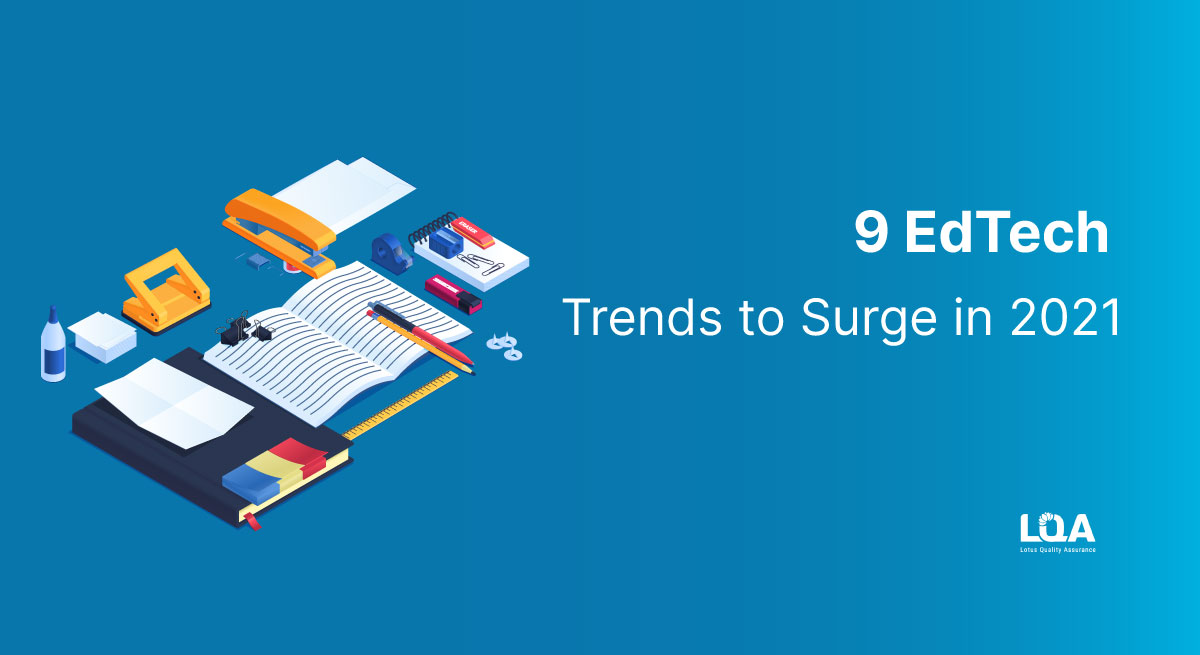 The increasing adoption of EdTech solutions in educational institutions has been very popular among educators. The implementation of information technology has been there for several years, with its first application among ERP (Enterprise Resource Planning) systems for school management. However, as the technology evolves with innovations in artificial intelligence, virtual reality, augmented reality, etc., the education sector has surprisingly implemented these technologies into their teaching methods. These technology-infused solutions are widely used for better class engagement and knowledge acquisition.
Thanks to this rapid innovation in EdTech development, students now have more access to education technologies, with the most notable ones as follow:
eLearning​
Video-Assisted Learning​
Gamification​
AI-ML​
VR/AR​
Learning Analytics​
STEAM: Science, Technology, Engineering, Art, Math​
Social Media In Learning​
Blockchain Technology: Massive Open Online Courses (MOOCs) and e-Portfolios​
eLearning
E-Learning is short for electronic learning, which is referred to the delivery of learning and training through electronic devices. Any content of the teaching and training process through electronic devices can be called eLearning.
eLearning takes the essence of both formalized learning and technology advances to combine it into an effective and innovative learning method.
As we mentioned above, eLearning is booming with an unprecedented growth of roughly 10% a year due to the increased demands of online teaching. As the Covid pandemic is forcing the government to impose directives for virtual schooling, eLearning is highly prioritized with enormous capital funding and governmental support.
You can see this in the case of Vietnam. Since the pandemic took its toll on the country, every educational activity is put to a stop. The Ministry of Education and Training had imposed new directives to guide schools on how to implement eLearning in their systems. Thanks to this, eLearning start-ups in Vietnam have the opportunity to rise above and gain support from investors and Capital funding companies.
Video-Assisted Learning​
Video-Assisted Learning​ is a teaching method in which educational videos are used for the visual manifestation of the knowledge conveyed through the lessons.
The traditional way of teaching did use pictures and graphic designs in their lessons, but the number of lessons like this seems to be quite low. However, with the technological approach and the adventure of designing and video editing platforms, teachers now can easily turn their lessons into a vivid world of knowledge and information with visual illustration from video-assisted learning.
With the utility of VAL, students' comprehension and cognitive ability are enhanced. More importantly, VAL is not only a means of knowledge transfer but also a vital part of both general education and student wellbeing.
The implementation of technology is most transparent in how the online platform can support quick video editing and video production.
Gamification​
Gamification​ is a new method used in classrooms to develop an approach for the increase in learner's motivation and engagement. It used corporated game design elements in educational environments such as classrooms, slideshows, etc.
Through gamification, teachers can develop a sense of connection between class members and develop many qualities. For example, games designed for educational purposes often involve time pressure and teamwork. Under a short amount of time, learners are asked to complete a task or to compete with other teams. Plus, gamification often includes team activities, which in turn can offer collaborative capabilities.
By combining knowledge achievements and competitive activities, educators can evoke interest and form a sense of fun classrooms among their students.
Gamification used to be about slideshows and PowerPoint with limited modifications. But now, as the attention for this teaching method has risen, many companies are aiming at providing a platform for educational games and gamified tests. You take Kahoot! as an example. This platform allows teachers to customize tests under time pressure.
Artificial Intelligence and Machine Learning
The collaboration of AI/ML with education seems unrealistic, especially with such a traditional and conservative sector. Nevertheless, the world has witnessed many use cases of AI and ML in teaching, especially in the part of virtual assistance and digital exams.
For virtual assistance, many professors and teachers have been using bots to communicate with students. For lecturers/teachers, the number of emails and questions sent to them is huge. Hence, they come up with the idea of AI assistants.
With the help of this assistant, students can get answers after a short amount of time, enabling more time for the teachers. Thanks to this, the teachers now have more time to focus on lesson planning and extra curriculum planning.
VR/AR​
Education is expected to be the 4th largest sector that will invest in VR investment.
Statistics from a National Survey are showing that 90% of educators agree that VR technology is quite an effective way of providing differentiated and personalized learning experiences for students. One of the main struggles teachers face is capturing and maintaining students' attention, and VR and AR are not only enabling teachers to capture kid's attention, but also to teach in a more exciting, productive way that at the same time eases the explanation process and is more fun for the kids.
The education sector becomes a great investor in VR technology. In classrooms that have implemented VR and AR as part of their education, there is increased interest. We already mentioned why teachers like using it, but studies also confirm that students—97% of them—actually voted that they would attend a class/course with VR. Considering the current situation with COVID-19 where kids need to learn from home, as well as the inevitable need of reforming the school system, many see AI, AR, and VR as the future of education.
Learning Analytics​
Learning analytics is the measurement, collection, analysis and reporting of data about learners and their contexts, for purposes of understanding and optimizing learning and the environments in which it occurs. The growth of online learning since the 1990s, particularly in higher education, has contributed to the advancement of Learning Analytics as student data can be captured and made available for analysis. When learners use an LMS, social media, or similar online tools, their clicks, navigation patterns, time on task, social networks, information flow, and concept development through discussions can be tracked.
The rapid development of massive open online courses (MOOCs) offers additional data for researchers to evaluate teaching and learning in online environments.
Learning Analytics provides educators with exciting new tools to study teaching and learning. Moreover, as data infrastructures improve — from data capture and analysis, to visualization and recommendation — we can close the feedback loop to learners, offering more timely, precise, actionable feedback. In addition, educators, instructional designers and institutional leaders gain new insights once the learning process is persistent and visible.
Science, Technology, Engineering, Art, Math​
STEAM fields are the areas of science, technology, engineering, the arts, and mathematics, or applied mathematics. Various other definitions for the "A" exist, but no other definition formally defines the arts with research. STEAM is designed to integrate STEM subjects with arts subjects into various relevant education disciplines.
These programs aim to teach students innovation, to think critically and use engineering or technology in imaginative designs or creative approaches to real-world problems while building on students' mathematics and science base. STEAM programs add art to the STEM curriculum by drawing on reasoning and design principles and encouraging creative solutions.
Social Media In Learning​
The rise of social media in the classroom isn't about how many people "like" your posts. The collaborative environment and open forum that social media encourages, along with the rapid pace of information sharing that it facilitates, means that students can accelerate the development of their creative, critical thinking, and communication processes in certain ways when they use it.
Social media promotes self-directed learning, which prepares students to search for answers and make decisions independently. When reinforced in a classroom setting, these social media skills can be guided and refined to produce better learning outcomes and critical awareness. Social media also allows students more freedom to connect and collaborate beyond the physical classroom, which means students anywhere can start to experience the globally connected world long before they enter the workforce.
Blockchain Technology: Massive Open Online Courses (MOOCs) and e-Portfolios​
Massive Open Online Courses (MOOCs) are free online courses available for anyone to enroll. MOOCs provide an affordable and flexible way to learn new skills, advance your career and deliver quality educational experiences at scale. Millions of people around the world use MOOCs to learn for a variety of reasons, including career development, changing careers, college preparations, supplemental learning, lifelong learning, corporate eLearning & training, and more.
e-Portfolios: An electronic portfolio (e-portfolio) is a purposeful collection of sample student work, demonstrations, and artifacts that showcase student's learning progression, achievement, and evidence of what students can do. The collection can include essays and papers (text-based), blogs, multimedia (recordings of demonstrations, interviews, presentations, etc.), graphics.
Through blockchain, data (e.g., credentials, skills learned, etc.) associated with students' identity is not owned by a central administrator such as a university, but by the student. Students have an opportunity to store their lifelong learning data (both from inside and outside of the classroom), fully own it and control who has access to it (e.g., employers). This way, learners can prove that the credentials in their resumes are accurate and have more control over what can be accessed by their employers. Security and efficiency enhancement for educational institutions, businesses, and learners, along with Trust and transparency integration will be ensured with the help of blockchain technology
Are you looking for technology solutions in education, contact us for more information: