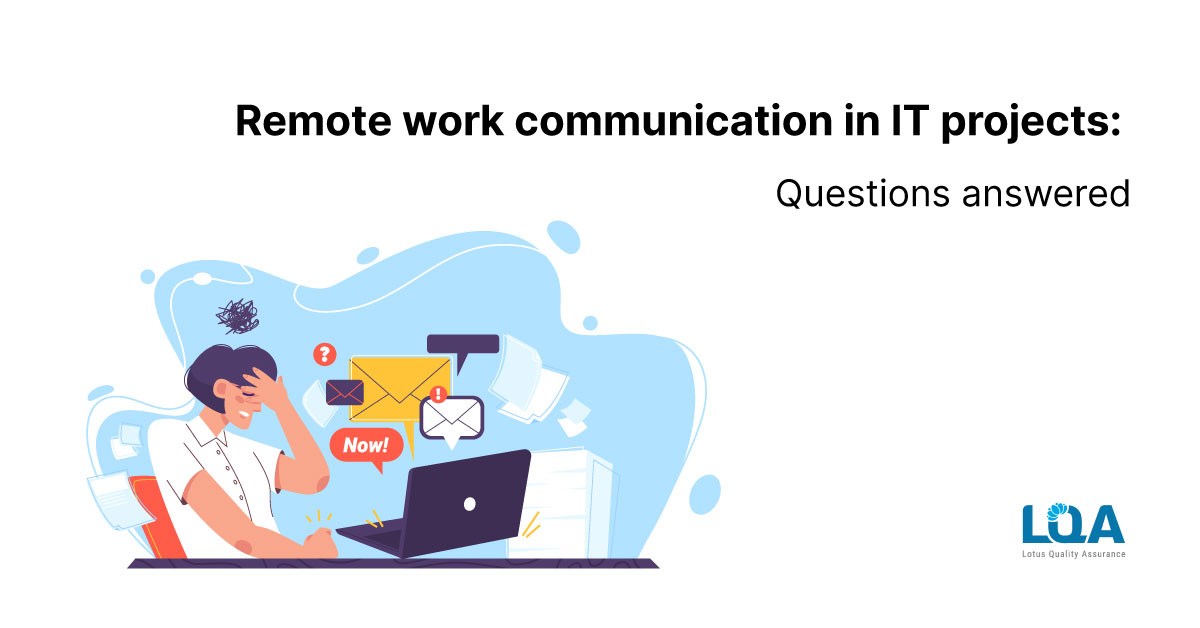 As the IT industry is evolving at a fast pace, there have been new trends in how the IT workplace operates, which requires changes in communication strategy. One of the most notable trends is remote work.
Remote work is a working model that we've been accustomed to for several years now. Since the Covid-19 pandemic, businesses have been adapting to the New Normal, in which remote work is compulsory to stay safe. In addition to that, remote work is also very popular among businesses that use IT Outsourcing and Offshore Development Center services.
Either co-organizational remote work or IT Outsourcing remote work, it takes much effort to manage, to work, to collaborate, and more importantly, to communicate. In this article, we will discuss the current situation of remote work communication in IT projects and give you some insights into this matter.
Why do we need remote work?
Remote work has only been on a rise in recent years as IT Outsourcing is becoming more common. But in 2020, with the coronavirus pandemic's sudden strike on the economy, many businesses have decided to change from co-located office to work-from-home model.
Although many companies have adopted this work model before, it was only on a small scale, with only 2-5% of the staff working from home. However, under the increasingly severe situation of the pandemic, approximately 95% of the staff have to do remote work. Needless to say, numerous businesses are reluctant to employ this, and they stumble upon many problems in terms of communication. Let's take a closer look at why we need remote work now.
a. Hybrid and remote work is on the rise
As mentioned before, due to the pandemic, many companies have applied work-from-home model, leading to the deployment of remote or hybrid teams. Although remote work has been around for quite some time now, only a small number of employees actually work off-site. You can consider this as the hybrid team.
Before the coronavirus pandemic, only 14% of organizational leaders across all industries believed their company could support virtual work. Now, according to a Harvard Business Review study, that number is 42%.
Remote work or hybrid team is applicable with any business size, from small start-ups to international enterprises. In fact, there have been major corporations, including Salesforce, Twitter, Facebook and Dropbox, etc., which started paving the way for the remote work trend. With these businesses as the lead, more and more enterprises are applying work-from-home or hybrid work, first to reduce the risks and then to cut down costs.
By 2030, the demand for remote work will increase by 30% due to Generation Z fully entering the workforce. Plus, 64% of today's professionals say they could work anywhere and remote work policies are common (in place at 71% of organizations)
This is quite similar to the case of IT outsourcing, or Offshore Development Center in particular, in which the client and the vendor have to work remotely. The demands for these services are also predicted to rise in 2022, despite the halt in the world's economy.
b. IT Outsourcing for digital transformation
As many enterprises want to focus on their core tasks and reduce the operational costs, plus the need for digital transformation, data security and customer-centricity, IT Outsourcing is one solution to come to.
As in the IT Services Outsourcing Market Size, Industry Report, 2020-2027 of Grand View Research, the annual growth rate (CAGR) from the phase from 2020 to 2027 is expected to be 7.7%.
IT Outsourcing service varies with different levels of technical work. For some cases, IT Outsourcing means the simple tasks with little technology involvement such as help desk, customer service, etc. For example, Microsoft hires vendors on multiple sites to take care of customer service, a.k.a technical IT support. This can help the enterprise save on labor costs and operation costs. For another case, Slack built its core team in the US to handle essential business operations, while an Offshore Development Center was set up to be in charge of technical tasks.
With this widespread adoption of IT Outsourcing, its market revenue is expected to reach 937.67 billion
c. Emerging trends of Offshore Development Center
Despite the growth of the IT Outsourcing market, many IT leaders are navigating higher tech demands with equal or lower budgets. Hence, cost reduction has been the top priority for many enterprises.
By 2026, the US market will see a shortage of 1.2M talents, and it is becoming more and more difficult to fill any IT positions.
The debate of whether businesses should hire onshore/offshore teams was more relevant in the mid-2010s. However, software outsourcing providers had shifted to international operations and offer Offshore Development Center as a seamless service for their clients.
As the Agile and DevOps model are trending, businesses have gradually shifted from long-distance offshoring destinations to nearshoring or offshoring to a very nearby country. For example, businesses in the USA comes for Latin-American countries for Offshoring development center; and for our case, Japanese businesses come for Vietnam's offshoring service providers.
Enterprises are willing to invest in their offshoring capacity. The two most notable deals so far are of Capgemini's $330 million with CPM Braxis and Hewlett-Packard's $1 billion with 6 offshoring centers in China, Costa Rica, India, Malaysia, the Philippines, and Bulgaria.
The market for Offshore Development Center is very prominent. China alone has accounted for $5.05 billion in the world's offshore development center market.
Among remote work models, offshore development center and IT Outsourcing are developing at a fast pace, leading to a higher demand for efficient remote communication.
How do we prepare for remote work communication?
Remote work is our new reality, and we have to prepare carefully for corporate leaders, managers, and individual workers to adapt to this sudden shift.
Before the pandemic, no business is prepared for remote work on a large scale. However, for employees to stay safe and operate smoothly, many businesses have contemplated remote work. They get the infrastructure ready and allocate the resources for anyone who is in need. New rituals and disciplined ways of managing the day are set up. Group and one-on-one check-ins are made regular. An array of measures are to be taken to acquire the desired outcomes of remote work.
With remote work communication, communication and project managing tools hold an important role as the portal for requirements, tasks, reports are delivered among employees. It can be either a private managing tool or a commercial tool, as long as it can ensure efficient communication. By efficient communication, we mean a platform or a channel for employees to attach files, assign tasks, make reports, and so on.
What can we do to create a good remote culture?
A remote work culture can't be built in a day. Virtuality and how to lead remotely are the issue that many want to crack but are not able to do so.
To build high team morale, the first thing to do is to make your team members feel like they are involved in the company's operation. To do this, team managers are obliged to make announcements about their projects, their clients and their current situation in the market. By doing so, team members can know what's been going on with the company. On an organizational level, the employees will feel more involved in the directives and objectives of the business.
Remote work communication is gaining more importance in work management in general. To accomplish efficiency in your remote work environment, you need to understand the urgent need for it and how to build and prepare good communication.
To have a more thorough understanding of this matter, we highly recommend you take part in the webinar of "Seamless Remote Communication in IT Projects:
Unlock the Hidden Issues within Your Team" on the 1st, September. Contact us for more information:
Webinar information: Seamless Remote Communication in IT Projects: Unlock the Hidden Issues within Your Team
Tel: (+84) 24-6660-7474
Fanpage: https://www.facebook.com/LotusQualityAssurance