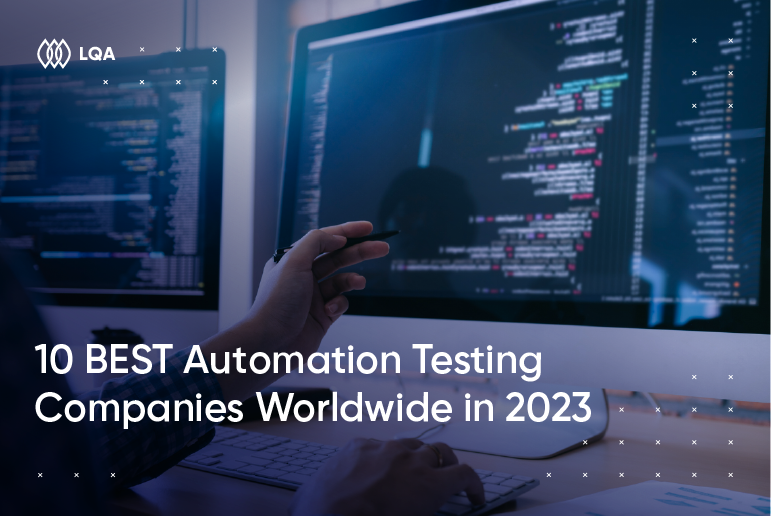 Are you looking for top automation testing companies but finding yourself overwhelmed by the multitude of choices?
We understand the confusion that arises when confronted with a giant amount of information you get after looking around from this website to that research without a clear comparison and analysis.
That's why we created a list of the best companies for automation testing around the world, designed to simplify your decision-making process.
To create these top 10 testing automation companies, we undertook comprehensive synthesis and analysis from a variety of sources, including prestige review sites such as Clutch.co, GoodFirms.co, and G2.com as well as the automation testing companies' websites, and portfolios.
Subsequently, we refined the complete list based on the following criteria:
Substantial experience (>3 years of experience);
Prestigious awards and global certification in automation software testing;
Large-scale IT talent pool;
Core automated testing tools
Expertise spanning diverse domains and service offerings.
Top 10 Automation Testing Companies
As the pioneering independent Software Testing Company in Vietnam, LQA has firmly established its stature within the software quality assurance sector by providing high-quality software testing services to companies of all sizes (including Fortune 500) over the past 7 years.
Boasting a team of 150+ software testing engineers, combined with the advantage of Vietnam's low labor cost, LQA becomes a favorable automation testing destination for enterprises that demand comprehensive quality assurance solutions, fast delivery, and budget-friendly testing services.
Having completed more than 214 projects, and serving more than 60 clients from 9 countries worldwide, LQA's software testing services' quality has been proven by prestigious awards and certifications like ISTQB's Silver partner, PMP, PSM, and a 94% client satisfaction index.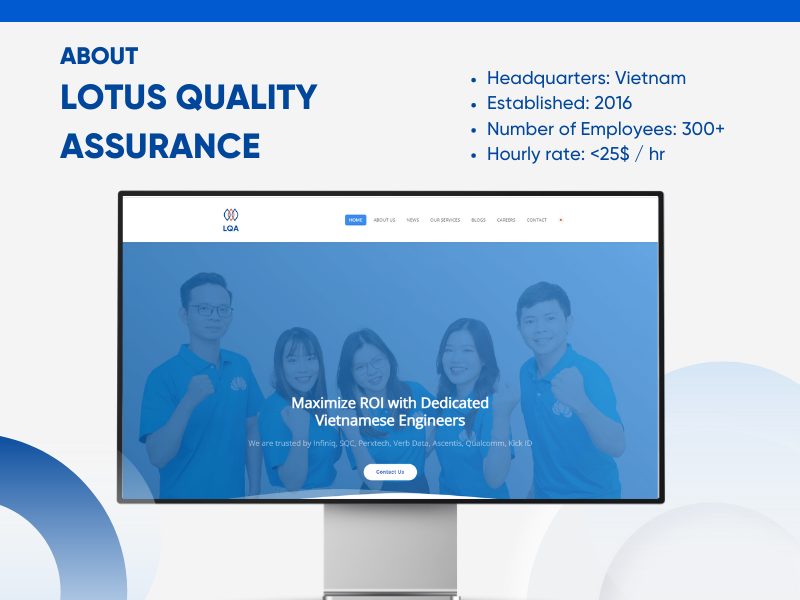 Core automation testing services: Automation WinForms Tests, Automation Web UI Tests, Automation API Tests, Automation Mobile Tests, Performance Tests, Pen Tests, Selenium Automation Testing Services, etc.
Highlight automation testing tools: Selenium, Appium, Jenkins, Ranorex, Cypress, JMeter, SoapUI, LQA Solutions, etc
Industry expertise: F&B, Healthcare, Construction, eCommerce, Education, Banking & Finance.
Key clients: TOSHIBA, Panasonic, Sk Telecom, LG Electronics, MB Bank, Infiniq, SQC, Perxtech, Verb Data, Ascentis, Qualcomm, Kick ID, etc.
Rankings and international certifications:
Top Vietnam IT Outsourcing Service in 2021 (Sao Khue Award – the most reliable and prestigious assessment program of Vietnam in the field of software and IT services)
ISTQB Silver Partner
Software Testing Company In Vietnam recognized by Clutch

Headquartered in New York, QAMentor is a reliable software testing provider for clients from all around the globe with 313 certified QA professionals covering all time zones in 8 different countries. With more than 12 years of experience in the software QA testing industry, QAMentor has served 437 clients from startups to Fortune 500 organizations.
Core automation testing services: API Testing, Performance Testing Tools, Test Virtualization, Database Testing, Security Testing, Selenium testing services, etc.
Highlight automation testing tools: HP Unified Functional Testing Software, Selenium HQ, SmartBear-Test Complete, Telerik-Test Studio, Borland-Silk Test, Testing Anywhere
Industry expertise: Gaming, Media & Entertainment, Healthcare, Travel & Leisure, eCommerce, Education, Banking & Finance.
Key clients: HSBC, Citi, Experian, Amazon, Zyto, BrainMatch, ChefMod, ITCInfotech, etc
Rankings and International Certifications:
CMMI Level 3 SVC + SSD v1.3 appraised;
ISO 27001:2013, ISO 9001:2015, and ISO 20000-1 certified.
QualityLogic is a US-based QA testing provider since 1986 that has successfully completed 6,000+ onshore testing programs. QualityLogic's on-demand and full-spectrum automation testing solutions have helped organizations improve their web and mobile applications' quality.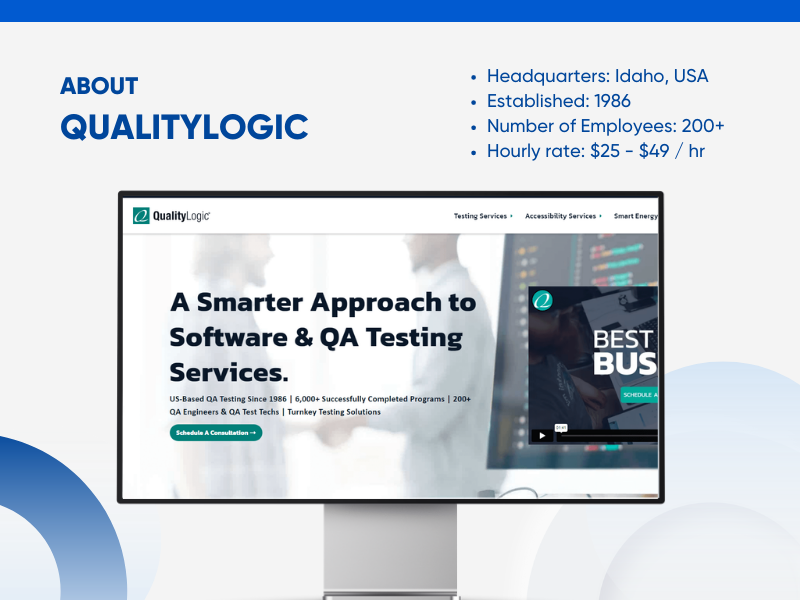 Core automation testing services: API Testing, Websites & Web applications Automation Testing, Mobile Test Automation services for iOS and Android
Highlight software test automation tools and programming languages: Selenium, WebdriverIO, Cypress, Katalon Studio, Mabl, Testim, Appium, TestComplete, Espresso, XCUI Test, Kotlin, Swift, Python, Ruby, JavaScript, Java, C#, and PHP.
Industry expertise: Retail, eCommerce, FinTech, Smart Energy, Media & Entertainment, Fitness, Education, Nonprofits, Telecommunications
Key clients: Verizon Wireless, Cisco, OpenADR, Hawaiian Electric, etc.
Rankings and International Certifications:
Top Software Testing Company in 2023 recognized by Clutch
Top Software Testing Company in the United States (2023) identified by Clutch
As a global independent software testing & QA consulting company, ImpactQA has provided software testing solutions to enterprises and Fortune 500 and 1000 companies for over a decade. Having successfully completed more than 500 testing projects, Impact QA's 350+ QA experts have helped organizations ensure the quality of their digital transformation journey using automation.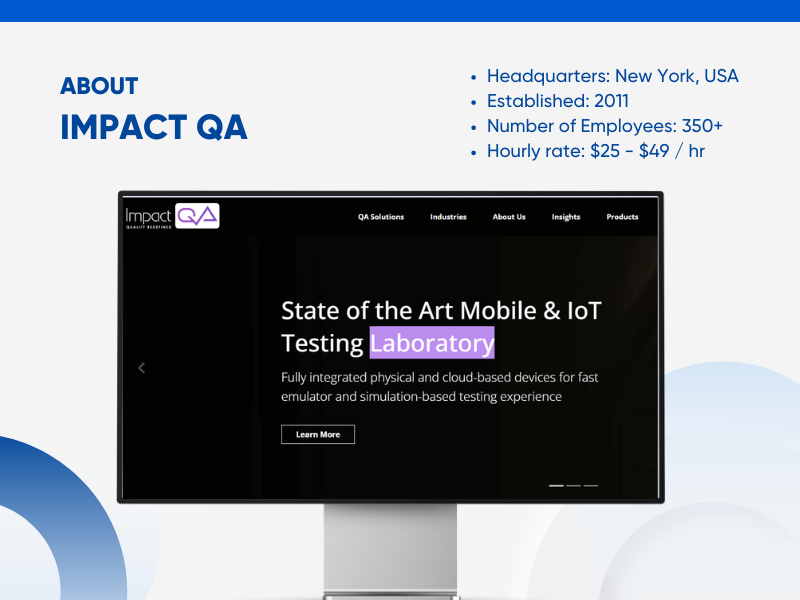 Core Automation testing services: Automated Web Testing, Automated Mobile Testing, Automated API Testing, Automated Performance Testing, Automated UI Testing, Continuous Test Automation, AI-Powered Automated App Testing, Cloud Automation Testing
Highlight automation testing tools: TestNG, Maven, Jenkins, Appium, Tricentis Tosca, Protractor, Selenium, Ranorex Studio, Micro Focus UFT One, etc.
Industry expertise: BFSI, E-learning, Healthcare, Logistics, Manufacturing, Media & Entertainment, Retail & eCommerce, Travel & Hospitality
Key Clients: Panasonic, Starbucks Coffee, Deloitte, KFC, National Geographic Learning, KPMG, Honda, etc.
Rankings and International Certifications:
Managed Cybersecurity Service Provider of the Year (2022) recognized by The Cybersecurity Vision & Innovation Summit & Awards
Top Software Testing Companies in 2020 recognized by Clutch
Top Independent Software Testing Company recognized by Manifest
Established in 2009, TestMatick masters more than 20 types of QA services and possesses deep expertise in various domains. With 125 highly-skilled software testers, Testmatick has helped 68 clients worldwide execute 3,568,997 test cases and detect 25,6987 bugs.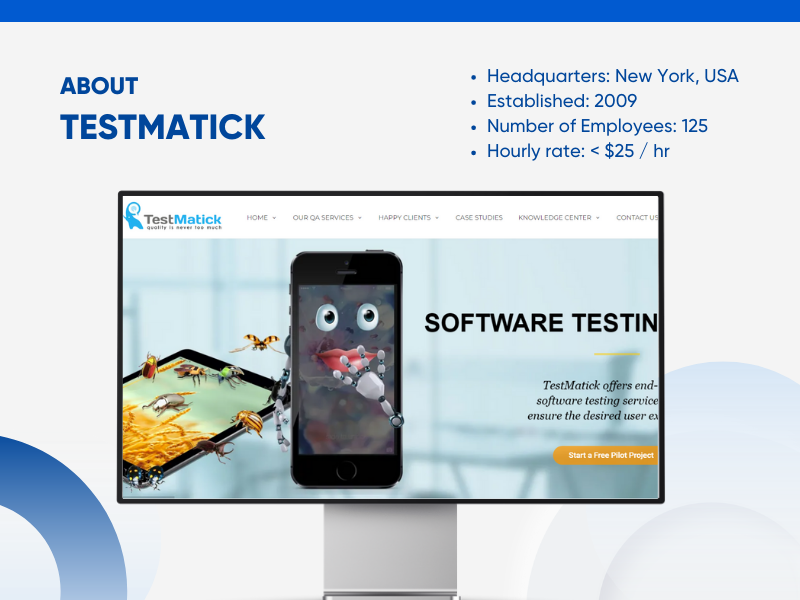 Core Automation testing services: API Testing, Database Testing, Performance Testing, Security Testing,
Highlight automation testing tools: Xamarin Test Cloud, MonkeyTalk, Jenkins, TestNG, Maven, Eclipse, Selenium, Ranorex, Telerik Test Studio, Visual Studio Test Professional, Mercury Quick Test Pro / WinRunner, AutomatedQA TestComplete, Appium, TestPlant, etc.
Industry expertise: BFSI, Travel & Hospitality, Media & Entertainment, Game, etc
Key Clients: Hubrick, DataRockets, KEYPR, Sweetrush, Doppler Labs, Redmadrobot, SolarWinds, eWave, Axia, etc.
Rankings and International Certifications: Best Company to Work With recognized by Goodfirm
Founded in 2019 in Seattle, QA Wolf is a hybrid end-to-end QA automation company and platform that provides a comprehensive software testing plan, automated test script writing, and QA team setup.
With unlimited, parallel runs and Zero Flake Guarantee, QA Wolf guarantees to achieve 80% end-to-end automated test coverage within 4 months.
Besides that, all test code is written in Javascript via their open-source platform which is built on top of Microsoft's Playwright.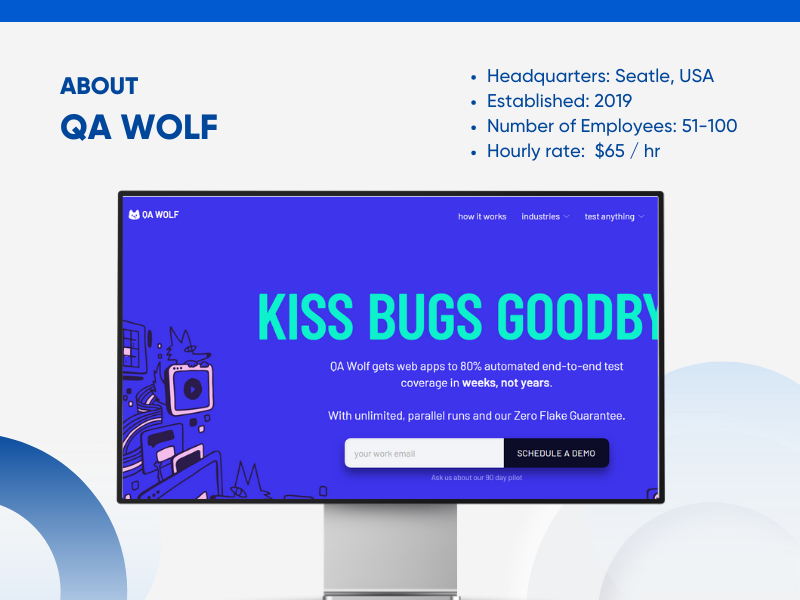 Core Automation testing services: SMS and phone calls, Emails, iFrames, Chrome extensio9ns, Multi-user flows, Integrations, and APIs
Highlight software test automation tools: QA Wolf customized testing platform & tools.
Industry expertise: Social network, Property management, HR & Recruiting, Blockchain & Web3, eCommerce & Retail, Healthcare, Fintech, etc
Key Clients: Bubble, Mailchimp, Gumroad, Cohere, Napster, AutoTrader.ca, Pequity, Regal, Vividly, Makersplace, etc.
Since 2016, QA UTOR – a software testing company from Tallinn, Estonia has provided end-to-end QA services for enterprises from QA audit, QA staffing, UAT, QA outsourcing, DevOps testing, to automation testing, and more. UTOR's automation testing process can ensure 24/7 test runs and maximize test coverage.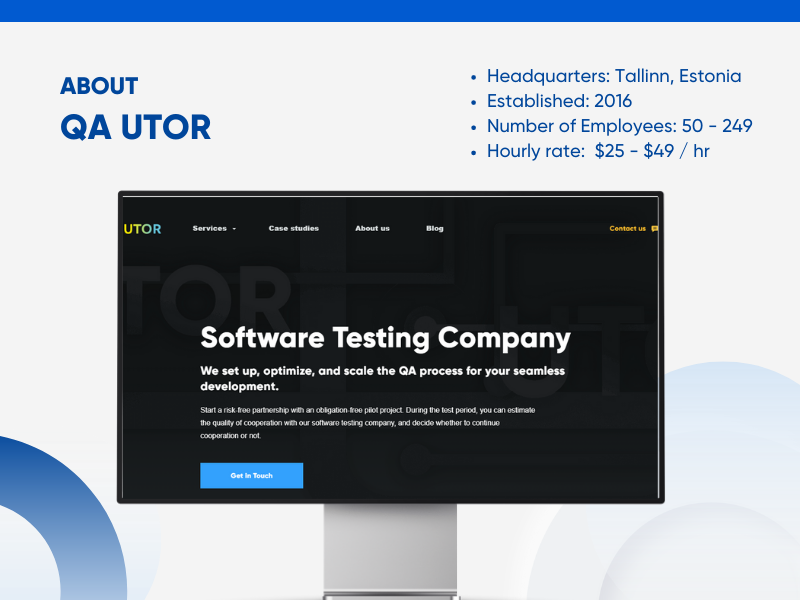 Core Automation testing services: Test Automation Strategy, Automated Regression Testing, GUI Test Automation, Automated Performance Testing, Automation Script Maintenance, API Testing, Automated Web Testing, Mobile Automation Testing, etc.
Highlight automation testing tools: Selenium, Appium, Cucumber, Kotlin, Cypress, Jasmine, Mocha, Chai, WebDriverIO, etc.
Industry expertise: Healthcare, Finance, eCommerce, Digital Marketing, Crypto Industry, Education, etc
Key Clients: Salesflow, Hallam, Reface, InteliGems, sweet.tb, SmartSuite, Eataly, etc.
Rankings and International Certifications:
Global B2B Leader according to Clutch
4.9 average rating on GoodFirms
Top-rated software testing company on Upwork
Coming from Poland, DeviQA has been one of the global leaders in the quality assurance and testing market for over 12 years. Having completed 300+ testing projects from scratch, DeviQA offers a wide range of software testing and QA services for both web and mobile applications.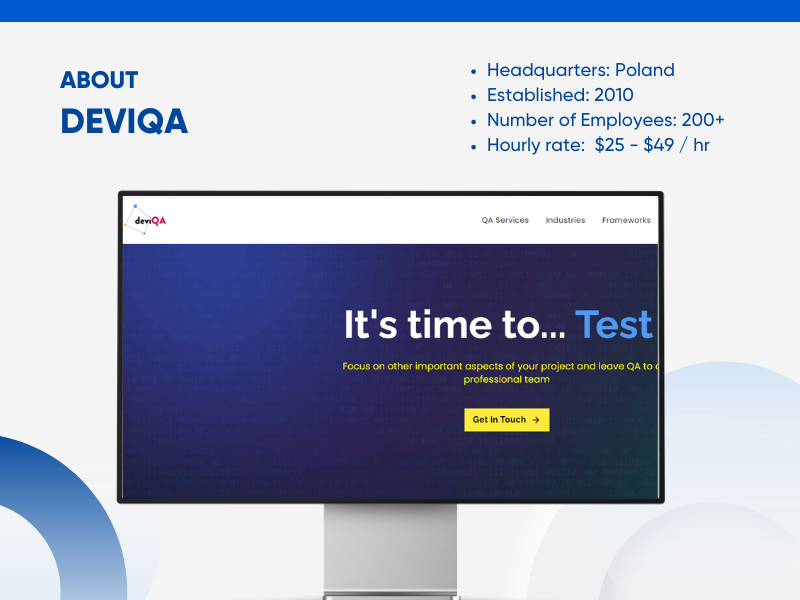 Core Automation testing services: Test Strategy Design, GUI Test Automation, Test Framework Building, Performance Testing, Regression Testing, Regression Testing, Web Apps Automated testing, Mobile Apps automated testing, API testing, etc.
Highlight automation testing tools: Appium, Cucumber, Calabash, Mocha, Robot, Selenium, TestNG, Playwright, Cypress, CodeceptJS, Watir, etc.
Industry expertise: Healthcare, Fintech, Banking, Cybersecurity, Real Estate, Retail, Social & Media, Education, Travel, Blockchain, etc
Key Clients: Mimecast, Biznessapps, Sprinklr, WeHeartIt, SoftNas, UBTteam, Connexient, SimplePractise, TechSee, and many others.
Rankings and International Certifications:
The finalist of the Software Testing Award in the nomination "Best Test Automation Project – Functional."
ISO 9001:2015
ISO 20000:2018
ISO 27001:2013
Top Software Testing Companies in 2023 recognized by superbcompanies.com
Top B2B Companies Global 2022 recognized by Clutch
Founded in 1992, QAlified is a well-established QA and Software testing company specializing in solving quality problems by reducing risks, maximizing efficiency, and strengthening organizations. They have served more than 100 worldwide clients and catered to 600 projects in various domains.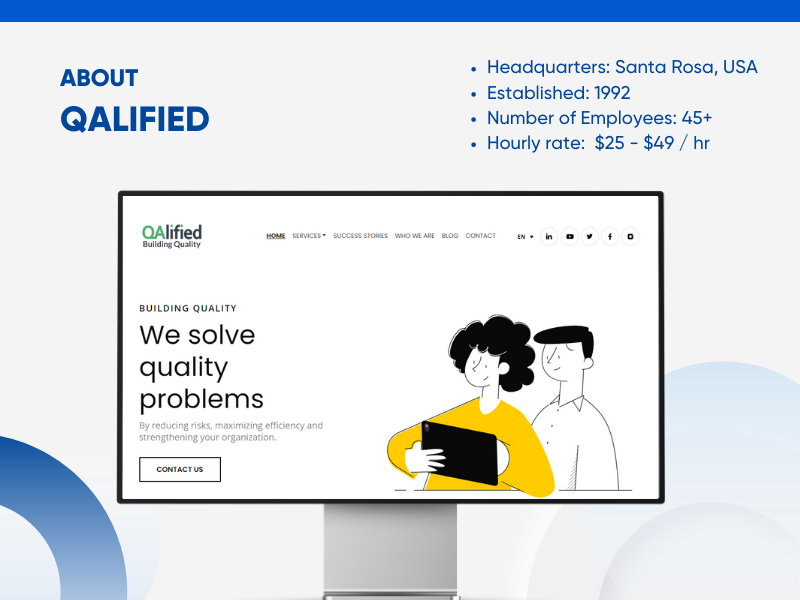 Core Automation testing services: Mobile App and Web App Automated Testing, Performance Testing, Security Testing, Test Automation Consultant, etc.
Highlight automation testing tools: Selenium, Katalon, Appium, SoapUI, Postman, etc.
Industry expertise: Finance, Government, Healthcare, etc
Key Clients: NASA, Gemological Institute of America (GIA), BlueCross & BlueShield, MAPFRE, Boscov's, Liquibase, Loog Guitars, Santander, etc.
Rankings and International Certifications:
4.8 average rating on Clutch
4.9 average rating on Goodfirm
With 3 years of providing software testing solutions with a dedicated team of … engineers, clear communication capability, flexible 24/7 support, and timely delivery, HikeQA has become a rising star in the QA services industry. By using well-studied and proven strategies and various cutting–edge tools, HikeQA automated testing services can ally itself with clients to launch and operate fast and flawless software.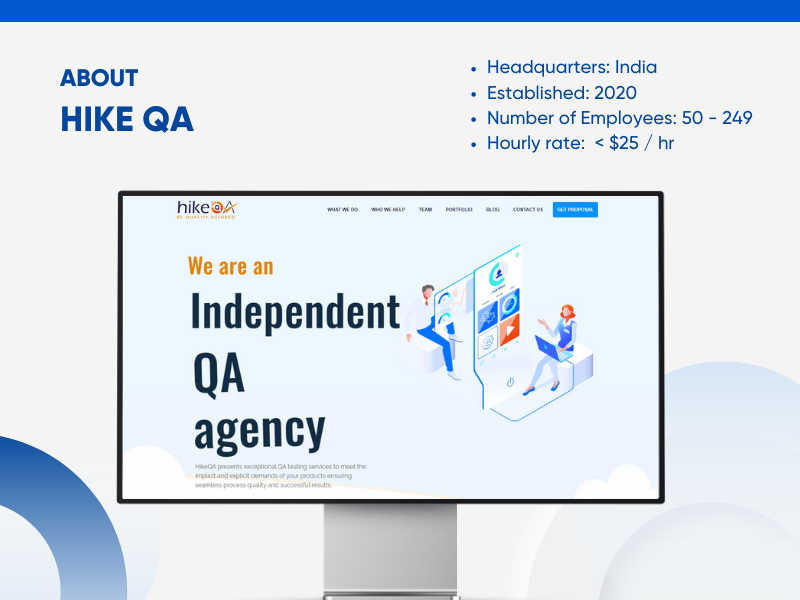 Core Automation testing services: Mobile app and Web app automated testing, performance testing, Regression Testing, etc.
Highlight automation testing tools: Selenium, Protractor, Appium, etc.
Industry expertise: Recruiting, Real estate, Property management, Travel, F&B, Finance, Media & Entertainment, etc
Key Clients: Everreal, Optix, Artrepreneur, Del Mar Vacations, Evati, The WorldCast On Demand Media Platform®, etc.
Rankings and International Certifications:
4.9 average rating on Clutch
5.0 average rating on Goodfirm
How To Choose the Best Automation Testing Companies?
Prior to selecting the top automation testing companies, it's crucial to establish precise requirements. Clearly outlining your automated testing requirements, including the type of software, devices, and testing frameworks will help you communicate your needs effectively to potential providers.
When in the process of choosing the best automation testing companies, decision-makers should thoroughly explore several foundational requirements. To aid you in making a well-informed choice, we have compiled a catalog of key factors to take into account: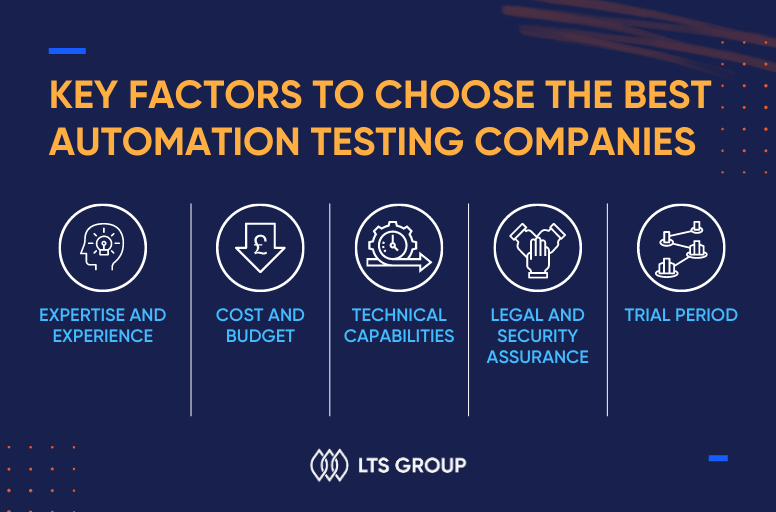 Expertise and experience: Check for the automation testing companies' proven track record in software automation testing. Review their portfolio, case studies, and client testimonials to assess their experience and expertise in your domain and technology stack.
Technical capabilities: Evaluate the automation testing companies' technical skills. They should have proficiency in the relevant automated testing tools, frameworks, programming languages, and automation methodologies. Make sure their testing tools are up-to-date and aligned with your project requirements.
Cost and budget: While cost is a factor in QA outsourcing, don't just base your conclusion on price. Focus on the value and the services' quality you'll receive.
Legal and security assurance: Review the automation testing companies' terms of engagement, including contracts, and other confidentiality agreements such as NDA (Non-Disclosure Agreement), to assure privacy and data security for your organizations.
Trial period: Look for automation testing companies that offer trial periods or pilot projects. Consider starting with a smaller project or a trial period that will help you assess concisely the company's capabilities before committing to a long-term partnership.

What is Automated Testing?
Automated testing is a software testing technique that uses automation tools and test sequences to automate the processes of examining a software's functionality to ensure it meets the requirements before being released.
Here are some test types that are normally automated:
Code analysis,
Unit tests,
Integration tests,
Acceptance tests,
API tests,
Regression tests,
System tests,
User interface (UI) tests,
Smoke tests.
When to Use Automation Testing?
When it comes to software quality assurance, there are two popular types, manual testing and automation testing.
Manual testing is the traditional and fundamental test method that is best used when we don't have a clear understanding of the software products or when the systems haven't been stable.
On the other hand, automation testing is considered a high-tech test method and is often applied to reduce resources and time consumed for the system that is stably functioning.
Before deciding to choose which testing types for your project, it is crucial to conduct a thorough comparison between manual testing and automation testing. Each testing type has its own advantages and disadvantages in different situations.
And here are particular scenarios in which you need help from the external automation testing companies:
When dealing with repetitive, duplicative tasks within a stable system
When aiming to minimize manual intervention
When striving to accelerate testing cycles and overall software QA processes in cases where the system experiences frequent updates
When aiming for improved transparency in testing activities, involving clear representation of test process data, performance metrics, and error rates through statistics and graphs.

Pros and Cons of Automation Testing
Here are the pros and cons of automation testing:
1. Pros of Automation Testing:
Time efficiency: Automation testing significantly decreases the time required to implement repetitive and time-consuming software testing cases. Automated tests allow faster and up-to-date feedback on software quality by running testing overnight or during off-hours.
Reusability: Automation testing scripts can be reused across different software versions or even different projects, saving time and effort in test case development.
Consistency: Automated tests execute the exact steps and checks consistently, avoiding the risk of human errors raised by manual testing.
Regression testing: Automated tests are particularly effective for regression testing, as they quickly notify if there is any unintentional side effects arise during new code changes.
Coverage: Automation can help reach more expansive test coverage by running a huge number of test cases that might be impractical to manual testing.
Cost savings: For a long-term period, automation testing can bring cost efficiency, as it decreases the demand for vast manual testing efforts in every release cycle.
Data-driven testing: Automation allows straightforward parameterization of test inputs, enabling the same test script to be implemented with diverse data sets.
Continuous integration/delivery (CI/CD) integration: Automated tests can be seamlessly integrated into CI/CD pipelines, providing immediate feedback on code changes and assuring the software's quality in continuous deployment conditions.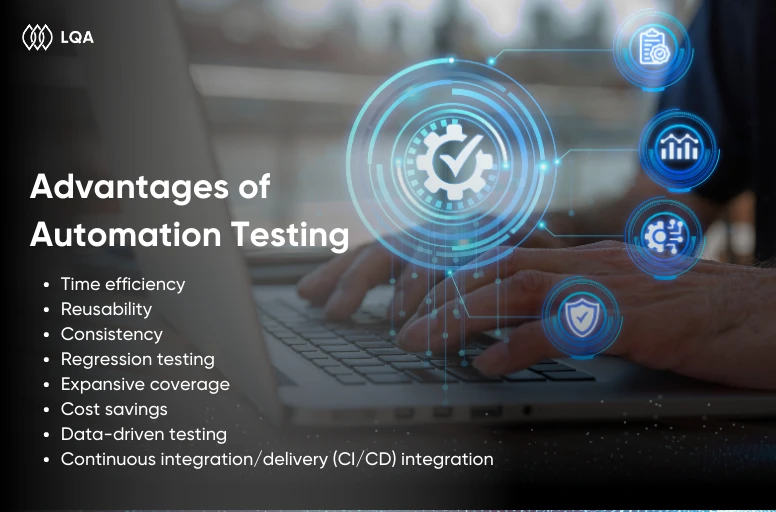 2. Cons of Automation Testing:
Initial setup time: Developing automation testing scripts can take time, especially for complicated software applications. The initial investment in setting up automation tests might not deliver immediate outcomes.
Initial cost: Even though automation can lead to cost savings in the long run, there is an upfront cost for implementing automation tools and training the QA team.
Skill requirement: Automation testing requires technical skills, including proficiency in scripting languages automated testing tools, and frameworks. Testers and QA engineers need official training to become proficient in automation testing.
Not suitable for all tests: Some tests, such as usability testing or tests requiring human assessment, are better suited for manual tests.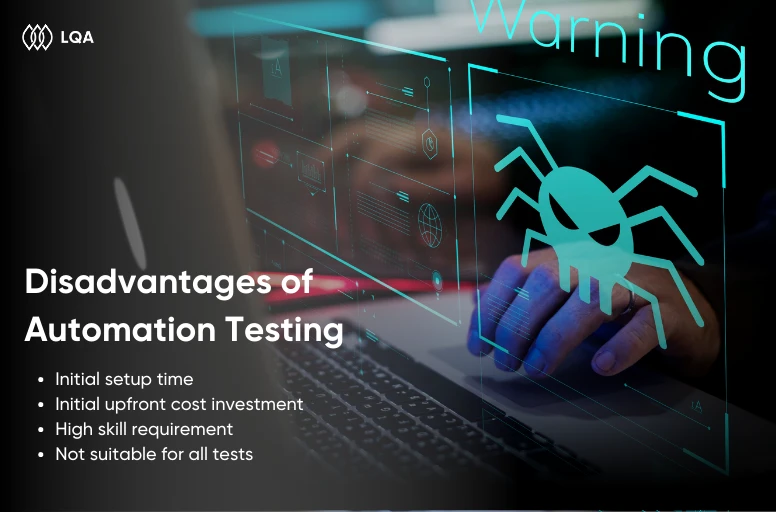 Why is LQA An Excellent Choice Among Top Automation Testing Companies?
Among so many good automation testing companies, which companies are best for automation testing? We understand the challenges that you, as decision-makers have to face, in how to create a budget-friendly automation testing strategy, while assuring your software product's quality.
That's why LQA works hard to deliver a customized software QA solution package for your business's requirements. We stand out by:
Expertise in Industries: Our specialized experience guarantees efficient and exceptional outcomes, verified by prestigious awards like ISTQB, PMP, and ISO.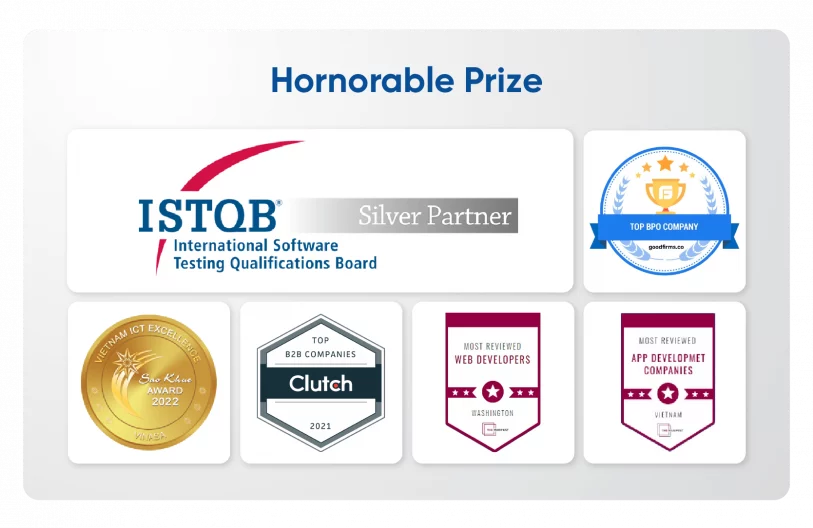 Budget Efficiency: LQA's automation testing solutions ensure tasks are completed effectively within your budget, leveraging Vietnamese low labor costs.
TCoE Compliance: We align with the TCoE framework that helps optimize QA processes, resources, and technologies for your software testing project.
Strategic Location: Vietnam's stable socio-economic status and government policies ensure timely project delivery. Tax incentives and VAT exemptions further reduce outsourcing costs.

Abundant IT Talent: Our diverse pool of testers accelerates time-to-market by encompassing various specialties like Mobile and web app testing, Automation (Winform, Web UI, API), Performance, Pen Test, Automotive, Embedded IoT, and Game testing.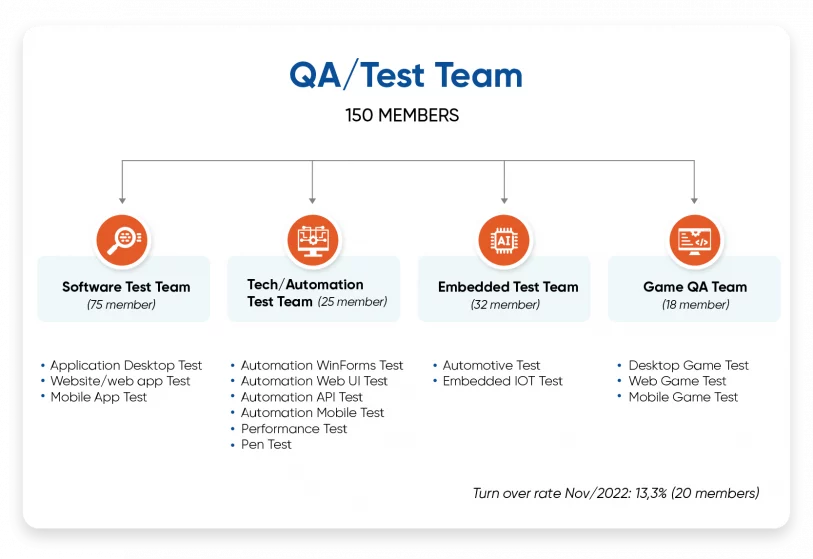 Wrapping Up
Automation testing delivers multiple benefits in terms of efficiency, consistency, and coverage, particularly for regression testing and repetitive tasks. However, it demands careful setup, skill development, ongoing maintenance, and a precise understanding of its restrictions to maximize its advantages. That's why it is highly recommended that businesses should have professional automation testing companies to ensure the utmost quality of IT products.
Searching for top companies for automation testing requires considerable effort and time. This process includes investigating vendors' expertise, time zone differences, and pricing.
Each automation testing companies have their advantages and disadvantages, therefore, before making the final call, it is crucial to dig deep into your project's requirements to pick the right partner.
Should you have any further inquiries regarding automation testing companies or automation software QA, please drop LQA a line to find the best answers.
Our Clients Also Asked Us
What is automated software testing?
Automated software testing is the use of automated tools and scripts to run tests on software applications, verifying and assuring that the software functions operate correctly. It strives to improve testing efficiency, accuracy, and coverage in the software development life cycle (SDLC).
What is Automation Testing as a Service?
Automation Testing as a Service (ATaaS) refers to the process of outsourcing automation software testing to an external QA provider. This vendor develops and executes automated test scripts to evaluate the functionality and quality of a software application.
When do you need QA automation services?
QA automation services bring the most benefits when organizations want to speed up the testing cycle, assure consistency in repetitious tasks, manage large or complex applications systems, support continuous integration, and save time and costs in the long run.
What are some benefits of automated testing software outsourcing?
Automated testing software outsourcing presents advantages such as accessing specialized automated testing talents and tools, cost savings, enhanced focus on core tasks, quick setup, and faster releases.