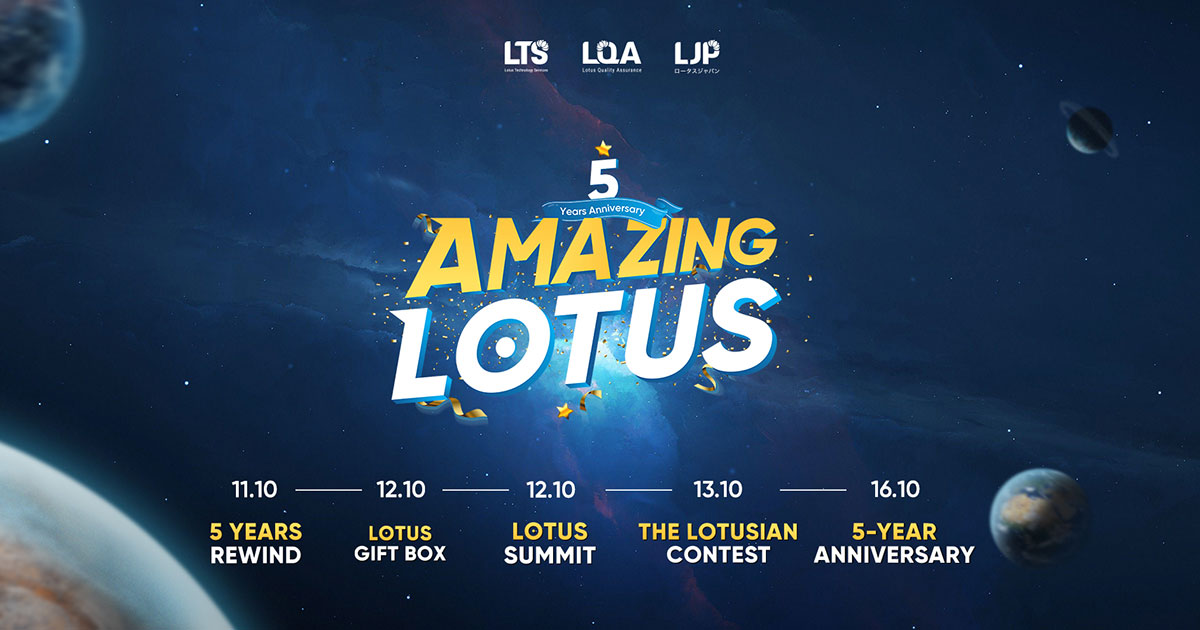 Amazing Lotus – The journey towards perfection of Lotus Group marks a new milestone as we celebrate our 5th year anniversary this October. Through the ups and downs in our journey, Lotus stands strong as we keep fulfilling the goal of bringing top-notch IT services to international clients.
Join us in these upcoming events of our 5th birthday to see our people and culture:
5 Years Rewind – October 11th
5 years of hard work, 5 years of ups and downs, and each member of Lotus Group has their own thoughts to share. This 5 Years Rewind is to remind us of the precious memories and lessons that we have in the past give years, and also to speak up our wants and needs in the future.
Lotus Gift Box – October 12th
To make this 5-year anniversary the most memorable events of 2021, Lotus QA wants to give you little gif boxes. No matter you're working onsite or from home, we will send it to you as a thank-you gift for walking with us in the journey of becoming the top IT firm.
Lotus Summit – October 13th
Every idea and every thought of our employees will be heard, no matter how long have you been in Lotus Group. In this Lotus Summit event, BOD of the company will collect people's thoughts and have solutions and measures accordingly. The revenue and business of the company will also be publicly shared so that the employees know what is going on with the company's performance.
The Lotusian Contest – October 13th
An exciting contest to fire up the mood of our Lotusian. This will sure spark joy for our staff whether they are working from home or onsite.
5-Year Anniversary – October 16th
The most anticipated event of the year – 5th year anniversary party is a joyous and exciting occasion for the old and new member get to know each other.
Let's have the most memorable birthday ever with Lotus Group!