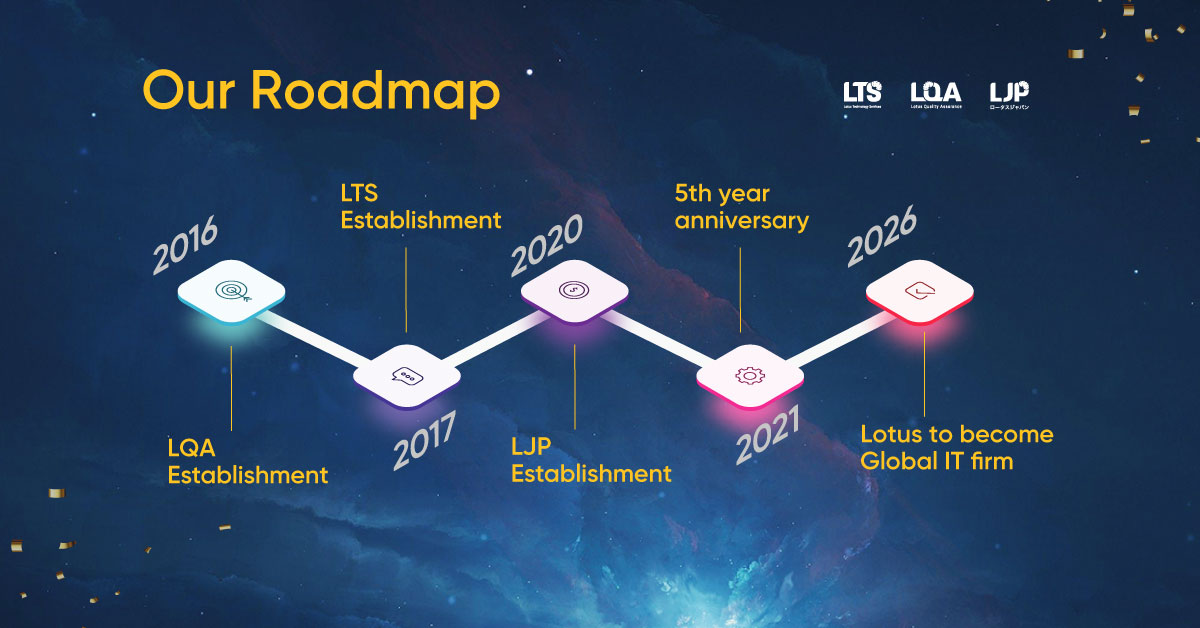 The first five-year plan of Lotus Group has reached to an end with many achievements and stories to be told. With the foundation and certain success we had in the past five years, Lotus Group sets higher aims and bigger goals to our next five years to thrive.
Our motivation strengthens us
Since day one, Lotus has always envisioned to bring the IT talents of Vietnam to the global market. Seeing the unprecedented potentials of well-trained and professional IT workers that enter the job market every year, our BOD senses that these talents can also make a difference in the international market.
The talent shortage in tech positions is very alarming, and to fill these positions are very costly and time-consuming. Seeing the huge number of tech graduates every year, our BOD sets the vision on how to bring as many talents to the world as possible. From small testing projects, now Lotus QA has got some major succeeds with big clients, working in many fields including AI data processing, testing and development.
The motivation of Lotus has always been bringing Vietnam to international customers. Lotus wants to prove to the world that despite the war-torn history, Vietnam now has the potential and the opportunities to thrive as a technology-fused nation. By taking the potentials of these young and dynamic talents, Lotus strengthens the image of Vietnam and joins hand in making Vietnam the top country for IT services.
Broaden our services
 priorities for Lotus in the next five years is the expansion of our services to clients. In 2021, Lotus Group, from a company that focuses on AI data processing and testing services, have started the development service and this has helped Lotus Group gain more reputation in the international market.
With the three major services as mentioned above, Lotus appears as the well-rounded IT service company with capability of providing multiple IT services.
Our BOD aims at broadening our services to reach out to more and more customers, hence expanding Lotus Group. As there will definitely new services in our system, there will be a raise in the number of our employees. In 2021, our team reached 248 personnel, and this number is promised to rise more.
Learning and Development
Any company that invests in employee development is investing in their own success. By providing ongoing training for your employees, you are creating a workplace that is adaptive, flexible, and ready for change.
In 2022, Lotus Group plans to bring the essential classes to our employees. We not only help them acquire more knowledge but also give them the chance to improve other important skills such as foreign languages and presentation skills.
Employees increasingly expect informative and applicable training, which satisfies their needs both as workers at your organization and as up-to-date, informed professionals. Delivering on this training is an important step in building a genuine employee experience management strategy.
The next five years of Lotus Group will have a lot of changes, but we stay true to our motivation, and that is to bring the talented and professional IT workers to the world. By expanding our services and providing the essential knowledge for our employees, we are getting closer to successfully achieve this goal.