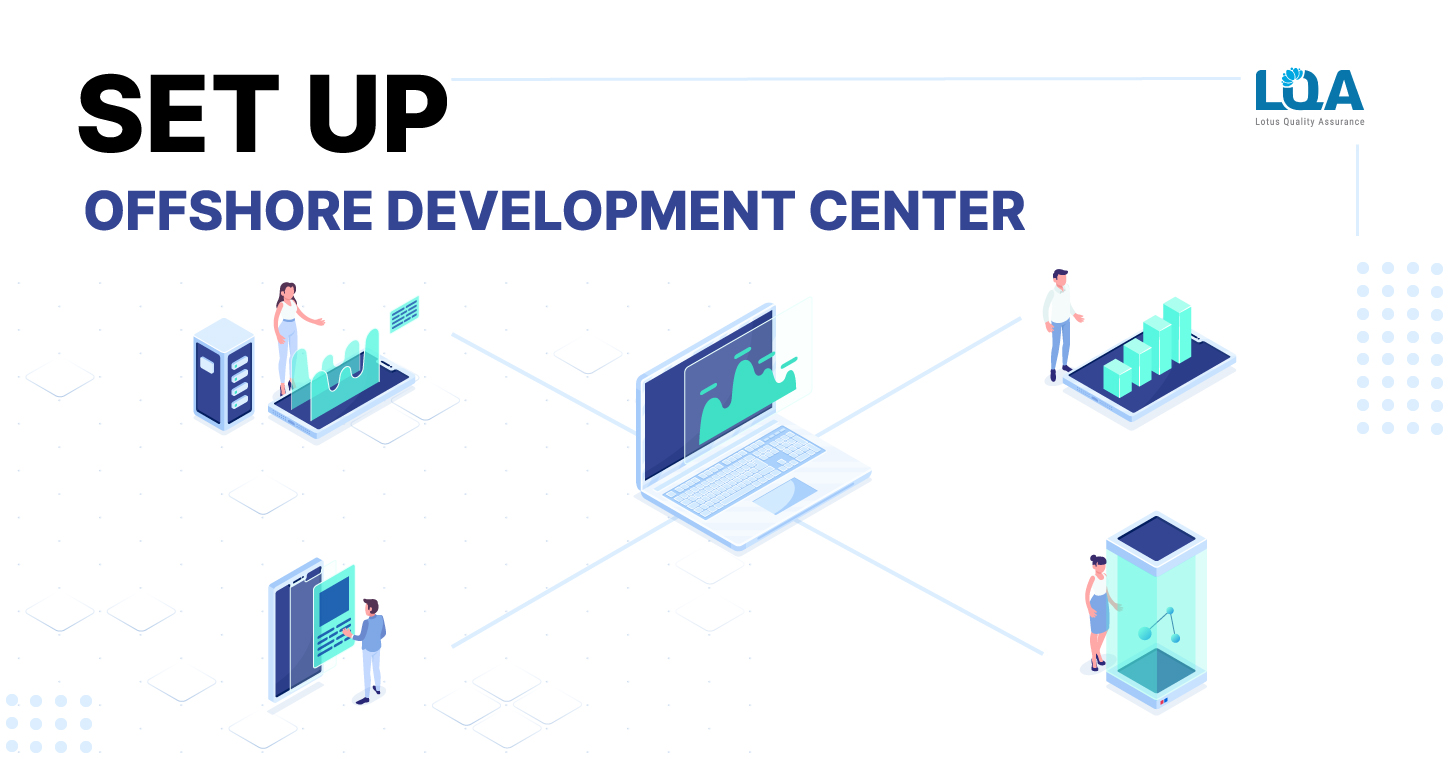 Having an offshore development center to take care of your IT tasks at a reasonable cost is juicy. Still, every step, challenge, and viable solution of offshore development center setup must be considered carefully, no matter whether you have an ODC partner or set up an ODC business on your own.
There is no fixed way to successfully set up an offshore development center, but here come 8 typical and vital steps:
Clarifying your visions & requirements

Choosing an ODC model

Deciding an ODC destination

Selecting a service provider

Forming an ODC team

Establishing communication protocol

Defining project management practices

Clarifying security management standards
Let's go into detail!
How To Set Up Offshore Development Center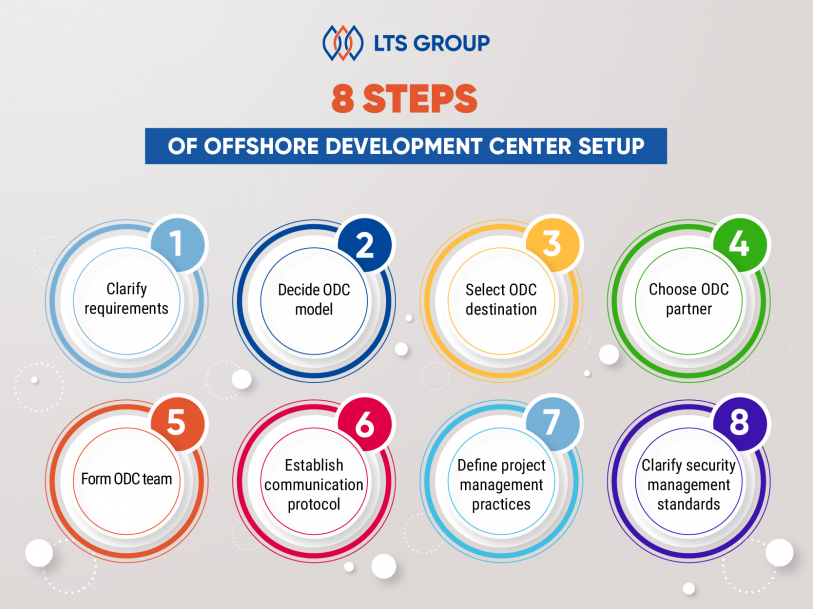 8 Steps of Offshore Development Center Setup 
1. Clarify Vision & Requirement
For a business, clarifying vision and requirements before initiating dedicated offshore development center implementation is of great importance. This prerequisite helps ensure that the ODC setup is the best option to go with, clarifies what you need in your ODC, and sets out a path for you to follow.
For example, if you prefer cultural and time zone alignment, onshore development is a good option. But in case you prioritize cost saving and extended IT human resources, offshore software development can benefit your business both financially and technically.
Here come the major aspects to clarify upfront: 
Business objectives

. E.g., whether you want to complete a one-time project or set up an offshore operation. 

Priority

. E.g., control or cost reduction.

Project scope

. E.g., whether you need an end-to-end solution package or specific

software development

and

software testing

services.

Your available resources

, including budget and time frame.

Security restrictions

.

Expected outcome

.
When you're done with clarification and grasp a big picture of the project, the next step should be choosing an ODC model.
2. C
hoose an ODC Model
So, what are the most common ODC models, and when to use them?
Managed ODC
If you want to save money and focus on core business activities rather than IT operations, managed ODC will be a suitable option. 
In the managed ODC model, the client joins the ODC service provider during recruitment and team formation process. After that, during the project, the vendor handles the ODC facilities and HR administrative stuff while the client manages the team's work directly.
The common pricing model for managed ODC is Time & Material (T&M), which uses a pay-as-you-go approach based on the actual time and effort of the development team.
Build-Operate-Transfer (BOT)
In case you want to establish a long-term offshore presence but lack the resources and understanding of the local market to set up the offshore team, the BOT model is for you. 
A typical BOT scheme consists of three phases:
Build

: The vendor conducts necessary research and discussion with stakeholders to finalize the plan, and subsequently set up the ODC resources and facilities.

Operate

: The vendor puts the team into operations and runs the operations for an agreed-upon period.

Transfer

: The vendor transfers ownership of the ODC team to the client.
The BOT model involves the expenditures of ODC resources and facilities and the service fees. 
Are you new to using external IT services? Check out our infographic on IT Outsourcing Strategy Checklist.
3. Decide on an Offshoring Destination 
With an offshore development center, you know for sure that it is located in a foreign country, but the real question is what country it is. 
When it comes to offshore destination decisions, typical deciding factors include price, HR competency, time zone, and business environment.
As of 2023, the most popular destinations for IT outsourcing are South and Southeast Asia, the U.S., Latin America, and Central & Eastern Europe. Among them, the Asia-Pacific region is expected to grow at the highest CAGR, at 8.3% in IT services revenue in the coming years.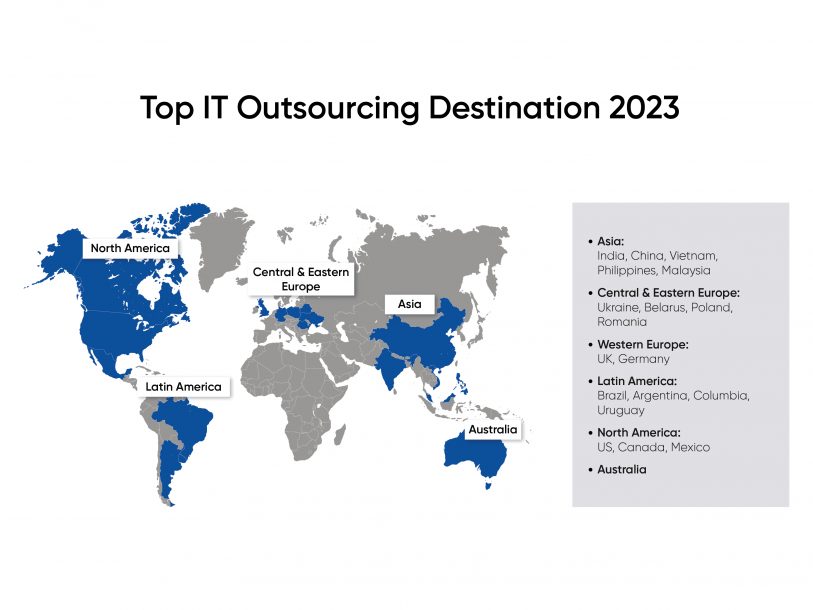 Top IT Outsourcing Countries 
Certainly, India has been the largest IT outsourcing vendor with a large IT HR pool, but the price has increased significantly as the country primarily serves US clients. On the other hand, emerging nations for ODC like Vietnam can offer satisfactory results with a competitive price, vibrant IT talents, and a favorable business environment. 
For instance, LTS Group as a Vietnamese ODC vendor offers dedicated offshore developers of all seniority levels for less than $25/hour. Since 2016, we have supported big brands from South Korea, the US, Japan and other developed countries to establish dedicated development centers in Vietnam.
Are you curious to explore the landscape of Vietnam's thriving IT sector? Check out our latest ebook: Vietnam's IT Service Industry: Landscape, Challenges, Opportunities.
4. Select a Reliable ODC Vendor
IT outsourcing is developing at an unsurprisingly high rate, and software development offshoring is not an exception in this case. Businesses now are spoilt for choices with plenty of service providers to evaluate and consider. 
So, here come the popular criteria to choose the most suitable offshore development center setup partner:
Transparency

Deep understanding of your project

Strong and relevant portfolio

Skillful software engineers

Clear and frequent communication

Cost-effectiveness

Timeline guarantee

Clear security standards 
Finding a suitable ODC partner to accompany you on your journey is not an easy task. You might have to go over dozens of vendor portfolios, reviews, pilots, case studies, etc.
5. Form The ODC Team
Offshore development center setup is different from IT outsourcing in the sense that ODC involves the vendees in the recruitment process. Since the vendees' approval of the candidates is the top priority, it is a must to provide the vendors with a detailed job description for the positions needed in the projects.
With this clarified, both client and service provider parties can come clear of the must-have technical competencies and other soft skill requirements. 
For the technical aspect

: A list of tech engineer interviewing questions can determine the candidates' capabilities and programming proficiency. 

For the non-tech aspect

: "Knock-out" questions putting the candidates in actual scenarios and situations should show their personalities and work attitudes. 
Also, remember not to underestimate the language and cultural behaviors aspects to steer clear of potential misleading, inefficiency, or poor final work results.
6. Establish Communication Protocol
Communication is the key to effective offshore businesses. The initial communication process in which you clarify your goals, product concepts, project ideas, and expected results plays the foundation stones of what to be included in meetings and reports later on. 
With this being clarified, your offshore development team can get a better grip on your business goals. Any adaptation and redirection will be of need for the overall resonation of both parties. 
Clear and daily communication via emails, messages, and online meetings can help you build and develop active and long-lasting relationships. It also creates a habit of frequently updating information from your ODC team, which is of great advantage for better management.
At LQA, we employ the most popular channels and platforms for task and communication management such as Jira, Slack, Zoom, Google Meet, Trello, etc. Depending on your preference and business needs, we will propose the best suitable tools.
7. Define Project Management Practices
The determining factor of a project's prominence and success lies in the capability of the vendee and the vendor in project management. To initially grasp the idea of how to accomplish project management and cover the fundamental features, stakeholders should pay attention to the following aspects.
The development team
Your offshore development team is your partner, not just an IT Outsourcing provider that follows each of your orders. Once you've hired an ODC, you work with them as equal parties, meaning that they would receive the same benefits as your other departments.
Since the ODC specializes in IT, decision-makers should consider the team's technical opinions. It's a brilliant idea that you involve them in the decision-making process, then evaluate, develop and further contribute to their ideas to come up with the most well-rounded approach and solutions for the company.
Despite the lack of the offshore development team's presence, members of ODC are still a part of your organization. Thus, to maintain high engagement and connection across departments, you should introduce and engage them in the company's activities. 
The project manager
For any offshore development project, the presence of an IT project manager can reflect on the professionalism and dedication of the service provider to your project. This manager is required to juggle between tasks and responsibilities with both managerial and technical skills. 
Resources management is an imperative task of a project manager. With a detailed schedule and tasks assigned according to each member's capabilities, businesses can take full advantage of the team's potential.
Progress reports
Frequent meetings with a checklist of what to be updated are essential for project management. The main reason why some are still hesitant towards offshore development centers is the unclear working process. 
Some enterprises prefer actual interaction and close-up supervision for comprehensive management, but when the cost reduction outweighs this problem, the optimized management solution is through meetings and reports. 
Both parties are expected to be transparent about the visions, working process, methods, approaches, and resources. Therefore, predetermining the schedule for weekly or even daily reports is a must.
You might wonder: How To Overcome Chronic Problems of Offshore Development Center
8. Clarify Security Management Standards
Offshore development center service providers sure all put down "High security" as the perk of partnering up with them. But these security features are still a hazard if you don't get involved in the process of building them. 
A plan of ODC security measurements that covers physical security layers and confidentiality will protect you from any intruders and intelligence leaks.
At LQA, we implement the following steps for data confidentiality in offshore development center setup and operation:
Legal confidentiality
Sign a Non-disclosure Agreement (NDA) on both ends before the knowledge exchange.

Well-train staff about ISO 27001 standards.
Network security
Use Virtual Private Network (VPN) for communication

Continuous risk monitoring from the QA team
Physical security
CCTV system is set up in every office area

Biometric scanners at the office entrance
Above is a quick guide to set up a dedicated offshore development center. By following our recommendations and breaking down the ODC setup process into sequential steps, you will be able to have an offshore development center that meets your requirements and powers your business growth.
Frequently Asked Questions about Offshore Development Center Setup
1. What is an Offshore Development Centre?
An offshore development center (ODC) is a software development center of a business that's located in an oversea country. An ODC's typical components are facilities and a development team.
2. How do you manage an Offshore Development Team effectively?
Managing an offshore development team effectively can be achieved through these practices:
Ensure that everyone is on the same page

: Before starting, make sure your team knows the project's goals and what they can do to achieve them.

Set milestones and deliverables

: Setting clear and achievable milestones for your remote developers, so they know what they need to do, and you can track their progress easily.

Eliminate micromanagement

: Once you've decided on your offshore team members, trust them to do their job and look at the big picture instead of constantly checking every little thing they do. 

Treat them like your team

: a dedicated offshore team is essentially an extended team of your business. Hence, avoid an "us vs them" mentality, show appreciation for their hard work, and treat them like they are a true part of your internal team. 
Conclusion
Setup offshore software development center is not that complicated. For foreign investment to thrive, many countries have developed favored policies for foreign countries to partner up with domestic businesses, making it easier to enter the market. However, for the firm legal foundation, you can have a legal consultant work on the rules and regulations regarding foreign investment and other legal matters for you. This can prevent any further possible legislative obstacles in the future. 
Having additional questions about the offshore development center setup? Contact LQA to consult our experts and get insights into Vietnam offshore software development center now!