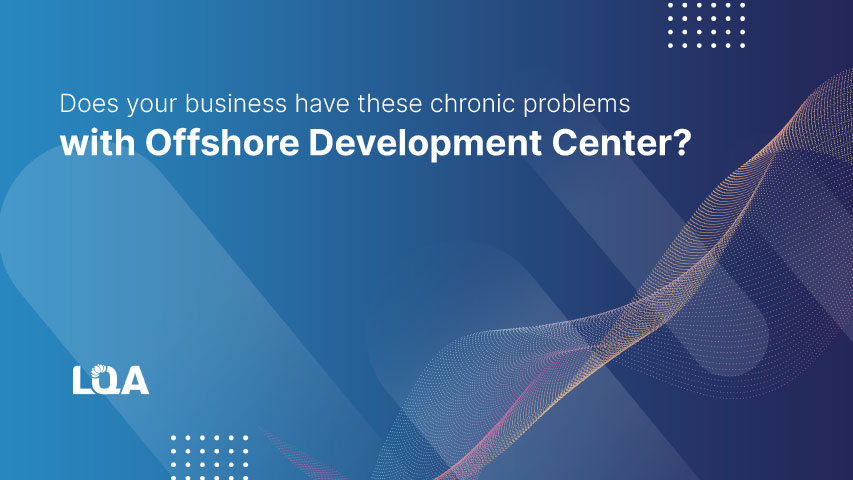 As the global market witnesses the sudden halt sowed by the pandemic, many enterprises and businesses have contemplated digital transformation and started to implement it. With this switch bringing the incremental plan for IT spending in the future, many businesses and corporations seek a more viable and cost-effective solution – Offshore Development Center service.
Nevertheless, Offshore Development Center is not a one-size-fits-all work model for any business and enterprise. On the one hand, this model brings excellent benefits in cost-saving, but on the other hand, it also poses a large deal of challenges to be tackled.
These chronic problems have shown how they can negatively affect the outlook of one business' digital transformation, even with large and resourceful enterprises. To avoid the pitfalls and further streamline your Offshore Development Center, here are the seven most common issues that you might stumble upon.
1. Less-than-desirable outcomes
Offshore Development Center stands among the most cost-effective work models for businesses that want to lower the cost barrier. Working with an ODC, the vendee expects to yield similar work results as they could with an in-house or domestic IT Outsourcing team. However, this is just the ideal scenario. In contrast, many ODC projects have failed or come short of expectations. These failed scenarios can come in two forms:
Poor programming quality: The incompatibility in technical competencies is not uncommon when you partner up with an ODC service provider. In fact, within the talent pool provided, the diversity in experience and professional expertise is present, and team formation is quite a challenge. Additionally, the poor technical performance of one staff can lead to additional cost of maintenance, which is the last thing any vendee wants with their Offshore Development Center.
To advent an ODC with personnel who can work harmoniously in communicational and technical skills requires the vendee to virtually "paint the picture" of what they expect from the team member. As detailed as it can go, they need to vest out, for example, what programming language, what framework, or even what soft skills are required with this job.
The more you can save with additional tasks and maintenance, the more you can save your overall expenses.
Solution for this: – Build an accurate and well-designed plan for your businesses that is tailored to your future plans. Instead of a plan with details and a fixed budget, leave the gaps or alternative options in case of any changes in the future.
Shortcomings in cost-saving: Although Offshore Development Center can assure you a large amount of cost can be reduced, there are still possibilities of unaccountable expenses to be added to the final expenses. These costs could be the additional infrastructure cost or managerial cost. For some software development processes, this could be the cost for a device lab enlargement.
Any changes at scale can result in shortcomings in cost-saving, which will eventually affect the hiring party's value proposition and financial plans.
Solution for this:
– Recruit with the help of an expert in talent acquisition field. Please be noted that any detailed requirements of programming languages and other technical aspects are of great necessity. A team leader with managerial skills should be closely involved in the recruitment process to hand-pick the team for your Offshore Development team.
2. Time-zone difference
Working with a contractor in an offshore location where there is a significant difference in time zone may make email communication difficult and phone communication almost impossible. If you are in a development environment where regular, ongoing communication is essential between onshore and offshore team members, working with an offshore team located within a U.S. time zone may be advisable.
Solution for this:
Time management within your ODC is one of the most vital features for an efficient digital transformation. In order to deal with time-zone-related issues, enterprises should have a fixed schedule agreed with the vendors. This schedule should include periodical checkpoint and meetings of what have been accomplished and what to be accomplished.
3. Poor communication
The issue of poor communication is one top-of-the-mind factor that should be included in the assessment of ODC service provider's competencies. This problem can be accounted to:
Language barriers: Language barriers are a common challenge at any ODC, as this work model deals with many international clients. Due to heavy language barriers, many tech engineers struggle to interpret and understand the project's requirements, leading to a higher chance of miscommunication. Under this circumstance, extra clarification sessions are bound to happen, hence the extra time and cost for the overall operation. With a team of two out of five tech engineers in need of extra clarification like this, the whole project can be derailed with a surprisingly high amount of unwanted additional cost.
Solution for this: – The most effective solution for the language barrier in an IT environment is the utility of plain language. It is highly required for any tech engineer to have a solid foundation of industry-specialized glossary – for the IT, it would be in English. Besides these, tech engineers are expected to communicate using plain language, meaning the minimum usage of jargon and esoteric vocabulary. With this being, the whole situation of miscommunication will be reduced to its smallest.
Another way to tackle the problem of language barriers is to clarify the requirement of language proficiency. For many enterprises implementing Offshore Development Center, they have set a "must-have" English proficiency certificate as the initial requirement of their ODC team. If too out-of-hand, an interview or quick test of candidates' capabilities is conducted to ensure language proficiency.
– The "last resort" to eliminate any miscommunication due to language barriers can be the use of visual methods in daily information exchange. For example, pictures or diagrams speak more directly than normal conversation, saving time and effort in detailed explanation.
Cultural differences: Cultural differences are not always the main topic in ODC-related miscommunication, but it has shown an increasingly negative effect on the communication between the vendors and the vendees. Given the distinctive traits in how people draw their expectations and communication methods, many businesses have been cognizant of the fact that these traits can derail the team's project and affect work morale.
Solution for this: Research the market, living standard of the country you are aiming to have your ODC in Plan the facilities Register to the local government as a legal entity Find and rent an office Design and decorate the office Install furniture accordingly Prepare and connect workstations to the internet Set up the security system Set up workplace equipment such as a printer, scanner Plan for pantry area, water, coffee machine, medicine box Buy and install hardware and software tools Purchase other office supplies.
4.Unclear goals and unrealistic expectations
Missed deadlines, or a higher rate of burnout and turnover, etc., are the typical signs of unrealistic expectations. Especially with the IT industry in which workload is exponentially increasing, the stress burdened on employees is more severe than ever, with a higher frequency of overtime and work hours.
In the IT industry, unclear goals result from poor leadership and communication, leading to vague objectives and strategies.
Stress is the last thing that we ever want to happen to our employees. However, a stressed employee can lay a detrimental effect on the company, not only failing the project's objectives but also decreasing morale.
Solutions for this:
Set specific goals: Set goals that are specific and measurable. Measurable goals break down your achievement and checkpoint with numbers and metrics, making it easier for team managers to keep track of the operational work. If any problem occurs at any task, the person in charge can be identified immediately for a timely solution.
Set deadlines for your goals
By setting specific goals for individual tasks, you have to simultaneously set a deadline to achieve with those goals. Both the vendors and vendors should be involved in this decision-making process to define the most suitable timeframe and schedule for every release.
5. Weak Security
The intangible fear over the security of an Offshore Development Center has always existed. Allocating your essential IT development to a third party is risky enough, let alone to a foreign party in the case of Offshore Development Center.
Many case studies of ODC in the past have pinpointed the poor or even lack of security with ODC, especially noted the legal features and physical protection of intellectual property.
However, as the service in this minor field develops with the universal recognition of big clients, poor security has been fixed at a surprisingly quick pace. Almost every vendor of ODC services, clients are promised to be provided with stringent physical security layers, along with legal confidentiality and intelligence property paper terms.
Solution for this: Weak security is still a significant threat for any of the vendees of Offshore Development Center. The best way to avoid this is to seek help from prominent and experienced vendors in the field. With this being done, your project is protected from not only intruders but also legal barriers. A legal consultant from the hosting country should be included in the negotiating process to be sure about this.
6. Process discipline
Work overload happens regularly, especially in a high-pressured and demanding industry of Information Technology. Sometimes, any cog in the machine is derailed, leading to desynchronization, and that is when process discipline comes in action.
A process discipline is of paramount importance for a well-oiled machine and is required on both a personal and organizational scale.
Solution for this: The need for a Project Manager or BrSE to be the "bridge" connecting the vendor and the vendee. This staff acts as the flagship that leads the way for people to follow, including the rules and disciplines.
Website: https://www.lotus-qa.com/
Tel: (+84) 24-6660-7474
Fanpage: https://www.facebook.com/LotusQualityAssurance