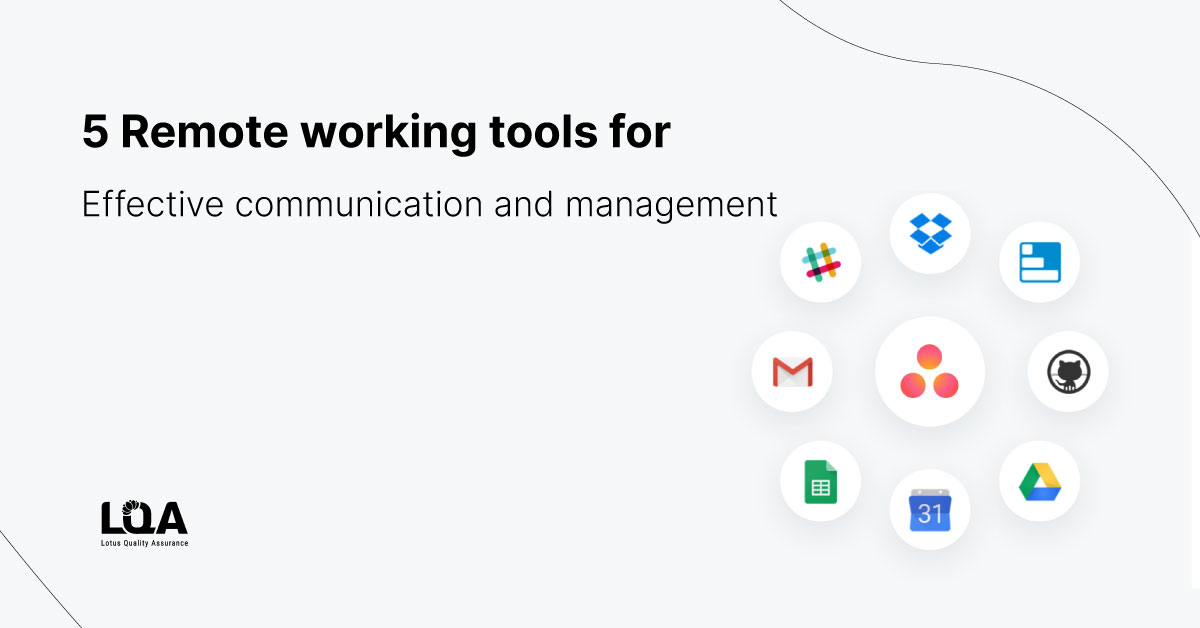 Perhaps your company has long utilized training for a hybrid work environment, in which there is a mix of remote and in-office workers, or maybe you find yourself having to support a full remote workplace. Whatever the case may be, here are the 5 best remote working tools for communication and management.
Prepare yourself for these 5 common remote work communication challenges
Why do we need remote working tools?
Remote working tools are more important than ever as it cal help people work remotely effectively, regardless of the location. These tools may refer to the communication and networking systems, including video chat applications or messaging tools, cloud storage, task and project management systems, remote team management apps, etc. There are plenty of remote working tools for you to choose with hundreds of applications.
The outstanding feature of every remote working tool is that it has a wide range of integrations with other tools, making it very easy to use and facilitate remote cooperation. The onboarding of new employees should be seamless with good remote working software too.
What are the most used and effective remote working tools?
In this article, we will provide you with the top 5 most used and effective remote working tools. Each of these tools has its pros and cons, and before rushing in anything, you can always try out the trial version to understand it from your own perspective.
Trello – Web-based, Kanban-style, List-making application
Trello is a very popular and familiar application for task management and list-making. This tool is built with Kanban Style which categorizes your tasks into different groups, hence team members can keep track of what has been done, what is being done and what to be done.
Imagine your dashboard as an old-school whiteboard for management with Trello. This is considered the perfect choice for all of your project management needs. With Kanban principles, it is easier for you to visualize teamwork from every angle and more importantly, it is easier to move projects forward and make room for priorities.
This remote working tool is used by thousands of businesses every day, and it continues to prove its help when remote working is on the rise.
When using Trello, you don't have to worry about potential miscommunication as it builds a robust and seamless workflow.
Slack – Proprietary business communication platform
Slack is another popular remote working tool trusted by many businesses, especially those in the IT sector.
What makes Slack special is the way it can provide an easy-to-use chat/channel communication tool that can keep everyone connected with a user-friendly interface.
For example, it's easy to create "channels" (equivalent to a group chat room). However, if you don't set clear team communication boundaries, it can lead to the overwhelming number of conversations for team members to keep up with.
Slack allows users to integrate the operations with other products such as G-Suite, Dropbox, Adobe Creative Cloud, and so on.
Slack bots are very work-supportive as it can boost morale by giving birthday reminders and team reports.
With all of these features, it is hard to imagine a remote team that is communicating without using Slack. You can install Slack on your PC or your mobile to work on it wherever and whenever.
In late 2020, Slack was acquired by Salesforce, giving them a larger foundation to compete with Microsoft Teams, which is another chat app and video conferencing tool. Slack is expected to add more features to support virtual workspaces for better remote work communication.

Asana – Workplace management tool for better communication
Asana is a customizable workplace content management system (CMS) that is designed to help a wide range of companies achieve their organizational needs. More plainly, it's an advanced organizational tool to help streamline projects.
Asana is made so that workplaces of any size can analyze their progress and address issues all in one place, eliminating the need for constant meetings, email updates, and memos.
Asana has a wide range of features available to help companies and the teams find a system to get things done as efficiently as possible.
Asana's main feature is its project and task management tools. You can create lists or boards to host certain projects as a whole — these will detail all the initiatives, meetings, and programs involved in said projects.
From there, you can break these projects into tasks and subtasks to make them more manageable, and list the steps to complete them.
Confluence – Remote-Friendly Team Workspace
Confluence is a team workspace that supports knowledge/documentation sharing and collaboration. With dynamic pages, team members can give idea to create, capture and collaborate on any project or idea. With Confluence, it is easier and more effective for you to structure, organize and share work.
Team members also have visibility to institutional knowledge and access to the information they need for their work.
Some of the outstanding features of Confluence includes:
Powerful collaborative editor that allows you to create meeting notes, project plans, product requirements in real-time.
Accelerated feedback loop with inline comments on pages and files attached.
Templates for daily reports and documentations.
Edit attached files with the apps on your desktop (Cloud only): It lets you open files stored in Confluence with your desktop apps and edit them, then automatically re-uploads the updated version to Confluence. Now you can get feedback on that preso, edit it in Powerpoint, and have it back on Confluence in no time.
Can provide feedback directly on your files (images, PDFs, spreadsheets, and presentations) and it keeps track of versions automatically, so you're always working on the right one.
Collaborate from anywhere: You can sync your confluence with your iOS or Android device and work from anywhere. You can track team activity, give feedback, and stay in sync between mobile and desktop.
Organized workspaces: In Confluence, you can create a space for every team, department, or major project to share information and keep work organized.
Page and file versioning: You can track every version and change that you make to a page. Files are automatically versioned.
Zoom – Video conferencing for smooth communication
Zoom is a video conferencing tool that is exceptionally lightweight and integrates directly into Google Calendar.
Even though it does have options for messaging, Zoom is mostly known for its high-quality video calling.
With a free plan, you can get 40 minutes' worth of conference time. And with a pro plan, you are entitled to much more, including webinar hosting features, which can be great for your online marketing efforts.
One of the features that users find most useful is video recordings. You can use these recordings to create educational videos or document common procedures.
The 5 remote working tools mentioned above are the most popular ones that have been developed long ago for IT project management. With the pandemic forcing businesses to implement remote work, these tools have become more useful than ever.
If you're still wondering how to achieve the most effective way for remote work communication, you can contact us to talk to one of our experts in this matter.