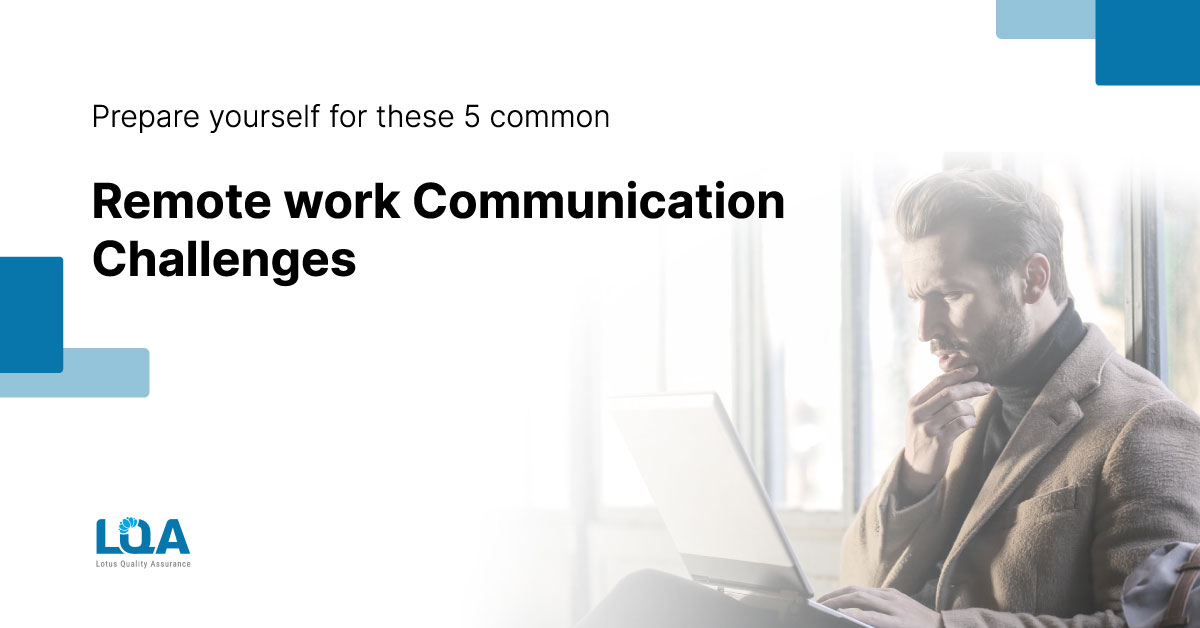 Remote work communication is happening everywhere, and this is also a must for businesses to stay connected when not working on the same ground. With many forms of remote work taking place, business owners have gradually seen the urgent situation of remote communication, as they stumble upon numerous challenges regarding this matter.
Let's take a look at the 5 most common remote work communication challenges to find out why are so many people having trouble with this new yet familiar form of communication.
Remote Work Communication Best Practices: Mastering virtual workplace
5 Remote working tools for effective communication and management
1. Missing direct and emotional communication
When working remotely, we often see ourselves looking dull in front of the screen with no human interaction or whatsoever around us. We're alone in our rooms. Sometimes, we're "woke up" for some online meetings. So excited to talk to your teammates, but we realize none of our teammates open their cameras, so we can't see their faces. After all, the only "human" interaction you have is through glitched and distorted voices of our coworkers.
Does it sound familiar to you? If yes, you've come across the most common challenge of working remote – the missing of direct and emotional communication.
Co-located teammates have direct interaction so that they can understand the attitude and perspective. These can be acquired through speeches, facial expressions, tones, etc. However, these communication traits are pretty hard to catch, especially through the screen and, in most cases, with a bad internet connection.
The continuity of communication and the emotional interactions can sometimes be considered "minor" when it comes to remote work communication, but it doesn't mean that they are unimportant. On the contrary, they are the features that decide the work environment.
2. Language Barriers
Remote work can refer to employees working from home, but it can also refer to IT outsourcing and offshore development center services. In this case, language barriers are of the major problems for companies having offshore development services.
While the IT Outsourcing market's revenue is spiking, many IT leaders are navigating higher tech demands for smaller or equal tech budgets. Hence, cost reduction has been the top priority for many enterprises, no matter they are big or small. To achieve this, a large number of businesses have come to offshore development services.
For example, Capgemini invested $330 million expanded its offshoring capacity last year. Moreover, CPM Braxis and Hewlett-Packard invested $1 billion in 6 offshoring centers in China, Costa Rica, India, Malaysia, the Philippines, and Bulgaria.
When working with an offshore development service provider, the most obvious problem is the language barrier. Although many businesses have chosen nearshoring, which means outsource a company from a nearby country, there are still cases the client and the vendor do not speak the same language, resulting in the biggest challenge when working remote that we can see is the language barrier.
This issue can lead to misunderstanding when working with an outsourcing team. Requirements may be very confusing for the tech staff (developers and testers) to understand. Some service providers may recruit language-proficient staff, but even if they can use the language, understanding tech documentation and requirements is another thing.
Especially in IT projects, the number of documentation is huge, which can be very overwhelming for tech staff. They are also under the pressure to work for a short amount of time to understand it.
3. Poor working environment
When the need for remote work arises, the first thing ever for employers to work on is to prepare a professional environment, including both physical and mental environment.
For sufficient infrastructure
The first thing that comes to mind when working remote is perhaps the infrastructure, or we can call it the physical environment. If you're an employer, ask yourself the following questions:
What requisite technology do your employees need to install or get access to?
Who doesn't have a laptop?
Is it possible for your employees to work and communicate with you?
For those who don't have laptops, what is your next action to provide them with the needed devices?
Have you noted out the procedures for employees to sign up for devices?
Besides laptops, what other devices do you have to provide to your employees? Are these devices limited to any department within the company?
All of these questions should be answered by the direct managers, and then compiled into different categories for the CEO to take a quick look. This process needs to be done quickly, so that everyone in your company has full access to the infrastructure, and no one is left behind.
For supportive environment
When remote teams are at scale, employees are put into a situation that they've never been through before. Instead of following work closely and having direct contact with your associates, you are limited to a small area with no one to talk to. And the worst thing that could happen is cabin fever.
Cabin fever is a syndrome that refers to the distressing claustrophobic irritability of restlessness experienced when a person is stuck at an isolated location for an extended time. This syndrome can lead to sleepiness and sleeplessness, boredom, lack of motivation, etc.
This cabin fever is becoming more and more common with remote teams at scale, requiring employers and CIOs to invest more in the supportive environment. Especially in the IT industry, tech engineers are under great pressure, and venting it out is not only a way to soothe their minds but also a way to boost up productivity.
No more direct contact for water-cooler conversation, employers have to create a "virtual playground" for their employees to engage with others. These "playgrounds" can be an out-of-work group chat, a video chat session every Thursday after work, etc. Employees talking about their experiences and sharing is a great way to boost up team morale and connect teammates. This will eventually create liveliness in the virtual workplace and improve staff work experience.
4. Lack of training
For IT companies, training is imperative, especially for freshers and juniors tech engineers. At this stage of their career, they need intensive and comprehensive training to acquire domain-specific knowledge and hands-on experience.
With remote working, training sessions also include a guide on how to communicate and respond according to procedures.
With technical training, virtual learning is not always ideal to deliver instruction and practice exercises. The learning process is very likely to be interfered with by network errors, disruptions, etc., which is just cannot be fixed overnight.
With work process training, since working remote is a whole new thing to the tech team, the team leaders or even the employers have to come up with training plans to guide the staff about the rules, mindsets, process, channel/platform of communication. If necessary, a handbook of do's and dont's, a list of FAQ should also be included in the training process. With this being done, anyone who has extra questions can look into these documentations before asking around the already-delivered information.
5. Poor management
Either remote or hybrid work, IT outsourcing, or Offshore Development Center, management is still a major problem, according to a survey of JumCloud with 401 U.S. SME IT decision-makers.
To achieve comprehensive management, communication is the key. People might think of communication in a remote work environment just as conference calls or file sharing. But it is much more than that.
More than half (58.4%) of IT departments plan to spend more on remote management technologies as they navigate the hybrid environment.
Melanie Frank, managing VP, technology at Capital One, emphasized the importance of physical and digital workspaces, not just for their employees, but also for their associates.
One alarming feature for employers and HR managers to improve is the number of unexpected meetings and overwhelming meeting schedules. If this number is to rise in the future, the team's morale and productivity can be seriously affected.
Moreover, sometimes, planned KPI cannot be met due to multiple reasons, requiring PMs to assess and adjust if possible.
The matter of poor management is a chronic problem that perhaps managers encounter in every IT project. Without systematic changes in how the team operates and communicates, one loose screw can easily derail the whole system. To handle this, managers, employers and HR specialists are obliged to produce a code of conduct for specifically remote work.
Remote communication is not easy. If you're struggling with this, ask for expert advise to manage remote IT projects and contact here: