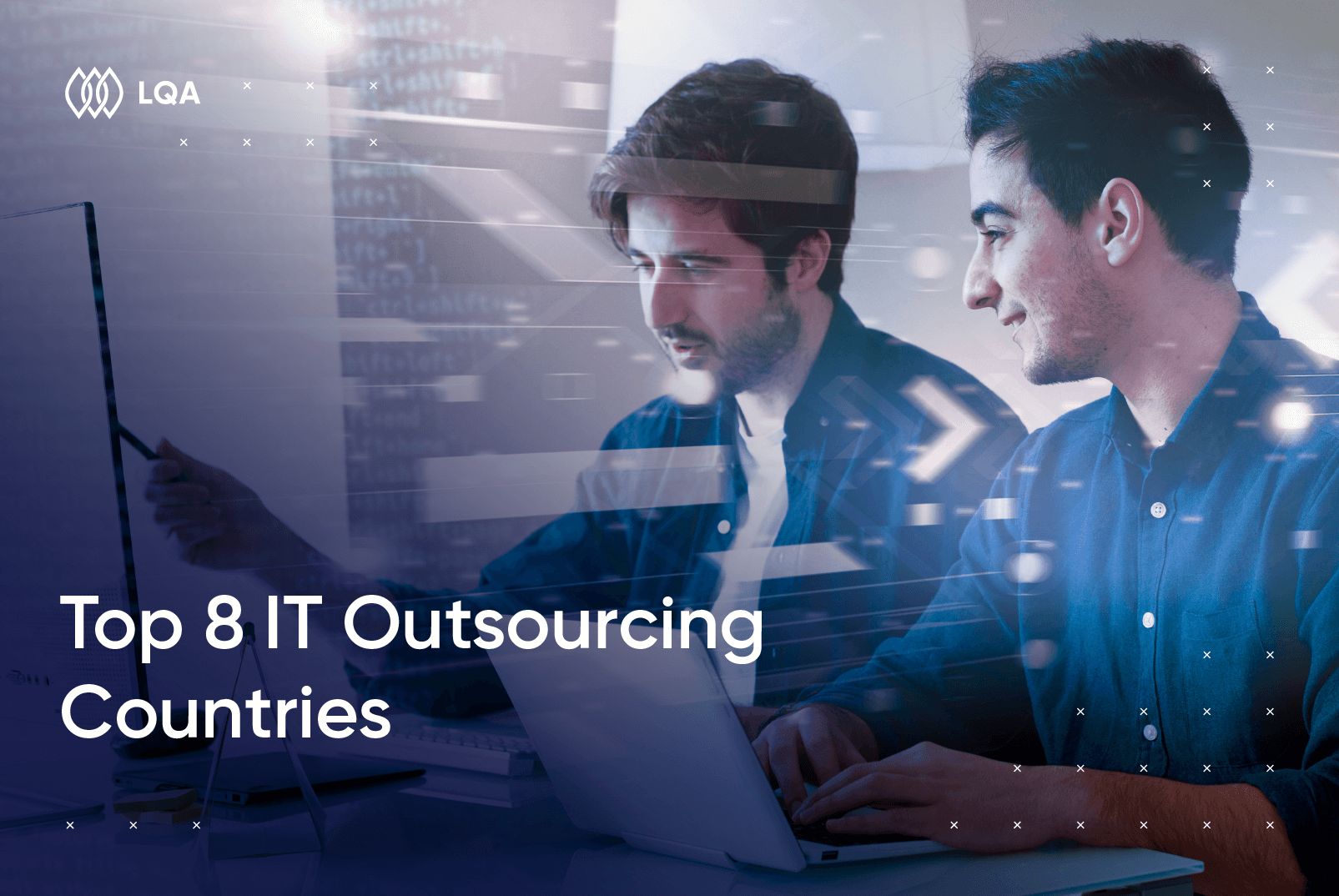 Are you seeking the top IT outsourcing countries to optimize your outsourcing project?
IT Outsourcing has been offering many benefits to scale a business and earn a competitive edge in the public. With the idea to implement IT Outsourcing, the outcome of your project relies significantly on where you want to hire. So, join LQA to explore the list of the Top IT outsourcing countries based on cost, labor, technology, and other important factors to facilitate an effective IT outsourcing service.
Best IT Outsourcing Countries in 2023
1. Vietnam – The Next "Silicon Valley" in Southeast Asia
Since the rise of IT outsourcing services about 15 years ago, Vietnam software outsourcing has always been a hidden gem for businesses to apply technology. In fact, in recent years, Vietnam has proven its capabilities as Japan's second-largest partner in terms of software development and service outsourcing from 2014 to the present.
If you are about to build software that streamlines business management or boosts productivity, check out Software Development 101 – A Complete Guide For Stakeholders to dig deeper into the whole process. And because you are seeking the top IT outsourcing countries, we bet our Comprehensive Guide On Offshore Software Development will be the next thing you should dig into.
The labor costs in Vietnam are 90% less than in the U.S., hence more funds for development and less budget spent on hiring ICT companies.
For example, the price to hire an offshore software developer in Vietnam ranges from $10-$25/hour, while in China it is $18-$50/hour (for junior level). Other countries in Southeast Asia have a higher salary base, with Thailand's average salary ranging from $13-$40/hour, Philippines' is $17.5-$42.5/hour.
According to MarketsInsider, Vietnam is ranked 5th in the "Best Countries to Outsource to in the World in 2019" list. Moreover, Overall, companies in Vietnam have an IT-related turnover rate of less than 5%, whereas, in many other countries, such as India, this turnover rate can be 10% or even higher.
2. India – Leading the IT Outsourcing Countries in Asia
The outsourcing industry in India is one of the most sought-after by the world's biggest brands. Thanks to many beneficial features, India is leading the IT Outsourcing Countries in Asia with the highest number in revenue and growth in the past few years. These features include:
Large talent pool with high competency: The country has a population of over 1.2 billion people and around 3.1 million graduates are added to the workforce each year. Besides the well-trained workforce, India also has a large population that can speak English fluently, making communication in IT Outsourcing much easier.
Reasonable price: According to PayScale, the average annual salary for a software developer in India is 523,785 INR (around $6,835), which is much lower than that of the US or the UK. With such a price, businesses can get IT services with equivalent or even higher quality.
Infrastructure and technology: India can offer state-of-the-art telecom, ISP, and cellular network. Plus, top IT outsourcing companies in India can also do customized solutions for various applications.
Supportive government: India has a stable pro-IT government whose policies on the economy, GDP growth, tax-related and other benefits have helped attract businesses to outsource their IT functions in India.
3. Brazil – Leader Among the Top IT Outsourcing Countries in Latin America
Brazil is considered in the top #13 on the top software outsourcing countries worldwide and the #1 IT outsourcing countries in Latin America. Brazillian software developers got a score of 71.3 % on HackerRank evaluations and the country also ranks 5th on the 2021 Global Service Location Index by Kearney report.
At the same time, Brazil has an impressive IT infrastructure with 90 technology parks and a high density of research centers and tech companies. The government also offers tax incentives to enterprises working on technology innovation, contributing to better IT infrastructure and lower costs for software projects.
As of 2021, Brazil had around 470,000 software developers with an average developer hourly rate ranging from $25 to $80.
4. Poland – High-Quality IT Outsourcing Countries
The next one is Poland – another popular destination for businesses that are looking for IT Outsourcing countries. This country has many similarities with Ukraine in terms of cultural traits, and the average salary for IT workers.
What makes Poland stand out as one of the best outsourcing countries is the high quality of its services and highly-competent technical staff. With nearly 430,000 IT specialists on the market, Poland has the most prominent IT expert pool in the Central and Eastern Europe region. With that quantity comes high quality. Poland consistently ranks as one of the top three countries with the world's best programmers.
Another plus point of Poland is that Polish IT service providers must comply with the strict cybersecurity and data protection measures mandated by the country's EU membership. According to the Global Cybersecurity Exposure Index, Poland is a low-exposure risk country. It ranks 16th in Europe and 22nd in the world — better than China, Israel, or Mexico.
5. The Philippines – Budget-Friendly IT Outsourcing Country
Manila – the capital city of The Philippines is the only non-Indian city to make the top 7 of the Tholons International Top 100 IT Outsourcing countries. This shows excellent potential for any business that is looking for IT Outsourcing countries in Asia.
The number one reason for businesses to choose the Philippines is the competitive costs. Besides the advantage of a low-cost labor force, The Philippines can also offer favorable governmental policies for foreign investors and ICT services in general. To be more specific, BPO services are highlighted as one of the 10 high-potential and priority development areas of The Philippines.
The Philippines' government also offers tax and non-tax incentives which can help you save from 8 – 10% of the cost. Moreover, The Philippines has created regional ICT councils and a National ICT road map for the whole country to follow. When entering the market, you will be assisted and supported by the official authorities.
6. The US – The World-leader Among the Top IT Outsourcing Countries in the World
Even though the USA is not the major player in the global map of IT Outsourcing Countries in terms of cost, it is famous for top-notch quality for many kinds of services.
For many years, the U.S. has always been one of the leading places for the most ground-breaking technologies. The application of the latest technologies in the U.S. is the most advanced. Unconsciously, the work quality in the U.S. is the standard for every other country to follow as this country has a high level of professionalism.
Also, the US is the home to many best IT Outsourcing companies in the world, namely Bottle Rocket, Accenture, KitelyTech, etc. These companies have already made their names in the global IT outsourcing market, and are trusted destinations for business from all around the world.
7. Argentina – Preferred destination to outsource software developers
In Coursera's Global Skills Index Report 2020, Argentina ranked 22nd in global data science skills rating that included such technologies as Python, SQL, R, TensorFlow, Cloud APIs, NLP, and others. But among Latin American IT outsourcing countries, it was the first. In 2020, Argentina got a remarkable first place in the global ranking in technology.
As Argentina is on the same continent as the US and Canada, Argentina becomes a preferred destination to outsource software developers from, in comparison to India and other Asian countries, the time zones of which may differ from the US by about 12 hours.
Because of the one-hour time difference between Argentina and the US, the response time becomes shorter, any queries or errors can be resolved swiftly and projects can be completed faster. Thus, the time zone is a definite advantage that is attractive for US-based companies to hire remote development teams from Argentina.
8. Belarus – A Star Among the Most Popular IT Outsourcing Countries
Belarus is one of the best countries to outsource to that can be reliable for businesses. Belarus' software development industry might not be impressive as other neighboring countries like Ukraine and Poland. Yet, the nation has proved itself a beneficial destination among the top IT outsourcing countries in which it can provide a great pool of tech talents, competitive development wages, and mature infrastructure.
The number of IT specialists in Belarus is over 56,000 specialists. It is a modest number compared to neighboring countries. However, with the modern education system combined with its top-tier tech universities, Belarus is generating over 5000 graduates every year. It is the reason for growing not only the quantity but also the quality of the software developers. Besides the technical expertise, excellent language communication skills can be a plus for software engineers in this country.
Bulgaria provides a qualified IT workforce that can help you scale up your business at an affordable price. The offshore software development rates will come to around 32-45$. The popular technology stacks are JavaScript, React, PHP, Java, SQL, and Python.
With the above list of the top countries for outsourcing, Lotus QA hopes you can find a suitable destination to hire a professional technical team.
Looking for Top Software Outsourcing Countries?
We hope to provide you with some helpful information via the list of the top 8 best countries for outsourcing.
The IT Outsourcing market in 2023 faces new challenges including competition for talent, tech layoffs, and the global economic recession. With that context, the needs of businesses when using IT outsourcing have also changed.
According to Deloitte's Global Outsourcing Survey 2022, organizations are turning to outsourcing to fill human resources and technical gaps, drive value, and provide end-to-end solutions. This strongly affects how enterprises choose their IT vendors.
If you want to update the latest trends in IT Outsourcing, and how businesses can get the most benefits when deciding to outsource their IT projects/ departments, check out our IT Outsourcing Ultimate Guide: Definition, Types & Models, And Trends To Look Out for in 2023.
If you are considering Vietnam and need practical advice on optimizing your outsourcing project, we are eager to help. LQA is the first independent software testing company in Vietnam and also a member of LTS Group – an end-to-end IT solutions and services provider headquartered in Vietnam.
We have experience with IT services in many domains such as retail, food and beverage, healthcare, etc., making us one trustworthy and professional service provider for businesses wanting to implement IT outsourcing. When working with us, you will get access to:
High Security: LQA not only follows stringent procedures of ISO 27000:01 for optimal security and international standardized process but also flexibly adapts to clients' requirements
Quality Human Resource: we ensure staff competency through strict rounds of interviews, on-job orientations, and continuous learning & development for the most suitable QA staff.
Flexibility: We provide different working models to allow clients to choose or change the plan at any time.
Contact us for more support with:
Our Clients Also Ask
What is IT outsourcing?
IT Outsourcing services are technology solutions an external IT vendor delivers to execute some functions or a whole project in a more cost-effective and time-saving way. Based on specific project requirements, these solutions range from supplying IT staff to strategic consulting, software development, software quality assurance, software maintenance, and more.
Why outsource IT projects?
IT Outsourcing is an efficient solution for enterprises to optimize time and cost, beat the talent shortage, and adopt leading-edge technology. If your business is facing serious issues like a shortage of in-house IT talents, technology lapse, skill gaps, tight project timelines, and high demand for optimizing costs, it's time to seek professional help from other IT project outsourcing suppliers.
Why choose Vietnam as your outsourcing country?