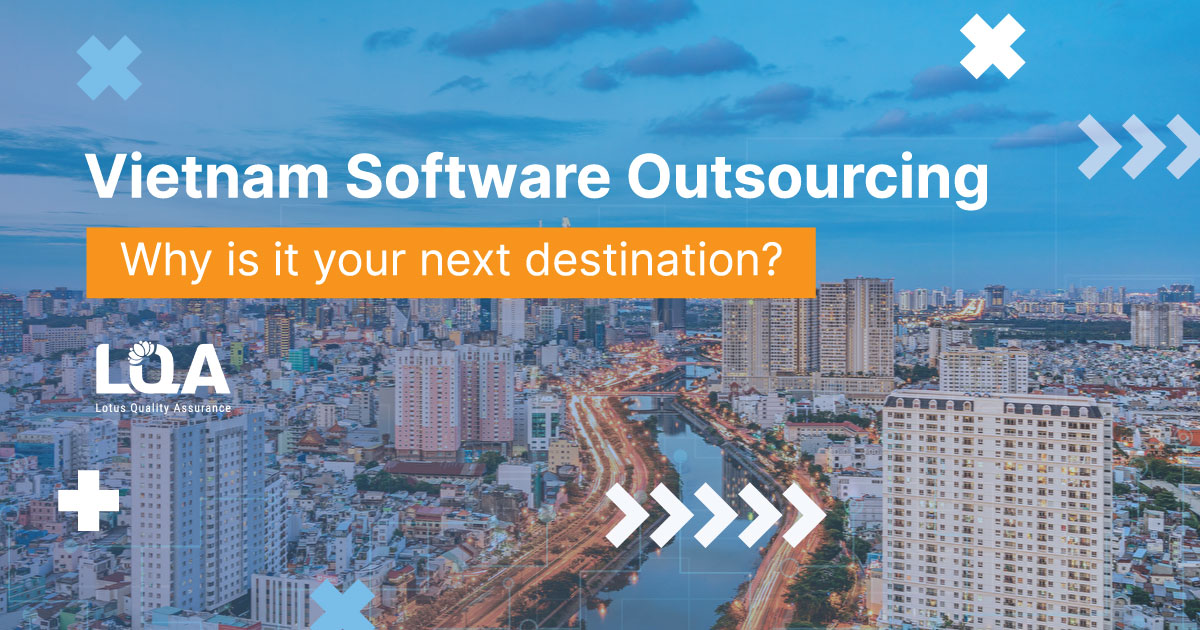 South-East Asia has recently gained the reputation of an emerging technology hub. This region is not only the home of many tech unicorns but also a destination for multiple outsourcing services. Among these services, Vietnam software outsourcing stands out as the must-try solution for any business looking for top-notch IT outsourcing services. With the competitive price tops off the list, Vietnam also offers a proficient talent pool, stronger economic potentials, and a more competitive market.
When talking about Vietnam, people often link the country to the picture of a dynamic market and growing industrial development or war-torn history. But with the recent success and new orientation towards the growth of information technology, software development in Vietnam has successfully gained the trust of international clients.
1. Vietnam software outsourcing holds great potentials and a strong foundation
Vietnam is located at the heart of Southeast Asia, in GMT+7, which is 12 hours ahead of the US, 7 hours ahead of the UK, 3 hours behind of Australia, 2 hours behind of Japan and Korea. Vietnam's economy is forecast to grow by about 4.8 percent in 2021: WB. More specifically, as of June 20, 2021, foreign investment projects (FDI) were estimated to disburse US$9.24 billion, an increase of 6.8 percent compared to the same period in 2020.
Vietnam is developing steadily despite the recent outburst of the COVID – 19 Delta variant. And one of the booming industries is Vietnam software outsourcing.
Vietnam is thriving in the ICT industry, especially with software export
Since the rise of IT outsourcing services about 15 years ago, Vietnam software outsourcing has always been a hidden gem for businesses to apply technology. In fact, in recent years, Vietnam has proven its capabilities as Japan's second-largest partner in terms of software development and service outsourcing from 2014 to present.
According to 2021's Global Services Location Index, Vietnam emerged as a new digital hub as we ranked the 6th with 4 main categories: financial attractiveness, people skills & availability, business environment and digital resonance. Vietnam also ranked 9th in Tholon's Top 50 Digital Nations. From an obsolete country with barely any technological advancements 20 years ago, Vietnam has spurred rapid digital transformation to the point that our ICT businesses not only provide services to the domestic market but also export a great deal of software and other solutions. This development is proven through the following number:
The total ICT export is reported to be $91.5B, bringing $3.5B of software export turnover. This number is predicted to grow at least 5% in 2021.
The software & IT services accounted for $11.0B (according to a report of Vietnam Software and IT Services Association).
Since 2016, Vietnam's been describes as "South East Asia's Silicon Valley", predicting a booming digital economy in the years coming. This exponential development will be taken to another level as the government has stepped in to form legal frameworks and initiatives, and put focus on IT sector's growth.
With these impressive achievements through the hardest time amidst the pandemic and experiences working with the most demanding clients in the world, Vietnam is becoming more and more favored in the world's software outsourcing market.
Vietnam's IT Market Growth Index
According to the Ministry of Information and Communications' 2019 summary and 2020 orientation report, total ICT industry revenue in 2019 is estimated at $112,350B, including 81.5% for ICT export.
2020 marked the first year that Vietnam officially announced its focus on developing digital technology businesses, the "Make in Vietnam" strategy. The number of digital technology businesses has since increased by 28%, reaching nearly 60,000 companies.
Vietnam's digital technology businesses will concentrate on 12 key areas such as E-commerce, Fintech, Ride/food order, Edtech, Healthcare, AI, Machine Learning, Blockchain, etc. With this concentration aligning with the world's trends, Vietnam's capabilities can meet the demands of the world, particularly of the businesses looking for IT outsourcing services.
You may interest:Top IT Outsourcing Company in Vietnam
2. Plentiful IT Human Resource
Vietnam has to face the talent shortage problem like many other nations in the world, but the current number of IT workers shows a prominent outlook for the development of the whole industry. The numbers can speak for themselves:
Currently, Vietnam has approximately 400,000 IT engineers working in multiple fields.
There are about 50,000 students who graduate from training institutions annually.
About 53% of the IT workforce have from 1 – 3 years of experience. Interesting enough, although they have just a few years of experience, many Vietnamese tech engineers have the level of Senior / Lead expertise.
Through these numbers, Vietnam is proven to have a sufficient talent pool to meet the demand on IT engineers.
Resonating with the current trends of the world, Vietnamese IT engineers focus on some of the most popular technologies, including:
For Frameworks/Library: Laravel (49.6%), NodeJS (36.4%), React (27.9%)
For Database: MySQL (59.1%), SQL Server (40.0%), PostgreSQL (32.9%)
For IDE & text editor: Visual Studio Code (35.2%) , Sublime Text (34.9%), IntelliJ (33.5%)
These technologies only represent a small percentage of what Vietnamese engineers are capable of. For many other technical services such as quality assurance, BPO, IT consulting, Vietnam's technical landscape is even bigger, aligning with the world's demands.
3. High-quality IT Worker
It came as a surprise for many business leaders when they evaluate the proficiency of IT workforce in Vietnam. No one could imagine a country once torn by the war can achieve so much in technology, especially in how IT institutions train and educate 50,000 IT engineers a year.
Early IT education and a large number of IT institutions
In Vietnam, education on technology is compulsory since an early age. You can see 15-year-old students taking classes in computer science and C++, and it's just part of Vietnam's high-school computer science education curriculum. Entering colleges, these students can have wider choices with 153 IT institutions, each specializes in one particular sector. For example, the University of Transport and Communications has its own IT major and the Hanoi University of Industry also has an IT major.
High level of professional competency 
Entering the workforce, IT graduates show great qualities in how we learn and adapt to the everchanging demands in technology sectors. For example, according to Global Skills Index 2020, Vietnam's technology skill sets rank second in Asia Pacific and 22nd globally.
Also in Coursera's 2021 Global Skills Report, in terms of Technology, Vietnam ranked 3rd in Asia Pacific. More specifically, Vietnam ranks 3rd in Computer Engineering and Software Programming, which is quite a benefit for clients looking for software development services.
As in a survey made by PwC, to respond to the digital demands, 84% of respondents say that they would learn new skills now or completely retrain in order to improve future employability. This number shows the readiness for Vietnamese tech engineers to adapt to the changes of the global technology landscape if it is to come.
Besides simple services such as software development, Vietnamese businesses also provide other technical services, from simple to high-tech, including BPO, software testing, programming to R&D consulting, system design, AI, Big Data, Blockchain, IoT, Robotics, VR, RPA, etc. Even some companies have been trusted in implementing digital transformation for corporations in the Global Fortune 500.
Language proficiency for Vietnam Software Development
For any college, it is compulsory for IT graduates to obtain Common European Framework of Reference (CEFR) level B1. For advanced programs, the B2 level is a must. Thanks to the preparation for language proficiency, Vietnamese tech engineers have the foundation to join the IT workforce. With language skills in hand, they can both communicate with clients from other countries and learn new skills on international forums.
Leaving college, IT workers step into the market with adequate language proficiency, in which 90% of them can communicate in English, 67% of them have Intermediate and Advanced English Level and 23% of the IT workers now have Elementary English skills.
In Vietnam, English is the dominant language in the IT market, while other languages like Japanese is not as popular among IT workers. However, many businesses targeting the non-English market have shown that they are capable of dealing with the language barriers by providing extra language classes and setting up Comtor/BrSE (in the case of Japan's market).

4. Cost Optimize By IT Outsourcing Vietnam
Asia-Pacific is one of the ideal destinations for businesses looking for software outsourcing services as it offers cost optimization by 40% when comparing with other regions such as Eastern Europe and North Africa. However, even in the same region, we can also see the IT pricing gaps between Vietnam and the rest.
The price to hire an offshore software developer in Vietnam ranges from $10-$25/ hour, while in China it is $18-$50/ hour (for junior level). Other countries in Southeast Asia have a higher salary base, with Thailand's average salary ranges from $13-$40/ hour, Philippines' is $17.5-$42.5/ hour.
Regarding the infrastructure cost, Vietnam ranks 12th in the world, 6th in Asia, and 1st in Southeast Asia in terms of low internet service rates. Average users in Vietnam spend US$11.27 (equivalent to VND260,000) for a month on the Internet connection. The average monthly cost of broadband Internet in Vietnam was US$12.4, much cheaper than in Thailand (US$25.9), Indonesia (US$32.5), Malaysia (US$34.9), and the Philippines (US$51.1).
Office leasing cost in Vietnam holds a relatively low price, as the average price is $15/m2/month, 20% lower than that of other Asia-Pacific countries.
You may interest: South East Asia Software Testing Engineer Salary
5. Great Government Policies for IT Company In Vietnam
Prior to 2018, technology did not receive much of the government's focus, but since 2018, many laws, initiatives and policies have been imposed to form the legal frameworks for technology development in Vietnam.
– On 24 December 2020, the Prime Minister signed Decision No. 2205/QD-TTg approving the Intellectual Property Development Program led by the Ministry of Science and Technology. The general objective of the Program is to utilize intellectual property as an important tool to improve the national competitiveness, create an environment inducive to innovation, and promote economic, cultural and social development.
– Vietnam's Law on Cybersecurity includes data localization, government control over online content, and setting up local offices in Vietnam. This helps clients from all over the world stay protected under the law of Vietnam.
In light of the recent policies, Vietnam has shown its efforts in protecting technology businesses and their clients, hence leveraging the country's capability to become a global software outsourcing leader.
In conclusion, Vietnam software outsourcing services offer great values thanks to the strong IT workforce, competitive labor price, and supportive government policies, making this country the go-to destination for foreign businesses.
About Lotus QA
Lotus QA is passionate about bringing young, talented, and skillful Vietnamese to the global market by helping clients in their digital transformation process.
We commit to being an effective quality partner for Vietnam software outsourcing. Working with us, you can focus on your business and leave it to us. We will always focus on what are our client's business goals and all of their quality aspects. By understanding these, we commit to bringing value by helping our client meet their quality needs at the lowest cost.
Contact Lotus QA at to know more about how we can help you in software development in Vietnam: