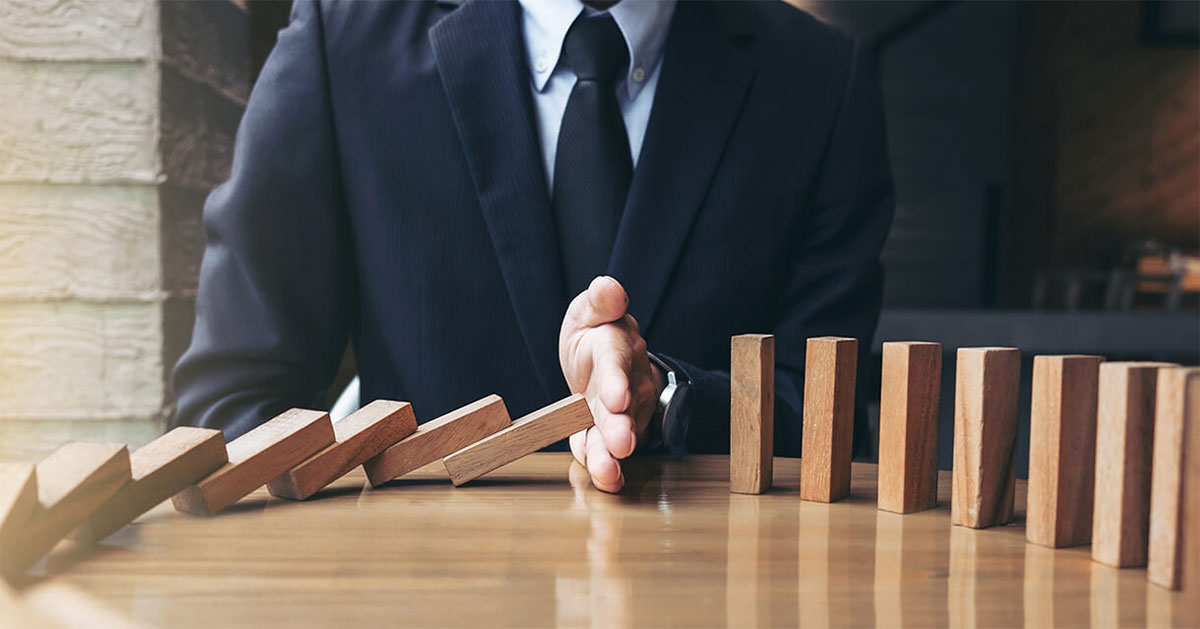 As for IT Outsourcing, there often are contradictory perspectives on whether it can really bring about benefits for your business. Many companies have praised IT Outsourcing for having a major impact on their business presence and budget, but many also have stated that the outcome of IT Outsourcing cannot outweigh the risks that it poses the business to. In this article, we will walk you through the most common IT outsourcing risks and several ways to overcome them.
1. Security risk 
When you outsource your IT operations to another company, it is inevitable that you lose some control of your business. Particularly with IT functions, it is very much likely that you will expose your system data, customer information, etc. to the vendor to do the work. Even though this is very common when you do IT Outsourcing, there can still be potential IT outsourcing risks, mistakes and failures that can easily bring your whole system down.
Once you're affected by the security risks with IT Outsourcing, your business is more prone to:
Immense cost for dealing with the consequences of security breaches
Distrusted customers
Legal penalties
Possible compensation and resulting lawsuits
Loss of credit and reputation
To ensure maximum security system and delegate your IT tasks to a trustworthy vendor, you should particularly focus on the following matters when choosing IT outsourcing vendor:
Security System
Ideally, you should consider vendors which have multiple measures to ensure security, including:
International standards on how to manage information security such as ISO/IEC 27001
Physical security layers and biometric authentication
Legal documents and agreement for legal bound
Network security with access control, antivirus software, application security, firewalls, VPN encryption, etc.
Security Process
A detailed security process can show you how the security is ensured through different steps. Each of these steps will contribute to a well-protected, well-supervised project so that there can't be any breaches or data leakages. Consider this process a blueprint of what to do and why is it necessary to achieve robust security. Also, this security process creates a sense of synchronization even though the security awareness and resilience of each employee vary greatly. A security process makes the employees from both the clients and vendors comply with certain steps and rules, ensure everything is carried out as scheduled.
Security Certificate
How your vendors handle system security is directed reflected through the international recognition that they can have in this matter. For system security, ISO/IEC 27001 is currently the most trusted and popular security standard. Any vendor that is capable of this has proven that they can examine information security risks, threats and vulnerability, etc. These vendors can also know the coherent and comprehensive suite of information security controls, risk treatment and overall security management process.
2. Poor communication
The matter of poor management is a chronic problem that perhaps managers encounter in every IT outsourcing project. Poor communication can lead to missed information, which can be one loose screw that can easily derail the whole system. To handle this, managers, employers and HR specialists are obliged to produce a code of conduct for specifically remote work.
To overcome the challenges and difficulties in remote work communication, there are several steps that you can take to minimize the pros of IT outsourcing. They are:
Set contact points. In this step, you need to clarify the people that will be in charge of delivering ideas and updates to the other party.
Agree on a communication platform that you are familiar with so that every piece of information is recorded and archived synchronously.
Format your reports with needed information. "Which number should be made clear?", "which metrics should be assessed?" are the questions that need answering.
Set up daily meetings, daily reports to keep up with different phases of the project.
Another approach to handle poor communication is that you choose a vendor that has close proximity to your company, most ideally a nearshore software outsourcing company. The advantage of nearshore IT outsourcing is that it can bridge the time zone gap between your business and the vendor to prevent any long waiting time.
3. Hidden costs
In terms of cost, it is very likely for business owners to miscalculate the overall cost of the project. Besides the visible cost coming from forecasted numbers and estimations, there are a lot of hidden costs underneath.
These hidden costs can come from the unmindfulness of the current IT market, leading to false market research and dramatic changes in how the project will go. As a result, these changes will cost a lot more for the outsourced team to adapt to.
The next hidden cost that you may encounter is the cost of managing vendors. Without proper management methods and approaches, the outsourced project will be put at the risk of failure, leading to the urgent need of managing staff and other management-related costs.
With this situation, Lotus QA thinks you should follow these steps to minimize the outsourcing hidden costs:
Set a solid Service Level Agreement to clearly state each party's responsibilities. This is also the legal bound for the service provider to fulfill their tasks as agreed
Outsource activities with a clear understanding of your market. It is even advisable for you to consider a business analyst for the right trajectory of your company in terms of technology.
Contemplate specification costs, design costs, knowledge-transfer costs, coordination costs, and control costs to cover them all in the service level agreements.
4. Problem with quality
Quality issues are considered one of the biggest risks in IT outsourcing as poor quality IT products aren't always noticeable but can stifle business growth during operation. Since your business will unavoidably lose some control over your project management, the overall quality is at risk, as it is very hard for you to determine whether the outsourced team is adhering to the quality standards.
Actually, there are no official definitions for high-quality and low-quality code, but you still can review the code with two main qualities of clarity and maintainability.
For clarity, you have to make sure that the codes are well-documented and well-tested before being handled for execution and production.
For maintainability, your expectations need to be communicated before the project starts, laying down the quality benchmarks in advance in particular modules or functions of the application.
To avoid this pitfall, there are some simple ways as follows:
Request for a pilot project to see how well the outsourced team can work with the project. Clear objectives, a checklist and standard points are to be set up for later evaluation.
Set up quality metrics so that the team will closely follow necessary steps to fulfill these metrics
Do regular briefings and check-ups in place to ensure consistency in code quality.
Conduct code reviews (self-check, cross-check, manager's review, etc.)
Involve software testing in your software development process with the vendor. Unit testing, functional testing, performance testing, etc. are very important to ensure a robust application before going into production.
Use project management tools for logging of issues and management of backlogs. Any problem needs to be addressed and handled with care.
5. Cultural differences
Cultural gaps is another issue of IT outsourcing. According to a study made by Accenture in 2018, more than 60% of all outsourcing deals fail, completely or partially, mainly because of a lack of cultural compatibility between the vendor and the client.
When you outsource your IT function to third parties, very much likely to be from other countries, you encounter many cultural gaps such as:
Time zone differences
Language barriers
Geographical distance
Customs differences
Diverse decision-making style
Different work environment and working style
Cultural awareness and cultural compatibility are not something that you can force on your business and your outsourced team. In fact, the only possible way to deal with this is to develop cultural intelligence, which is a form of organizational capacity in functioning effectively in culturally diverse situations.
Also, when choosing your outsourcing providers and destinations, you should always see things from a culture-related perspective to enhance your IT outsourcing strategy.
6. How Lotus QA can help you mitigate these IT outsourcing risks
With the experience working in multiple IT Outsourcing projects, Lotus QA understands IT outsourcing risks of this approach and how to deal with them and turn them into our stand-out points.

Lotus QA has the expertise and experience with IT services in many domains such as retail, food and beverage, healthcare, etc., making us one trustworthy and professional service provider for businesses wanting to implement IT outsourcing. When working with us, you will get access to:
High Security: LQA not only follows stringent procedures of ISO 27000:01 for optimal security and international standardized process but also flexibly adapts to clients' requirements
Quality Human Resource: we ensure staff competency through strict rounds of interviews, on-job orientations, continuous learning & development for the most suitable QA staff.
Flexibility: We provide different working models to allow clients to choose or change the plan at any time.
Contact us for more support with automation testing services: