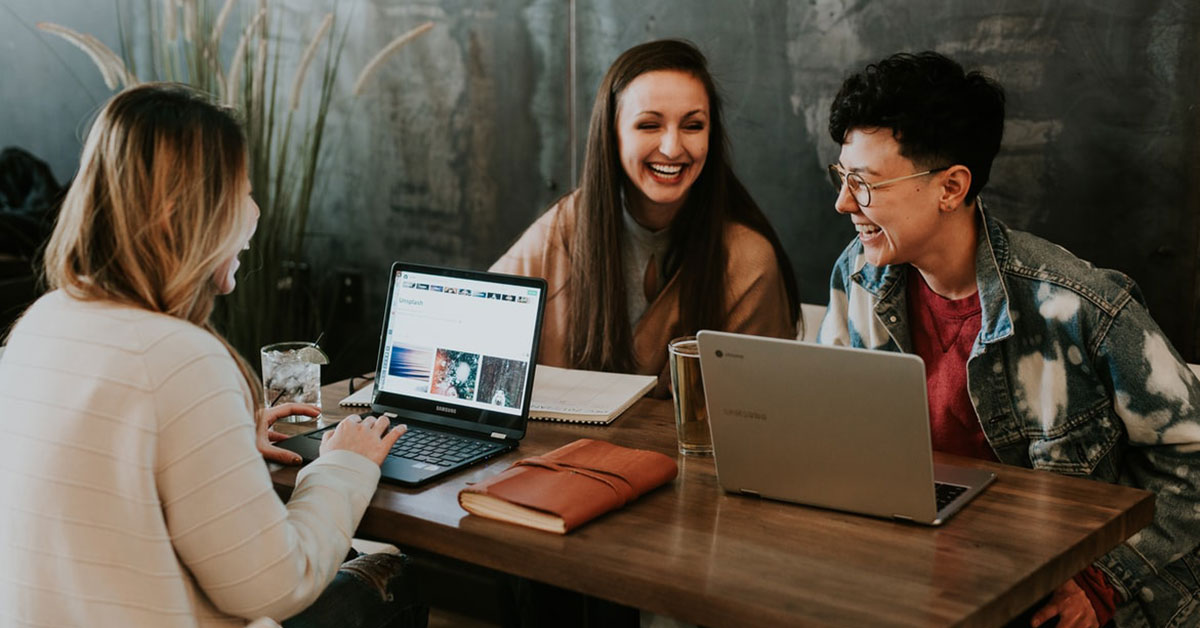 As 2022 is coming, the IT Outsourcing market is up for remarkable development and numerous new trends. Let's find out the upcoming IT Outsourcing trends in 2022 in this field in the following article:
Trending technologies
Trends in the workplace
Trending work methodology
Trends in IT recruitment
You might want to know: Top Industries to use IT Outsourcing
Trending technologies
Continuing the overall trends of the IT industry in 2021, 2022 is another year of technological advancements with many new features and reigning trends.
Python on the rise
Although JavaScript remains the dominant programming language for most developers, Python is gaining more and more popularity among the tech communities. According to Statista, 44% of the developers now use Python as their main programming language.
Python is used in the most trending technologies and advances such as machine learning, big data, cloud computing. With the ease of analyzing and organizing the usable data, Python became the second most popular tool in the developer community. Hence, the demand for Python programming language is higher than ever and is promised to become a trend in 2022.
Python programming language is also a vital part of automation testing. It is considered the best performance booster in automation and software testing to save time and effort to write codes.
More importantly, there are hundreds of Python libraries and frameworks available for you to learn and apply to your project.
matplotib for plotting charts and graphs
SciPy for engineering applications, science, and mathematics
BeautifulSoup for HTML parsing and XML
NumPy for scientific computing
Django for server-side web development
Cloud technology
The Covid-19 Pandemic has inevitably forced us to search for increased scalability, business continuity and cost efficiency to keep the business running even when the employees can't work onsite. And cloud computing is perhaps the perfect answer for this.
Cloud services are expected to expand more in the future, as they help business save their resources and help teams work remotely. The concrete evidence for the growth in the application of cloud services is shown in the increase of 6.3% of IT spending in 2020. After two years, this number is expected to reach 18%.
Overall, cloud computing can help you in:
Data security
Government compliance
Flexibility
Better focus on core activities rather than data hosting and infrastructure
Access to up-to-date software, enhanced security, data portability for users, and cost-effectiveness.
Artificial intelligence
Artificial intelligence plays an important role in the development of autonomous vehicles, which were very popular back in 2021. However, as we step into 2022, AI will become an even bigger part of our lives, as in the field of eCommerce. The uses of artificial intelligence in this are:
Chatbots
Customer shopping suggestions
Personalized support for more growth
Inventory Management
Trends in the workplace – Agile
With the Pandemic still going on, affecting how our workplace operates, there are some major changes in:
The location of our "office"
How we communicate
Remote work
According to Gartner, in 2022, 51% of all workers worldwide will be remote (a mix of hybrid and fully remote).
By 2024, organizations will be forced to bring forward digital business transformation plans by at least five years. Those plans will have to adapt to a post-COVID-19 world that involves permanently higher adoption of remote work and digital touchpoints," said Mr. Atwal, senior research director at Gartner.
To put it into perspective, the onsite workplace is no longer safe for the employees, as there are still many pandemic outbreaks despite high rate of vaccination. The pandemic makes it very dangerous for people to get out of their houses and travel to work. As a result, many business leaders have to take remote work as a final solution. Of course, this remote work situation is not the definite answer to an effective workplace, but it is the most viable solution both for the safety of the workers and the performance of the company.
Remote Work Communication Best Practices: Mastering virtual workplace
Emphasize on Communication
With the help of the most recent technologies and applications, remote work has become more effective than ever. People can communicate seamlessly on multiple platforms and channels. And this is when we have to put on some measures to make the communication more effective.
There are many ways to make communication in a remote workplace better. The most popular is perhaps through the management platform and remote working tools. In these platforms, the tasks and targets are logged onto the management file, setting clear goals, the person in charge, datelines. With everything being so transparent, the communication is way better and more straightforward.
Another way to boost the communication is through the "Virtual water cooler". In a normal workplace, the water cooler is where people gather around and make small talks about their life. This is proven to be a very effective way to connect people and create a friendly environment in the workplace. But in the case of remote work, as we're having today, the virtual water cooler is like the time in which we engage with each other outside of working hours.
Trending work methodology
2022 will emphasize more on Agile methodology. Here's the thing. The world of technology is changing every minute. The trending technologies today may become obsolete the very next day. We are becoming more and more familiar with the term technology disruptions, in which innovation can alter the way we live. And to be able to catch up with this ever-changing pace, people have to apply a methodology that can help businesses adapt quickly.
Agile is the answer for this.
Instead of working with a predefined output, Agile allows developers to make changes during their process, as long as the customer is happy. The work pace with Agile is very quick, and it also requires effective communication so that everyone can understand the requirements and the changes very well.
IT Outsourcing trends in IT recruitment
The growth in the IT industry comes together with many in-demand job positions and challenges in IT recruitment. These trends are shown in the demand for the following positions:
Full-stack developers
DevOps engineer
Scrum Master
Complete Guide for 7 Strategies to overcome your burden of IT recruitment
Full-stack developers
A full-stack developer is capable of many different fields, from front-end to databases and other related technologies. With a wide understanding and in-depth knowledge of the IT industry in general, a full-stack developer is expected to take care of numerous positions as requested.
Instead of hiring individual developers with different skill sets, HR specialists now favor full-stack developers. This is because hiring a full-stack developer takes less effort and costs.
DevOps engineer
As more and more businesses are applying digital transformation, the need for a specialist who has a wide-ranging knowledge of both development and operations, including coding, infrastructure management and system administration, is higher than ever.
This is where DevOps engineers step in. A DevOps engineer has a strong understanding of common system architecture, provisioning and administration, and he/she must be able to do code reviews, unit tests and agile methodology.
With an experienced DevOps engineer, your development and testing process will be more well-managed, leading to a more effective working process.
Scrum Master
Scrum Master works with the trending Agile methodology. Since Agile is becoming more popular, the demand for Scrum Master is growing very fast.
Working in agile, Scrum Master will be responsible for:
Coaching the team members in self-management and cross-functionality
Helping the scrum team focus on creating high-value increments
Causing the removal of impediments to the scrum team's progress
Ensuring that all scrum events take place and are positive, productive and kept within the timebox
In some cases, the Scrum Master can be involved in some tasks of the product owner such as:
Helping find techniques for effective product goal definition and product backlog management
Helping the scrum team understand the need for clear and concise product backlog items
Helping establish empirical product planning for a complex environment
All in all, Scrum Master must have what it takes to ensure the success of a scrum and the desired outputs.
Without the help of a Scrum Master, it is very likely that an agile project cannot be carried out on a large scale. This is why the job of a scrum master is so important these days.
How Lotus QA adapt to these IT Outsourcing trends
Lotus QA improves itself every day to keep up with the latest IT Outsourcing trends.
Firstly, we have applied remote work in the last half of 2021, mastering the communication and procedures to ensure the highest quality of our work. Since the very first day of our development, we always emphasize the importance of a stringent working process to ensure everything is in sync, and everything is following the right direction. When working with our clients, continuity and prompt response are always our high priorities in order to provide a seamless experience.
Secondly, our communication methods are optimized to effectively convey ideas and responses between our team and our clients. Necessary channels and platforms will be used as requested as long as the customers are satisfied. For each of our projects, there will be a project manager that is capable of communicating. He/she has what it takes to be the "bridge" connecting two parties: management skills and the technical mindset.
Finally, the need for more talents, especially in full-stack developers, DevOps engineers and Scrum masters, demands us to have a well-developed recruitment process. From the stage of screening CVs to hiring and retaining talents, Lotus QA pays attention to the minute details so that both the candidates and our clients can find what they are looking for.

At Lotus QA, we specialize in providing top-notch IT outsourcing services, ranging from software testing to software development. If you're looking for a partner to help you catch up with these upcoming trends of 2022, contact Lotus for more details.