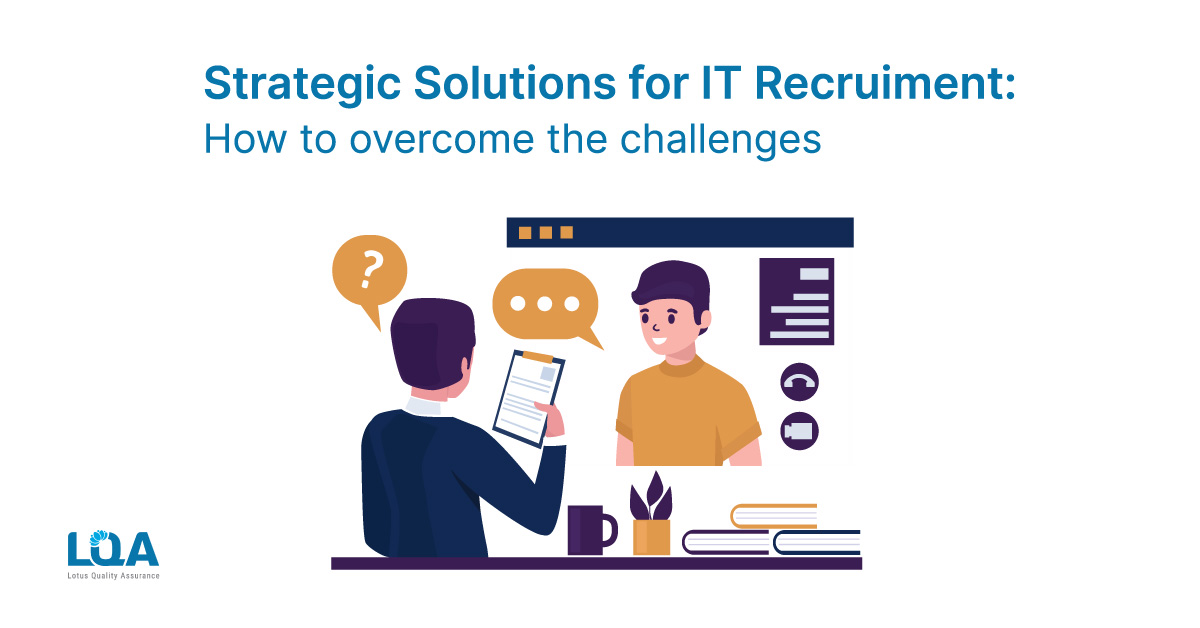 The riddle of nurturing, recruiting, and retaining IT talents is the universal problem that HR departments face every day. As in the IT industry, 80% of the candidates are passive candidates, meaning they're already occupied. The process of planting the seed of job switching to attracting those candidates to apply for your company is a long and demanding journey. In this journey, every step of nurturing, recruiting and retaining poses different challenges; fortunately, these can be easily tackled, thanks to the following solutions for IT recruitment:
Clarification on job requirements
Use different platforms and sources for acquiring talents
Use an application form with 'knock-out' questions
Research what motivates them
Build a strong employer brand
Build a comprehensive training program
Create an efficient recruiting process
1. Clarify the desired skillsets of the candidates
Some might have mistaken that the recruitment process starts when the job opening is posted on recruiting platforms. But in fact, it dated way back to when you had the first thought of hiring a new personnel for one particular position.
Normally, for the employer part, the recruitment process involves the recruiter and the tech manager. The ideal procedure would be for the tech manager to provide the recruiter with crystal clear requirements of the job, and then let the recruiter handle the hiring.
That is just the case of the "ideal" procedure, but more often than not, these requirements have either an unrealistic description of what the job should entail or a vague note of what soft and technical skills are needed.
The answer to this can be the comprehensive checklist of what should be included in a job description. This should note out the technical skillsets, programming language, soft skills required within the job, hence better equipping the recruiter with the information needed to find the candidates that can fulfill these expectations.
To speed up the recruitment process, the prioritized skill sets should be clearly indicated so that the recruiter can sort out the most suitable candidates for further interview rounds.
Salary is also a fundamental yet subtle matter that both the recruiter and the tech manager have to figure out. It is often the case that the tech manager wants more of the candidate than the salary budget can afford. Facing this problem, you must choose whether you should hire for experience, which, of course, can raise the salary range, or you should employ for good learning and teamwork skills. After settling the priorities for one position, you can proceed with the recruitment process without stumbling on any inconsistencies of the tech team and recruitment team.
2. Use different platforms and sources for acquiring talents
Recruiting is not just about posting a job and wait for candidates to flock to you. This is never an effective way for you to find the best candidates. Indeed, it requires one to employ multi-platform recruitment to search for as many applications as possible.
As it is shown with the following statistics, although job listing and the social business platform is quite popular within the recruitment community, more than 71% of the talents come from employee referrals and internal hiring, 65% are from LinkedIn, and 56% are from Indeed.
These sources of applications and candidates have proven their success with quite prominent numbers. However, the outlook for the IT recruitment process can be even better if you employ some of the following methods:
Hackathons/coding competitions. By organizing these "playgrounds" for developers/testers, you expose your employer brand to a small society of IT worker community, hence raising the chance of being considered when they have a plan for changing jobs. Furthermore, through these competitions, you also get access to the personal contact address of the candidates, which can be used for later candidate nurturing.

Talent acquisition does not always mean the recruitment from direct sources of candidates who will later on work as in-house staff. Instead, many international tech giants have switched their approach to staff augmentation, IT outsourcing or third-party recruitment services. With this relatively new approach, your company would benefit from a bigger talent pool with candidates specializing in one particular domain or technology.
3. Use an application form with 'knock-out' questions
Prior to any direct interview with the HR manager/Technical manager, one can save a great deal of time sorting out suitable candidates with an array of application forms, especially those with "knock-out" questions.
By saying "knock-out" question, we want to refer to the vital questions that can generate answers which later on will act as the deciding factor whether you should hire these candidates or not.
These questions can be categorized into three types:
Questions about legal, logistics and basic function matter: These should mention the candidates' attitude towards working overtime, their willingness to relocate and other legal matters.
Questions about qualifications & competency: Simple as it sounds, all you have to do is to check the authenticity of the qualifications provided. Sometimes, to broaden the range of candidates for one job opening, you may want to stay open to the qualifications of the candidates. For example, it's possible for a candidate not to have a university degree. However, since it's technology-related, the things that need to be carefully considered are the certificates and qualifications of technical courses.
Questions about culture preference: Culture fit is one crucial factor. The work culture preference of the candidate should resonate with that of the company, hence boosting work morale and productivity.
4. Research what motivates them – Solutions for IT recruitment
Each job position in different companies offers different pros and cons, and there is no one-size-fits-all vacancy that can meet all the requirements of the candidates. As a result, you should research the factors that motivate them.
The most common priority recently is the remote working conditions. The candidates also put an emphasis on how they can balance out their work life and personal interests. You can also understand this as they are willing to move out of the suburban areas if they can work remotely.
Another fraction is the reference for internal development, meaning more training, technical courses and on-job guide, etc.
5. Build a strong employer brand
Building a strong employer brand is not something that you can do overnight. In fact, branding is like a long-term investment, both for business development and recruitment attraction.
With 49% of LinkedIn users follow official social media accounts of tech firms to watch our for job openings, it is essential for one to "imprint" the excellent impression of your brand. These impressions would range from modern workplace, young and dynamic work culture, transparent policies, etc.
LinkedIn also conducted research indicating that 75% of those looking for a job often take employer brand into consideration. Especially in the IT industry, candidates have a more comprehensive range of choices, hence they always go for the company with the outstanding features of flexibility, scalability, etc.
The real question here is that "How does your employer brand stand out?" The most popular and common channel is social media. By leveraging your image on platforms such as LinkedIn, Facebook, Instagram, you've already highlighted the robust work culture and friendly environment. The choice of what image you want to put on to attract candidates lies in your hands. It could be young and dynamic, or friendly, or professional. It's up to you.
To deliver the image of your employer brand, you can go with media sharing, company events, job development opportunities, etc. Through these, potential candidates will first capture the essence of the workplace, and then engage more in the activities of your company.
In terms of career development, it's best that you set up and organize technical events such as host meetups, workshops, hackathons to revamp competition within the business.
6. Build a comprehensive training program
Perhaps IT training is the most effective option for upskilling IT staff.
Internal training for IT staff has always been a win-win advantage for both the employees and employers. For business owners, by conducting training programs, the technical managers can now address the skill gap that their employees are missing, hence being able to find the solutions for IT recruitment – for a more well-rounded team.
The IT world is evolving with unprecedented speed, which in turn sets up high demands for the IT worker to catch up with the technologies. Therefore, any employer that can provide them with intensive training, as well as a learning-encouraging environment, will have a higher employee retention rate. Under the form of tuition reimbursement, the nurturing and training programs go quite a long way, but it will eventually sow a sense of loyalty in your employees, which is a very good sign for retaining talents.
7. Create an efficient recruiting process
The recruitment process is often deemed the trivial feature of the HR department, despite the fact that this process is crucial for one organization to find the right fit within a fixed time frame. In the case of the IT industry, the role of human resources department, especially the talent recruitment division, has gradually gained its credit, under the circumstance of talent shortage in recent years.
With a comprehensive recruitment process in hand, qualified candidates, no matter they choose to go with the job offer or not, can help you form the enriched talent pool full of professionals and experts in this tight job market.
This well-crafted talent pool acts as a tool that can minimize the time involved in the recruitment process.
The perspective of a comprehensive recruitment process varies within industries and even companies, but the most crucial features remain:
Clarification of job requirements from tech managers
Well-devised Job Descriptions
Talent Search on multiple channels
Screening and shortlisting
Interviewing
Evaluation of Employment
Job Offering
By creating an efficient recruiting process following these steps, you not only facilitate a consistent application of recruitment to ensure stability in staff proficiency but also streamline the staff culture in accordance with your visions.
If you don't have the effort for this, come to LQA for the best IT outsourcing services. Contact us at: