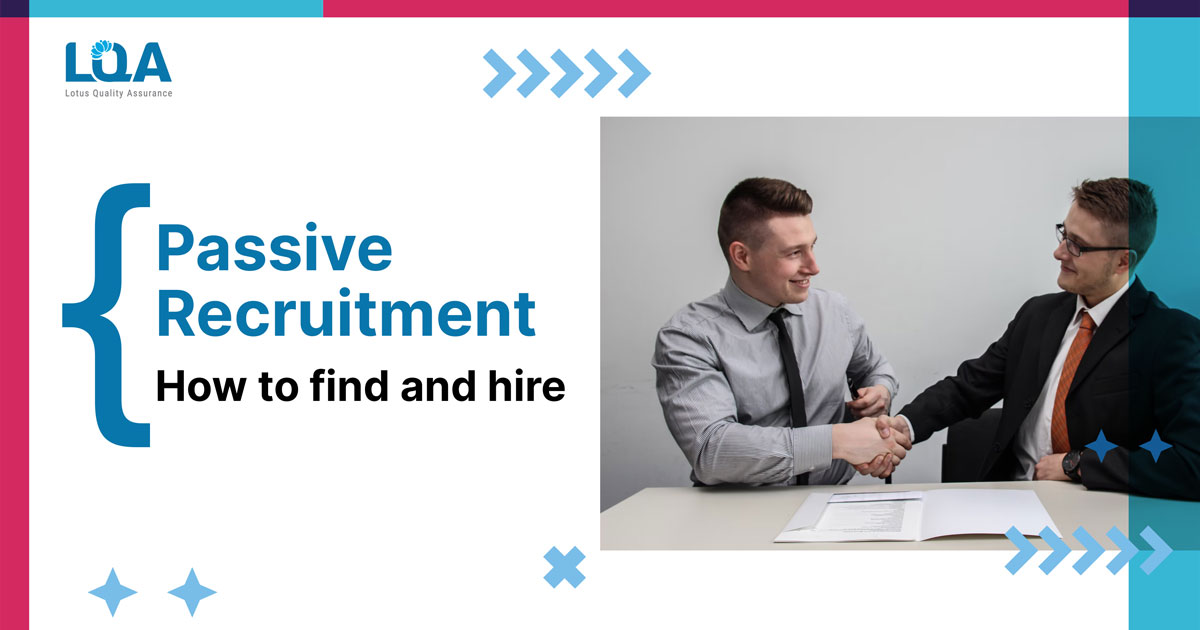 How to find and hire tech talents by Passive Recruitment
As the qualified candidates in the IT industry are becoming scarcer and scarcer, HR specialists are seeking more ways to expand their potential candidate pool.
According to a recent annual survey of Stack Overflow, only 15% of respondents are actively looking for a job, but almost three-fourths of developers are interested in hearing about new job opportunities. Through these numbers, we can see that besides the conventional way of recruiting the already-looking candidates, HR specialists should also tap the potential of the passive candidates – who take up 75% of the general IT talent pool.
By acknowledging the techniques of passive recruitment, HR specialists can effectively harness and expand the talent pool, hence filling the toughest IT positions.
1. What is passive candidate?
A passive candidate is someone that is not actively looking for new job opportunities. Passive candidates are often already employed, and have the in-demand skills and experience that many employers are looking for.
2. Why should HR specialist do passive recruitment?
According to a survey of Stack's Overflow, in regards of job search status of IT talents, the correspondents could be categorized into three groups, including:
Active candidates who are currently looking for a job (15.2%)
Passive candidates who are employed but open to new opportunities (58.7%)
Super passive candidates who are employed and would not consider a new opportunity (15.2%)
Among these groups, passive candidates stand out as the biggest group, making them the potential recruitment sourcing for HR specialists to fill in in-demand tech jobs.
As in the recruitment market of senior-and-above tech positions, passive candidates are among the most sought-after source of hiring. Since the passive candidates are currently employed and most likely to be successfully performing their roles at another employer, HR specialists have a better chance of qualifying and evaluating their potentials. Through cross-reference checks and a little digging about the candidates' current projects, HR specialists can narrow down the suitable ones for their open positions.
The competition for highly skilled candidates on the market is very intense. In fact, the very best active candidates are often off the market within 10 days. (according to statistics collected by officevibe.com). To beat the number and increase the chance of hiring, it is highly important that recruiters put more emphasis on passive candidates.
Another reason for more focus on this group is the passive candidates' likeliness to make an impact on your business, as they are 120% more willing to make a difference at their new employers. On top of that, as these groups are mostly senior tech talents, they are 17% less likely to need skill development opportunities when compared to active candidates.
Less necessary training means less time and resources needed, and as this can save the employers great fortune, passive candidates are among the most important sources of recruitment.
3. Active vs. Passive Candidates
Typically, active candidates are highly motivated in their job search with everything ready as they can start the recruitment process right away, while Passive candidates are understandably more challenging to engage. Accordingly, recruiters have to be more flexible and subtly tap this source of talents.
Passive candidates
Active candidates
1. Who is the potential candidate
Mostly are senior-level tech talents who are not actively looking but open to new job opportunities
May or may not have a job, but they are currently active on job boards, social media. They are sending out resumes and applications and ready to go in the recruitment process with you.
2. Priority

Expect a big raise in their income
Want a clear career path and look for impactful roles with the new employer.
More focus on benefits and company cultures
Work-life balance

Improved job title
Convenient location
Well-paid jobs
Expect more training lessons from the corporate

3. Sense of urgency
Note that passive candidates are not looking for new jobs. The recruiters are the ones to come to them. As the urge for skipping jobs is not "planted" in their minds, recruiters need to take it slow on them, "nurture" the conversation to keep them warm.
Active candidates are already sending out resumes and portfolios, and they may or may not be unemployed. Either way, they are willing to invest their time to follow a swift recruitment procedure.
4. Preparation for recruitment process
CVs and portfolios are unavailable. If the recruiters want to check their experience and skills, there needs to be other forms for information fill-in.
CVs and portfolios are updated and ready to be sent out.
4. How to succeed in passive recruitment?
Because passive candidates aren't looking for jobs, they won't be on job board websites. Your sourcing strategy must be different for passive candidates. Here are a few ways you can extend your search beyond job boards to source passive candidates.
Identify and strengthen the organization's employment brand
Employment Branding is critical for passive recruitment, as this is the major factor that any candidates, either passive or active ones, would take into account before even considering talking to the recruiters.
In fact, in the first corporate reputation survey conducted by Corporate Responsibility magazine in conjunction with Allegis Talent2, it is indicated that 75% of Americans would not take a job with a company that had a bad reputation, even if they were unemployed.
Employment branding involves HR specialists, your current employees and the Marketing department to make it work.
Passive candidates are not likely to buy anything that is written on your website or your brand's social posts. Instead, they want to see how your employees feel about your company. For a successful employment branding campaign, your current employees are an effective source. Every employee can become brand ambassadors who can define your social image. When staff is willing to authentically articulate their company journey in different channels, it creates a spotlight on your employment brand. It raises a question – "Is this company that good?"
A sense of curiosity sparked. And this candidate-attraction tactic has initially succeeded in involving passive candidates in your business.
Besides the "testimonials" from your employees, a successful employment branding campaign also needs to include Employer Value Proposition (EVP).
Employer Value Proposition is your company's core benefits in terms of culture and work environment. This is what the company can offer and what the candidates should expect from day one of their jobs.
You might have already known your EVP, but how do you deliver it to the public. This is when the Marketing department steps in. Social media platforms, Job boards, marketing campaigns to manifest the EVP to the candidates and possibly clients.
Another feature to include in your employment branding campaign is your projects and achievement. For passive candidates, their priority lies in the impact they can make when they work in your company. This means that they expect to be a part of something exciting and perhaps challenging. By showing your projects and achievements on your channels, you have already motivated the wondering passive candidates one step further into talking to you about the prospects of getting a job at your company.
Be prepared to take it slow
Passive candidates are not ready to move, and it takes them much more time to consider a new opportunity when compared to active candidates. When engaging them, Hr specialists have to stay flexible and not create pressure.
For example, passive candidates are currently employed, so they might not want or be able to interview during work hours. They may be hard to get at first, but it's never too late to create a network. For the recruiters to know the candidates, they have to dig their interests, be closer to them, gain their trust, etc. Once a foundation is built, they can start telling more about the job.
And remember, they may just love their current position too much to move for any reason at all. Don't set your heart on anyone at this point – and respect a firm no if it comes to that.
Source passive job seekers through different platforms
LinkedIn is the main source of passive candidates, but you have to try other platforms, and it could be Facebook, Twitter or Job boards and Candidate database services.
For Facebook, this is a cost-effective alternative to old-school job boards and is a prime place to find passive job seekers where they spend their free time. With Facebook, sourcing, recruitment marketing and candidate engagement can be a success as recruiters can run highly targeted ads based on their choices. With 2 billion monthly users, the reach of your recruitment campaigns is further.
For Twitter, recruiters can make good use of the nifty advanced search functionality that helps you find candidates and it's definitely more geared to conversation and relationship building.
For Job Boards and Candidate Database Services, you can scout through hundreds of CVs and portfolios with a small fee. The candidate's contact is attached.
Make the application process easy and tailored to passive job seekers.
In the case of passive candidates, they are by nature have no urge, hence no preparation for being interviewed. This means no CVs or even they hesitating to send the recruiter the CVs when asked. To deal with this, you can try out forms and sheets to engage the candidates.
Note: Don't make the candidates click through too many links as this can bore them out. Plus, improve user experience in both web and mobile versions so that these tech-savvy candidates can see your professionalism.
For the interview process, don't ask questions like: "Why do you choose our company?" or "What do you know about our company?". Stay focus on the tech-related can culture-related features of your company.
With an appropriate and well-designed approach for passive candidates, recruiters can land in-demand top performers and innovators. Passive candidates are no average tech workers, and it would take much effort and time to engage these talents. By following our guide in employment branding, candidate sourcing and candidate engagement, you can have a better chance to tap the resourceful passive candidates.
About Lotus QA
Lotus QA is passionate about bringing young, talented, and skillful Vietnamese to the global market by helping clients in their digital transformation process.
We commit to being an effective quality partner. Working with us, you can focus on your business and leave it to us. We will always focus on what are our client's business goals and all of their quality aspects. By understanding these, we commit to bringing value by helping our client meet their quality needs at the lowest cost.
Contact us: