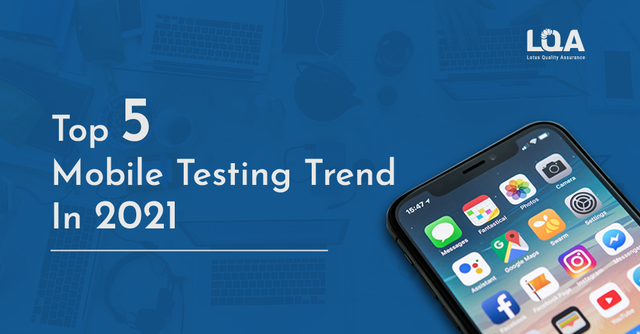 When B2C enterprises use mobile applications to attract consumers' engagement in e-commerce, banking, and marketing; B2B firms use them to manage the company's operations, tracking the performance of employees, and collaboration with partners. Come with the rising frequency of mobile application usage is the demand for increasing the application quality. If you want to update the latest movement in quality assurance for mobile applications, let's look at our top 5 mobile testing trends below.
Test Automation
One of the characteristics of mobile applications is that the developers have to release the new version frequently to adapt to the demand of users. Due to this, numerous test cases need to run repeatedly. This is where test automation became an innovative solution. In the World Quality Report conducted by Capgemini, 57% of the companies said that test automation helps to reuse the test case. Meanwhile, 65% of them stated that the test cycle time is reduced.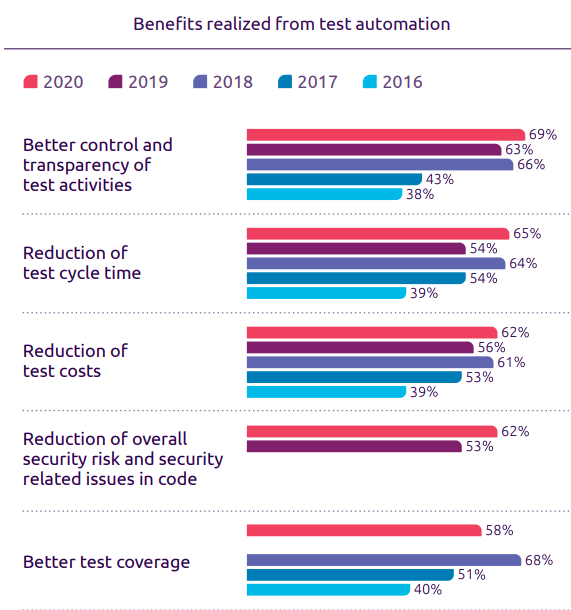 The greater return on investment in automation not only came from benefits in cost and efficiency but also came from achieving business objectives such as time-to-market. Moreover, it seems like this year CTO concerns more about transparency and security in testing. 69% of them responded that test automation helps them to have better control and transparency of test activities; 62% of respondents think test automation reduces the overall risk.
IoT Testing
The Internet of Things (IoT) allows us to control our assets such as smart home appliances, smart cars, or smartwatches by using a mobile application. Testers need to ensure the quality, security, connectivity, and performance of the application so the interaction between mobile apps and IoT devices is not interrupted. However, executing integration testing is not easy due to IoT devices often having a cloud-based interaction layer developed by a third party. Besides that, testers also concern about the enormous number of test cases needed to run because of the diversity of IoT devices. Testing on emulators, therefore, cannot fulfill the requirement of the QA team. As a result, testing in the cloud is becoming more popular.
Although facing many obstacles, firms are finding ways to adapt to the IoT trend. Many companies consider applying Artificial Intelligence capacity to test thoroughly and also conduct more IoT-experience testing.
Impact of 5G on Mobile Testing
Compared to the previous generation, 5G network has many innovative technologies, which greatly affect how testers conduct mobile testing. When it comes to 5G connectivity, three main technologies change the game: Enhanced mobile Broadband, Ultra-reliable Low Latency Communication, and Massive Machine Type Communication (mMCT)
5G provides greater bandwidth, which means faster data rate and better user experience. With this technology, the 5G network will allow 360-degree video streaming and VR / AR experience. Consequently, testing mobile applications in a high-speed internet office will not be efficient enough. Besides, the latency of data transfer is reduced. It allows faster information receiving within far distance, which has a huge impact on the performance of mobile applications. Meanwhile, mMCT supports connecting with a large number of IoT devices using less power; which leads to changes in battery testing for mobile devices.
Agile and DevOps Approach
Agile and DevOps has become a popular method in continuous testing. They combine the know-how and skill of both testers and developers to support each other with the ultimate goal of fastening the development and deployment of applications. Agile and DevOps approach helps enterprises to find and fix defects more efficiently and release new versions more frequently.
According to the World Quality Report, the Scale Agile Framework (SAFe) and the Dynamic Systems Development Method (DSDM) among Agile methodologies are the most favored by IT firms. From 2015 to 2017, SAFe increased from 31% to 58%; meanwhile, DSDM has grown by 31%. The same report also stated that over 88% of respondents applied DevOps principles in their IT team.
Testing Environment in Cloud
Mobile users reached 1.5 billion at the end of 2020. The mobile devices will have different OS versions, screen resolutions, and data storage. It causes obstacles in mobile testing since firms are not able to buy every kind of mobile phone. As a result, testers tend to use the cloud to test real devices.
Another reason for the increase in using cloud-based testing environments is the virtualization trend in recent years. This will push the demand for cloud and virtual testing tools higher and open more opportunities for firms to provide cloud-based testing services.
All in all, the trends in 2021 made the QA team face many challenges. How to perform mobile testing with the right strategy remains a hard question. Knowing this constant problem, Lotus QA provides a free consultant for mobile application testing to help you enhance the quality of your product.