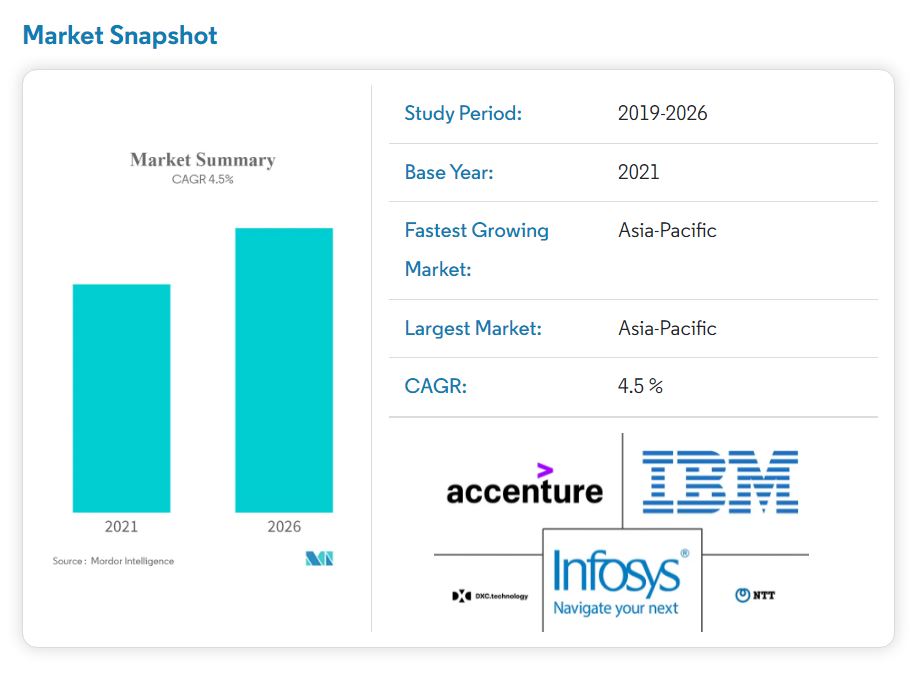 According to Statista, the IT outsourcing industry is growing at a compound annual growth rate (CAGR) of 8.93% and will be worth a market volume of $551,956.3 million by 2026.
The IT Outsourcing market in 2022 faces new challenges including competition for talent, tech layoffs, and the global economic recession. With that context, the needs of businesses when using IT outsourcing have also changed, they are looking for more than just a cost-reduction solution.
According to Deloitte's Global Outsourcing Survey 2022, organizations are turning to outsource to fill human resources and technical gaps, drive value, and provide end-to-end solutions. This article will analyze and update the latest forms and trends of IT Outsourcing, and how businesses can get the most benefits when deciding to outsource their IT projects/ departments.
Let's take a look at how the IT Outsourcing industry will be in the phase of 2022 – 2025 in this article.
Overview and Forecast for IT Outsourcing industry 2022 – 2025
1. Growth of the IT Outsourcing industry
As technology becomes more vital for an enterprise to obtain a competitive edge among many other companies, more and more businesses are implementing digital transformation, resulting in the fast growth of IT Outsourcing industry in general.
In 2021, the revenue in the segment IT Outsourcing is reported to reach $359,832 million, which is a huge number for such an economically challenging year. In general, the IT Outsourcing market is expected to register a CAGR of 4.5% during the forecast period (2021 – 2026).
Despite, or perhaps because of the COVID-19 pandemic, the percentage of the budget IT departments spend on outsourcing will continue to rise by about 8 – 9%, based on the previous number of 2019 and 2020. Any threats and challenges of such hard time caused by the pandemic, IT Outsourcing shows great potential as it can harness the trends of digitalization and help businesses in terms of business growth, customer experience and competitive disruption.
If you want to join the fast-growing IT Outsourcing market but don't know where to start, check out our IT Outsourcing Ultimate Guide: Definition, Types & Models, And Trends To Look Out for in 2023 to have a winning outsourcing strategy.
2. Frequently outsourced functions
According to a study from Mordor Intelligence, it is suggested that Application Development and Maintenance have become the most frequently outsourced functions amidst the partial IT outsourcing trends.
For application development, which is the most frequently outsourced function, 37% of organizations that outsource this function are planning to increase the amount of work they outsource. Application development continues to take larger parts of the IT budget, and many IT organizations are looking to optimize internal staffing through the selective use of outside development firms.
Maintenance ranks the second most frequently outsourced IT functions, as many businesses now need the most updated technology and flawless operations on their application. As a result, maintenance comes in and brings about many benefits such as Bug Fixation, Capability Enhancement, Performance Improvement, Scalability and security.
3. Sectors to outsource to most
BFSI (Banking, financial services and insurance) is the sector that accounts for the largest market share of the IT Outsourcing industry.
As modern customers are now more demanding in how the services are delivered to them, businesses in the BFSI sector have come to technological applications for a more personalized and streamlined customer experience.
Moreover, the implementation of technology in customer experience not only provides top-notch customer service but also gives the businesses the tool to harness and mine the data from their customers, bringing about the great potential for business growth.
Other sectors that make the list is Healthcare, Shipping & Transportation, Retail & Manufacturing.
4. What countries to outsource the most
As the pandemic accelerated global businesses, companies are making every effort to implement digitalization into their operations. Among the developed countries, the US, which has a mature economy, is leading in the number of outsourced services in the world, with 68% of companies delegating their services.
Ranks second in this is the UK, with 48% of companies are outsourcing offshore with talent shortage as the main factor.
Since the cost to hire a competent IT worker in these developed countries is very high, the need to come to cheaper countries is higher, hence the majority of countries that outsource the most lie in the developed countries. Another country to make to list is Japan, with 43% of companies outsourcing their services.
5. Global IT outsourcing destinations
India and China are leading the outsourcing bandwagon, followed by Indonesia, Malaysia, Belarus, the Philippines and Vietnam due to their cheap labor and operating costs. Especially in Vietnam, IT Outsourcing in Vietnam has emerged with $11.0B in revenue (according to a report by the Vietnam Software and IT Services Association). Vietnam also ranked 9th in Tholon's Top 50 Digital Nations. The total ICT export is reported to be $91.5B, bringing $3.5B of software export turnover. This number is predicted to grow more in 2022.
While these destinations will continue to grow sustainably, Eastern and Western Europe have emerged as credible outsourcing destinations in recent years. A few other Eastern European countries are fast-growing destinations for offshore IT solutions due to advanced technology and robust infrastructure.
Also read: Top 8 IT outsourcing countries
Upcoming trends of the IT Outsourcing market
1. Remote work continues
Although the pandemic is receding, there's little sign of working practices returning to pre-COVID 'normal.' And while it's here to stay, remote working might not continue in the same way.
In the UK, for example, 36% of employees did some work at home in 2020 – up 9% in 2019. In the US, where only 7% of employees could regularly work from home before the pandemic, 36% said they did some telework because of it.
It's impossible to say definitively what the coming year will hold, but the steps organizations are taking give us an idea of what's to come. Several high-profile organizations have enthusiastically embraced remote working, and like it so much they're making it the default setting.
US insurer Nationwide has announced plans to reduce its 20 offices to four
In 2020, Shopify announced that it is a 'digital by default company' and that most of its staff will permanently work remotely
Dropbox is becoming a virtual-first company, with remote work being the default
LinkedIn will allow people to choose full-time remote work or a hybrid option
2. South-east Asia as the top destination for IT outsourcing
As most of the top destinations for IT Outsourcing in the world such as Indonesia, Malaysia, the Philippines and Vietnam are in Southeast Asia, this region will be the
To demonstrate just how attractive these markets are, the 2017 A.T. Kearney Global Services Location Index ranked the Philippines, Indonesia, and Vietnam in the top ten for outsourcing in the business environment, financial attractiveness, people skills, and availability of workforce.
3. Positions to be outsourced
Overall, software development will be of higher demand, with Back End developers, Front End developers, Full Stack Developers, Mobile Developers, QA Testers and UX/UI Developers being the most sought-after. However, the key technologies needed will be in Cloud computing, Blockchain, and Cybersecurity.
Cloud computing: In 2018 alone, companies invested approximately $ 175.8 billion in cloud computing infrastructure and services worldwide, more and more jobs in Cloud technology will be in demand.
Blockchain: This technology has been around for years, but it was Bitcoin that brought the idea to mainstream attention when this cryptocurrency became the first to use the blockchain as its underlying platform.
Cybersecurity: Hacking, cyberattacks and data breaches are now commonplace in today's digital world. In fact, The number of connected IoT devices has increased by 9%, reaching a total of 12.3 billion worldwide.
With the ever-changing market as of today, the IT Outsourcing industry has many to offer with an unprecedented growth rate and potential. As technology is the core of our enhancements, IT Outsourcing is sure to boom in the future. If you want to hear more about this industry and figure out how your business can harness the potential of tech through outsourcing, please contact Lotus QA for further information.
3. A shift from a single vendor to an ecosystem of third-party relationships.
Instead of accessing limited technology, and talent pool when working with only one vendor, stakeholders tend to cooperate with a slew of IT outsourcing providers to be less dependent on one vendor and better risk mitigation.
4. Outsourcing has been overshadowed by the prioritization of new technological advances.
Based on a recent McKinsey report on technology transformations, just 10 percent of respondents identified cost reduction as a priority. Meanwhile, 38% prioritize innovating technology to make it a competitive advantage.
The shift to prioritizing value over cost efficiencies from third-party services has accelerated the evolution toward a highly outsourced IT environment.
Explore tech trends with latest statistics to leverage the advancement in dynamic technology landscape.
Lotus QA has the expertise and experience with IT services in many domains such as retail, food and beverage, healthcare, etc., making us one trustworthy and professional service provider for businesses wanting to implement IT outsourcing. When working with us, you will get access to:
High Security: LQA not only follows stringent procedures of ISO 27000:01 for optimal security and international standardized process but also flexibly adapts to clients' requirements
Quality Human Resource: we ensure staff competency through strict rounds of interviews, on-job orientations, and continuous learning & development for the most suitable QA staff.
Flexibility: We provide different working models to allow clients to choose or change the plan at any time.
Contact us for more support with automation testing services: