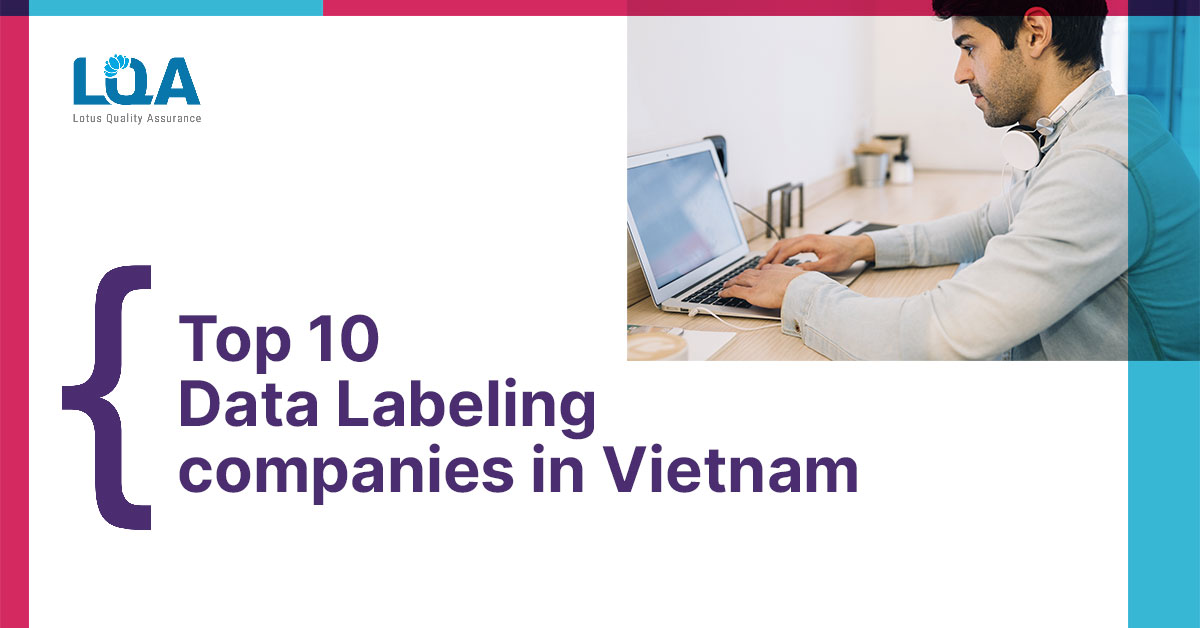 Vietnam is amongst the top destinations for AI data processing services, providing top-notch data labeling, data collecting and data annotation work. With many favorable traits that can help businesses reduce costs as much as possible, we now have a whole ecosystem of the top Data Labeling companies in Vietnam.
If you are looking for a reliable AI data processing service provider in Vietnam, you can consider our list of top 10 data annotation companies.
You might want to know: Why is Auto Data Labeling the future?

Overview of data labeling companies in Vietnam
The demands for AI data processing services hit a record-high number as the world's technology is revolving around AI-related technologies. To operate an AI model, one business might need thousands of training datasets. The increasing need for AI development and training data leads to the increasing needs for data collection, data annotation and data validation.
Since the dawn of AI and ML, there have been hundreds of companies founded just to handle data processing services (because the number needed is very high). The most mature market in this particular field is the US and China. However, as these countries move further towards AI development, the cost for operating an AI data processing hub gets higher and higher. In these countries, the workforce once dedicated to AI processing services now switch to other AI-related technologies.
To maintain a reliable and stable source of training datasets, AI development companies have to come to other countries for a better cost, and Vietnam is one of the most reasonably-priced destinations.
In Vietnam, the price for hiring and retaining talents is lower than that of China or the US. We also have a young and abundant workforce that can cover your needs for training data.
Our AI data processing services started to boom 6 years ago. And in only 6 years, a whole new ecosystem of the most prestigious and renowned AI data annotation companies are founded and still operating with great prospects:
Lotus Quality Assurance
DIGI-TEXX VIETNAM
Sibai
SANEI HYTECHS VIETNAM Co., Ltd.
BEETSOFT Co., Ltd
MP.BPO
Vietnam Smart BPO (VSBPO)
Kotwel
OkLabel
Vie-Partner

Details about top data labeling companies in Vietnam
Top data labeling companies in Vietnam can provide you with an array of different services to fulfill your needs in AI development and AI data processing.
Lotus Quality Assurance
Lotus Quality Assurance, as part of Lotus Group, was founded in 2016 with the start of a Testing and Quality Assurance company. As the company moves towards the newest technologies there are in the market, our BOD has come to the realization that AI data processing service holds great potential and prospects for further development. Indeed, since its foundation, Lotus QA has continuously worked with international clients in different data annotation, data annotation and data validation projects. Besides project-based work, Lotus QA has been a long-term partner of multiple clients, mostly in the automotive sector.
Especially, our annotators and QA engineers assure high-quality training data and annotated data with an average error rate of only 0.02%, which is very ideal for any annotation project.
Since the foundation of Lotus QA, data annotation has always been the key service offering for our clients. As we thrive in this area, we have been working with many kinds of data, ranging from image, text, voice from different sectors. These sectors are automotive, agriculture, construction, fashion, finance, etc.
DIGI-TEXX VIETNAM
DIGI-TEXX is a German IT- BPO company headquartered in Ho Chi Minh City, Vietnam since 2002, with 3 branches in Ho Chi Minh City and one office in Fukuoka, Japan. With 100% FDI from Germany, DIGI- TEXX is one of the pioneers in the Business Processing Outsourcing (BPO) industry in Vietnam. As a digital solution provider with a solid BPO background, we empower clients around the world from various industries to achieve business transformation and gain competitive advantages.
With more than 1000 employees, providing round-the-clock services, they guarantee service delivery excellence while ensuring compliance with industry-followed quality and security standards.
They have been consistently providing Outsourced Services and Digital Solutions for more than 19 years to international clients in various industries, that require:
Document processing to save time and optimize cost.
Digital solutions to replace paperwork with automation processes, such as Banking, Insurance, and Healthcare.
Besides, they also provide Customer Helpdesk services in fluent Vietnamese, Chinese, Japanese, and English for many E-commerce and trading platforms.
SIBAI VIETNAM
SIBAI VIETNAM was founded in 2020 with a dedicated team of more than 200 experienced annotators who can handle your most unstructured datasets. With competent staff who have worked on multiple projects, SIBAI VIETNAM can now carry out your data annotation project on multiple platforms with different data annotation tool, across all content types.
With the combination of human talents and AI, SIBAI VIETNAM thrives as one of the most successful data labeling companies in Vietnam. Our customers' most complex labeling needs can be well handled and addressed.
With high-quality data labeling and data annotation services, SIBAI is to elevate your business growth. SIBAI VIETNAM has developed a talent pool of more than 200 well-trained annotators in diverse areas. With all combined, we can provide the most suitable solutions that you are looking for, anytime you need them.
Besides the usual data annotation service, SIBAI VIETNAM also focuses on content moderation solutions. SIBAI provides human-level accuracy that significantly moderates community-generated threats in image, video, text, and audio. SIBAI can help brands limit risk exposure and safeguard their online platforms from content that has been flagged as inappropriate or violating community guidelines.
SANEI HYTECHS VIETNAM Co., Ltd.
Established on 19th June 2015, SANEI HYTECHS VIETNAM Co., Ltd. is currently one of the best data labeling companies in Vietnam. With the association with Japanese branches and companies, Sanei has strong resources and a foundation for top-notch services. Their service offering includes:
Software Development (Embedded software, third-party unit verification, software application on Windows, Android, iOS and Bluetooth, etc.)
LSI Design (FPGA Design/Verification, Logic Dedsign/Verification), Ip Design/Verification)
Annotation Center (Create, analyze and provide design/evaluation data toward Big Data processing, deep learning data creation of the Artificial intelligence development, BPO service)
SANEI HYTECHS VIETNAM Co., Ltd. is currently operating with small number of employees but it can stretch in scale if requested.

BEETSOFT Co., Ltd
Beetsoft is another stand-out name among the data labeling companies in Vietnam. With more than 5 years of experience working in IT Consultancy and outsourcing services, Beetsoft knows how to play a stellar role in honing the skills of professionals, assisting companies to achieve success in their operating fields. Based in Vietnam and Japan, Beetsoft focuses on providing services to these two markets. Especially in the data labeling and data annotation fields, Beetsoft stands out as it can provide high-quality projects thanks to international standards and a multi-layered QA system.
Beetsoft offers high-end services at competitive rates as our development and annotator team is based in Vietnam. The competitive price of Beetsoft is always accompanied by the best work there is, so their customers can rest assured of the quality.
MP.BPO
BPO.MP Co., Ltd. is the first BPO enterprise with the Vietnam-Japan joint venture model to provide Business Process Outsourcing services, including document digitization, data entry & processing data management, financial and accounting processing, content writing, translation-interpretation, image processing, document labeling, etc.
With the motto "Successful cooperation to overcome limits", the company's development goal is to combine the advantages of the two cultures of Vietnam – Japan, take advantage of the strengths of businesses of the two countries to provide the best services. MP.BPO promises to bring services of international quality for customers in Vietnam and around the world.
Vietnam Smart BPO (VSBPO)
Vietnam Smart BPO (VSBPO) is a brand under Free't Planning Vietnam, a joint venture between Vietnam, Free't Planning Japan and I-Corporation Japan. VSBPO takes pride in being a pioneer in the industry, and a leader in providing business process outsourcing (BPO) services in Vietnam. Their partner, Free't Planning Japan, has 20+ years of experience in IT & BPO industries. Today, the total number of employees is 200+ across 3 countries (Japan, Vietnam, China).
With the vision of becoming the leading BPO company in Vietnam, VSBPO is to provide the best quality services at optimal cost to clients.
Kotwel
Kotwel is the emerging data service provider for artificial intelligence. Relying on its own data resources, technical advantages and rich data processing experience, since its establishment, Kotwel has provided high-quality data services to many technology companies and scientific research institutions worldwide.
Kotwel is committed to total customer satisfaction by providing consistently high-quality data & services that meet or exceed the expectations of our worldwide customers.
Their purpose remains to embrace the power of human ingenuity and technology to create value for your AI & Business Initiatives. Kotwel wants to enable enterprises globally with stellar quality data services by using the combination of advanced tools and human intelligence. Benefitting and creating an optimistic social change through employment.
By supporting the development of game-changing AI & Technology applications with cutting edge workforce solutions, Kotwel wants to become a global leader when it comes to solving your data needs.
Ikorn Solutions
As a leader in contemporary online trends, Ikorn Solutions has grown as a highly respected IT company and become a trusted partner of many large Korean firms since entering the IT outsourcing market in 2007. They specialize in software development and I.T. outsourcing services such as data labeling services that are comprehensive, integrated, and customized to suit individual business needs across industries.
Driven by a passion for technology, Ikorn strongly believes that quality integration and technological development are at the center of their business. Ikorn´s competitive advantages are a force to be proud of as an excellent pool of skilled resources recruited from the finest professional education institutions in the industry. In 2017, following 10 years of operation and great persistence in development, Ikorn Solutions took a consistent and rigorous approach to expand our outsourcing services into the automotive industry and began to seek new partners for the next phase of business. This move served to affirm, step by step, the company's strong position in the software technology market.
Vie-Partner
In 2016, VP Studio was founded by a team of computer graphics artists, providing graphic and 2D/3D designs for movies and games productions.
After observing the similarities of working methods and logic between Computer Graphics and Data Annotation, they found that experienced graphic designers achieve a 30% higher annotation speed and accuracy than average.
With years of experience in graphics training, they founded Vie-Partner specializing in Data Annotation. The goal of Vie-Partner is to provide organizations with trustworthy labeling solutions while creating work chances for underprivileged youngsters in Vietnam, minimalize costs without compromising quality.
If you are looking for the high-quality data labeling services in Vietnam, contact Lotus QA for more information from experts: