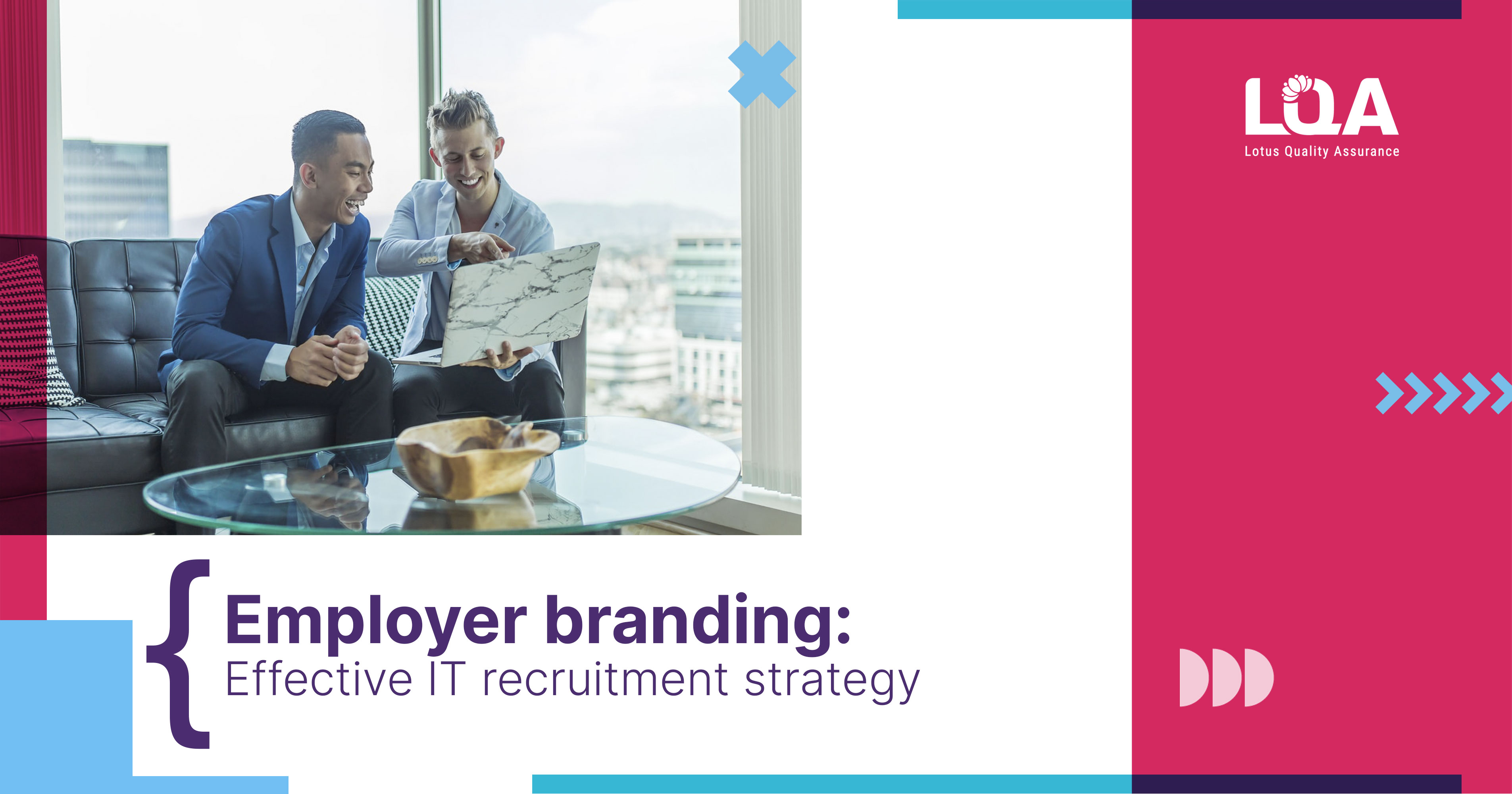 As the talent shortage is becoming increasingly alarming, IT workers are now given a huge opportunity in the technology space. In stark contrast, businesses now have to constantly improve their IT recruitment strategy to stand out in the employer market. One vital IT recruitment strategy for talented workers to choose a business is employer branding.
Employer branding is a big concept that includes marketing, business development and HR departments. But when it comes to IT recruitment, we have to take a new and further approach to successfully build an employer brand.
What is employer branding?
Employer branding is the process of promoting a company, and in this case, is to attract and retain IT talents.
In a way, your employer brand is the embodiment of what you want your current and potential employees to have about your business. To accomplish employer branding, businesses are to build company's values, work culture and personality that align with the aspirations of their candidates.
Another term that you should also know about employer branding is the employee value proposition. This term refers to the benefits that one candidate might receive from their employer in return for their skills and dedication.
Employer branding is a long-term investment that requires a lot of work, but it can be paid off with great results for the recruitment process which will eventually enhance the business' staff proficiency and work productivity.
For the IT workforce specifically, employer brand is the foremost factor that might impact which company to apply to. For example, a modern workplace with young and dynamic activities to boost up team morale is always the prioritized work destination. Or an authentic and positive employer brand will always stand out among the choices of IT candidates.
For some HR professionals, the term "employment branding" and "recruitment marketing" is used interchangeably, but there is a slight difference that you should know. While "employment branding" is the image of how you want your candidate to perceive your business, "recruitment marketing" is how you can deliver that image to your current and potential IT candidate/staff.
The role of employer branding in recruitment
IT recruitment is not as easy as you might think it be. In fact, it takes the efforts of multiple departments to accomplish a successful recruitment campaign. As long-term and tedious as it is, employer branding is still the most effective and easy way to boost up your recruitment process.
The IT recruitment market 10 years ago was much easier than today's as the demand and the supply of IT talent are equal. In contrast, job openings in the IT industry are unfortunately forecasted to outgrow the number of IT workers in 2025. Hence, the competition for businesses to impress the available candidates is tenser than ever.
With a strong employer brand, businesses have the chance to "showcase" the best features they have to attract candidates. For example, instead of running ads campaigns to raise the forced impressions of the job openings, what HR specialists have to do is to wait on the candidates to apply for the job (consider that the job is suitable for them).
Strategic guide of employer branding for IT recruitment
The real question for businesses to answer when it comes to employer branding is "How does your employer brand stand out?". Recruitment strategists should also know which channel and the schedule to promote their employer brand.
You should follow the following guide for a strategic approach for your IT recruitment process.
Know your organization strategy/identity
Know your strengths and what makes you stand out
Build employee value propositions
Plans for recruitment marketing for potential candidates
Know your organization strategy/identity
Organization identity is a conceptual definition of what your business embodies and represents. In today's world, as IT workers have more chances to choose their employer, they are more likely to seek in the workplace that matches their personality and aspirations.
If your business hasn't decided what its identity is, business leaders should sit down and clear out the features that best describe your organization and more importantly, what would make you stand out in the very competitive IT recruitment market.
To further streamline employer brand and candidates' aspirations, you should answer these questions:
What are the most common values among your colleagues?
What makes your company's culture special?
What are the values your company stands for? Another important aspect of your organizational identity is your story.
Know your strengths and what makes you stand out
Normally, for a company to analyze its strengths and stand-out point, the board of directors has to go through a SWOT analysis, including a thorough look into the Strengths, Weaknesses, Opportunities and Threats. For a recruitment scenario, we should also apply this analysis, but only on how to improve the employer branding in hiring.
To know your strengths, employers have to rethink the internal and positive attributes of your company. What has been the image that your company follows since day one? What assets does your business provide to the employees that might attract them? What competitive advantages do you have over your competitors?
The employers have to ask the equivalent questions to find out in the eyes of your employees and potential candidates, what are the things that they might find uninviting about your business.
About Threats and Opportunities, you have to know all of the external factors that can affect your business operations. Is it about your location? Is it about the gaps between members of your teams.
All of the 4 factors cannot be deducted from meetings or internal review. What you need to dig deep into is the actual responses from your employees, your candidates or even your lost candidates. Try to acquire a survey from these, and you can know the candidate's perspective to pivot if necessary.
Build employee value propositions
An Employee Value Proposition is a set of benefits that the employees receive during their work at your business. Besides the obvious advantage of giving the best benefits for the employees, the EVP also embodies the motivation for them to work there.
EVP varies among businesses, but to make your business stand out in the hiring market, you have to build a unique, relevant and compelling set of values. For some job seekers, EVP is the most important feature as it shows the culture and work visions.
After building an EVP, you need to promote its on multiple social platforms, including websites, social media channels to let people know what you are pursuing in the long run.
Plans for recruitment marketing for potential candidates
Some might mistake that IT candidates only look for jobs online, but actually, you can have some effective offline approach for a better recruitment campaign. Let's take a look at how we can do it both online and offline.
For online marketing
Online marketing is all about the first impression. To achieve good reach to potential candidates, you might wanna try these:
Build a trendy and modern recruitment website. Once a potential candidate lands on your website, they will want to find the information about your company and job openings fast, as well as submit their application effortlessly. That is why your website needs to be perfectly optimized and user-friendly. Don't bombard your visitors with ads or popups, the website needs to be as "clean" and professional as possible. Pages like "About us", "Vision and mission" should be available.
Build strategic content. You should attract visitors through high-quality content, social networks, SEO. You can also put forms in a reasonable position to acquire candidate's information without bombarding them with ads and pop-ups.
Make good use of Brand Advocates. With brand avocates, you can ask your current employees to speak about the company on social platforms. Make sure that these employees need to be passionate about their job at your company.
For offline marketing
One viable approach for offline marketing in IT recruitment is through events. You can be the organizer or the benefactor.
Employer branding can't be done in one day. Many business leaders have to seek for other options to hire as quick as possible, and one of them is the IT recruitment services. If you're in need, don't hesitate to contact us for more information.