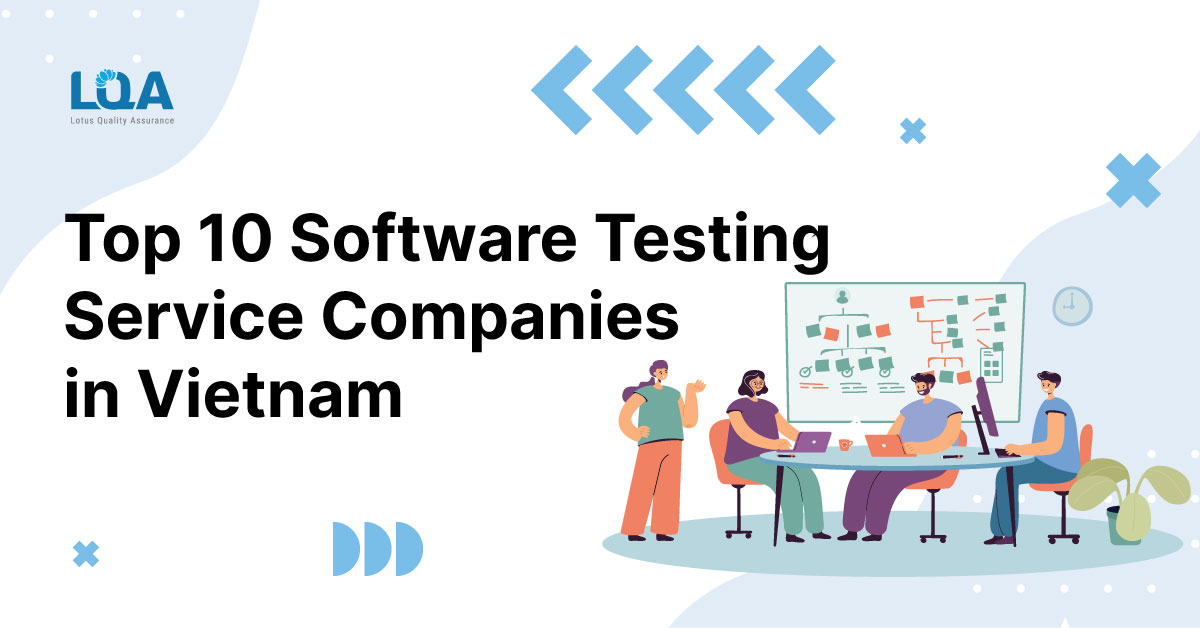 With the increasingly high demand for software testing on the global market, Vietnam, as one of the top countries to provide software outsourcing services, has seen a rise in the companies offering software testing services. Software testing companies in Vietnam have many years of experience in quality assurance. These companies are the representatives of what Vietnam can offer for the testing market: affordable budget, domain experts and dedicated supports.
Top 10 software testing outsourcing companies in Vietnam
Lotus Quality Assurance (LQA) is ranking as top 3 Software testing companies in Vietnam, recognized by the Clutch B2B rating platform in 2021. Founded in 2016, Lotus QA is a young yet promising company working in the software testing industry. With a competitive price of no more than $25/hour, Lotus QA has successfully proven its competency and dedication to clients' experience, gaining us the honorable Sao Khue awards and the reputation of top-notch services in the demanding market of America, Japan, Korea, etc.
Software testing services at LQA include QA consultation, testing implementation, and testing talents for hire. LQA's expertise is mobile app testing, web app testing and automation testing, proven through successful projects with many renowned businesses in the world such as Toshiba, LG's Electronics, AVN, Panasonic, etc.
Throughout 5 years of development, Lotus QA has witnessed the biggest growth rate in company size with 248 employees, 30% of which are manual testers and automation testers. With the experience working mainly in medium-sized and small projects, Lotus QA can well provide you with top-notch software testing services with midmarket and small businesses.

Lotus Quality Assurance (LQA) – Top Software testing companies in Vietnam
KMS Solutions, Inc.
With 12 years working in the IT sector, KMS Solutions have served 130+ clients, helping them save $139M in different IT services, notably software testing services.
To achieve these impressive numbers, KMS Solutions provide industry-leading solutions for sustainable, profitable growth. Through comprehensive software QA and testing services, KMS Solutions offer high-quality engineers with comprehensive domain experience, with a competitive price.
Especially, KMS Solutions apply an automation-first mindset to everything they build. This mindset allows their testers to deliver quality software at faster speeds expediting your time-to-market.
FPT Software
FPT Software is a giant in Vietnam's IT outsourcing market with an international-acclaimed reputation. In FPT Software, clients work with a Testing Center of Excellence (TCoE), which is a command center that makes use of standardized tools and processes to enhance the alignment between enterprise environment and IT, and increase QA efficiency.
FPT Software can provide you with multiple quality assurance and software testing services, but the most recent success of FPT Software lies in the implementation of automation testing. With the use of certified and standardized testing tools, FPT Software gains the trust of many clients. To meet the requirements of testers, FPT Software has developed a team of 1,700 testers worldwide, offering their expertise to 200+ clients of all industries.
Logi Gear
Established in 1994, LogiGear is always rank in Top Software testing companies in Vietnam with wide experience, especially in automated testing. They spent more than 27 years optimizing their testing services. The most stand-out testing services in Logi Gear are:
– Automation testing: With well-versed experts in a variety of Test Automation tools, Logi Gear can boost up the testing process and save time.
– Functional testing: LogiGear provides a QA functional testing service that utilizes decades of knowledge of Software Testing and specialized Test Automation tools.
– Offshore teams: LogiGear can solve the problems of lack of Subject Matter Expertise, lack of Infrastructure/Resources, scalability of QA and time-to-market.
CO-WELL Asia
CO-WELL Asia is currently an emerging destination for software testing services. With 400 IT engineers working in Hanoi and Da Nang that graduated from the top universities of Vietnam and many others all over the world, CO-WELL Asia can offer a higher ratio of QA testers to programmers in comparison to other Vietnamese companies.
Especially in CO-WELL Asia, various training courses have been organized in Vietnam as well as abroad to enhance staff's technical level and soft skills. With these skills, CO-WELL Asia can bring optimum value to our customers.
In terms of skill composition, 40% of the staff are PHP, 12% of .Net, 12% of Java, 36% of HTML, iOS, Perl and other languages. Moreover, CO-WELL Asia achieved ISO/IEC 27001:2013 Certificate of Information Security Standard and multiple Sao Khue awards, including the best ten software outsourcing services in Vietnam.
MeU Solutions INC
For MeU Solutions, their main testing services are Manual Testing, Automation Testing and Security Testing. Through their 13 years of experience, they have done 100+ projects with 30+ pools of real devices. Their current testing staff is 30+ QA engineers, working with a low hourly rate of under $25/ hr.
With profound expertise in testing an extensive range of iOS, Android and web applications, MeU Solutions INC has successfully delivered quality apps to global clientele.
TMA Solutions
TMA Solutions was established in 1997 to provide quality software outsourcing services to leading companies worldwide TMA Solutions is one of the largest software outsourcing companies in Vietnam with 3,000 engineers. Their engineering team was selected from a large pool of Vietnam IT engineers; they are well-trained and have successfully completed many large and complex projects.
TMS Solutions is quite a big name in the Software Testing market in Vietnam. Their main service offerings include full product verification, test planning & execution and test automation. With just under the fee of $20/ hr, you can hire their best teams to carry out software testing services for you.
SHIFT ASIA
SHIFT ASIA opened its office in HCM Vietnam in 2016, as a strategic SEA hub to scale operations and better serve the greater APAC region. Started off with 25 QA professionals for the manual testing division, SHIFT ASIA has since grown into a full-functioning office handling international clients.
Through their years of development, SHIFT ASIA now has 200 passionate employees with diverse backgrounds and expertise. The things that facilitate our wide service offerings are security assessment, test automation, international inspection, offshore development and many more.
Waverley Software
Waverley Software is another big name in the list of software testing companies in Vietnam. This brand was started in 1992 in the US, and then reached out to the world through the expansion in many countries, namely Vietnam.
In Vietnam's market, Waverly Software stands out as a top-quality QA company, providing all kinds of testing services. Waverley's quality assurance and software testing services help companies around the world build
uality products. They conduct QA audits, provide standalone software QA, manual testing, and test automation services using agile testing methodology. At Waverley, they design their own testing tools; provide various types of software testing; write test documentation including test plans, checklists and test cases; monitor quality metrics and conduct data analytics. Their office in Ho Chi Minh City hosts some of South East Asia's top software testers. Waverley Software conducts training programs for technology graduates on a regular basis, which allows them to rapidly scale their clients' teams with trained talents for a smooth testing process.
Axon Active
Axon Active is the last name in the top 10 software testing companies in Vietnam. Axon Active's offshore testing center not only provides regular offshore software testing services but also works towards becoming a trusted consulting partner. They aims to help design a strategic software testing process for the clients' business and advice suitable software testing solutions that improve your business efficiency and performance, helping you achieve long-term objectives.
A quick comparison among the top 10 software testing companies in Vietnam
Company
Hourly rate
Employees
Founded Year
Main testing services
Lotus Quality Assurance
< $25 / hr
248
2016
– Web & Moblie App Testing testing

– Embbeded Software Testing

– Automation Testing

– Integration Testing

– API Testing

KMS Solutions, Inc.
Undisclosed
50 – 249
2009
– Test Automation

– API Testing

– Mobile Testing

FPT Software
< $25 / hr
10,000+
1988
– Web & Moblie App Testing testing

– Embedded product testing

– Cloud testing

– Inter-operability (IoP) testing

CO-WELL ASIA
1,000 – 9,999
$50,000+
2011
– Web App Testing

– Mobile App Testing

– Data Migration Testing

– Testing tools & Project management tools

Logi gear
Undisclosed
50 – 249
1994
– Web & Mobile Testing

– Test Automation

– API Testing

– Localization Testing

– Games & IoT Testing

MeU Solutions INC
< $25 / hr
50 – 249
2016
– Shift-Right Testing

– Effectively Managed Testing

– Automation Sign-On Package

TMA Solution
< $25 / hr
1,000 – 9,999
1997
– Full Product Verification

– Web & Mobile App Testing

– Test Automation

SHIFT ASIA
< $25 / hr
50 – 249
2016
– Web & Mobile App Testing

​

– Vulnerability Test

Axon Active
Undisclosed
250 – 999
2008
– Web & Mobile App Testing
Waverley Software
$25 – $49 / hr
250 – 999
1992
– Web & Mobile App Testing
Conclusion
Vietnam has the potential to become a new software testing outsourcing hub of Asia. With the Introduction of top 10 Software Testing Company in Vietnam, we hope you can find the best service provider for your testing projects. If you are small or medium-sized company looking for top-notch software testing companies in Vietnam, you can contact Lotus Quality Assurance's expert and let us know what we can help you with!