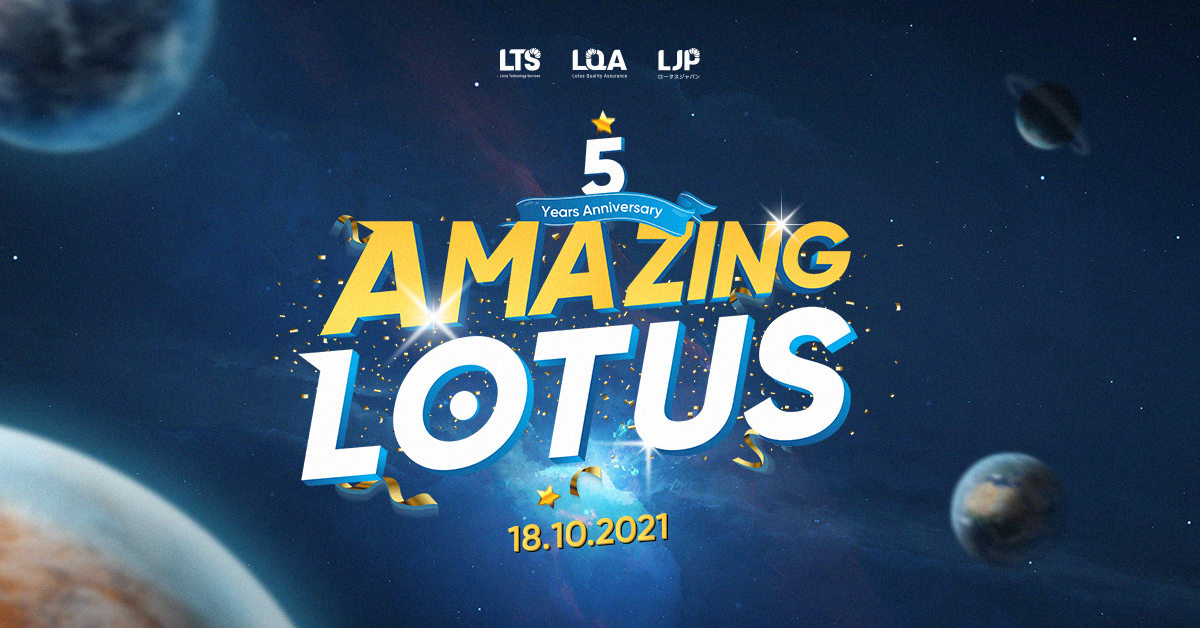 On October 18th, 2021, Lotus QA once again celebrates its 5th anniversary, marking a milestone in the journey of providing top-notch IT services to the world.
With the firm foundation we had built in the past 5 years, from a company focusing on Quality Assurance and AI Data processing, Lotus QA has now broadened our horizons with new services in the Software Development field. This expansion brought excitement, alongside many challenges, creating motivation for us to strive for perfection.
The remarkable expansion
As Lotus QA takes pride in the top-notch services we provide to the international market, especially with the quality assurance and AI data processing services. In 2021, our Board of Directors decided to promote activities in the most demanding market – Japan. We've been in business with Japanese companies before, and now we want to focus our resources to fully tap the potential of this market.
Therefore, on April the 3rd, 2020, we founded the LJP office which is located in Yamashitacho, Naka Ward, Yokohama, Kanagawa 231-0023, Japan. This foundation has laid the foundation for many of our services to reach more customers in Japan, especially the Software Development services.
Besides this overseas expansion, Lotus QA has remarkably achieved another milestone back in Vietnam. Thanks to the improvements and developments in many aspects of managing and forming a business, Lotus QA is becoming the number one destination for young and enthusiastic IT workers. In Lotus QA, the BOD and team leaders want to create a dynamic, proactive and professional working environment for their employees. From a minor IT company in Hanoi, Lotus QA now has over 248 employees, raised by 20% compared to last year's number.
International recognition
In an attempt to stand out in hundreds of IT service providers in the world, Lotus QA is trying to bring our best service offerings to as many clients as possible, beckoning those in need of high-quality work to come to us. With hard work and continuous improvements, Lotus QA has been recognized in the international market.
In September 2021, Lotus QA was honored to receive the title of Top IT firm in Vietnam. This title is the "Trophy" for what we've achieved throughout the last five years, and it also sets many more challenges for us to overcome to live up to the expectations.
The challenges to overcome
Despite the Covid 19 pandemic, we have successfully established our first subsidiary in Japan – Lotus Japan (LJP). Choosing the land of the rising sun as our next destination, we aim to deepen our understanding of international clients; while also learning from the strict quality regulations.
Other than amplifying our international presence, LQA also decided to spend more effort on the domestic market. So far, we have worked with leading clients in Vietnam from several fields: telecommunications, F&B, and insurance, etc.
We are trying hard to win in our home country, to be the number one QA firm in Vietnam.
To emphasize our goal, our CEO, Ms. Phung Thanh Xuan indicated: "As we are heading towards the new normal, the time could be the hardest for everyone. However, we are all in this together. We strive to become a world-class Quality Assurance Firm".
Let's celebrate this fascinating moment with Lotus Group in the upcoming events to be revealed.